From the Italian Lake District to the Cinque Terre and from Tuscany to the Dolomites, discover the diverse landscapes, culture, arts, and history of Italy's northern regions.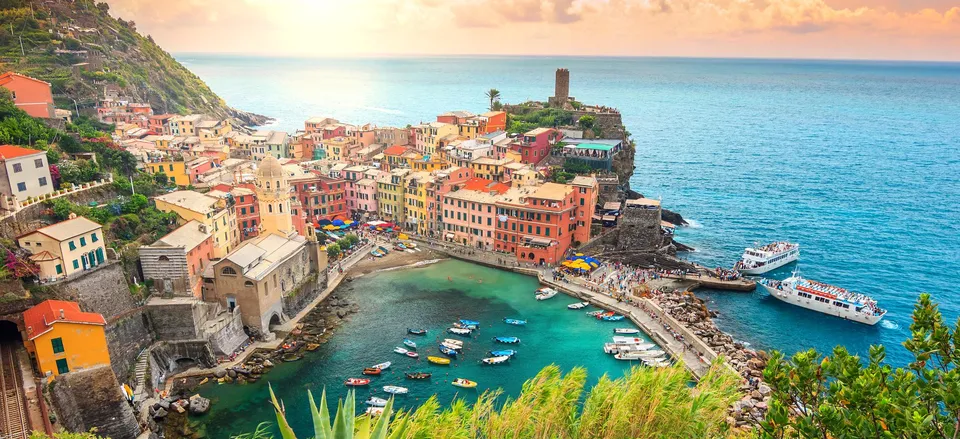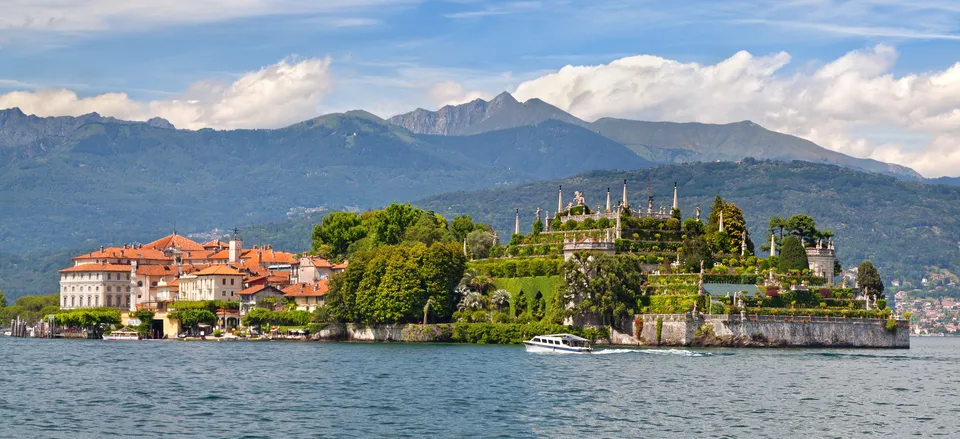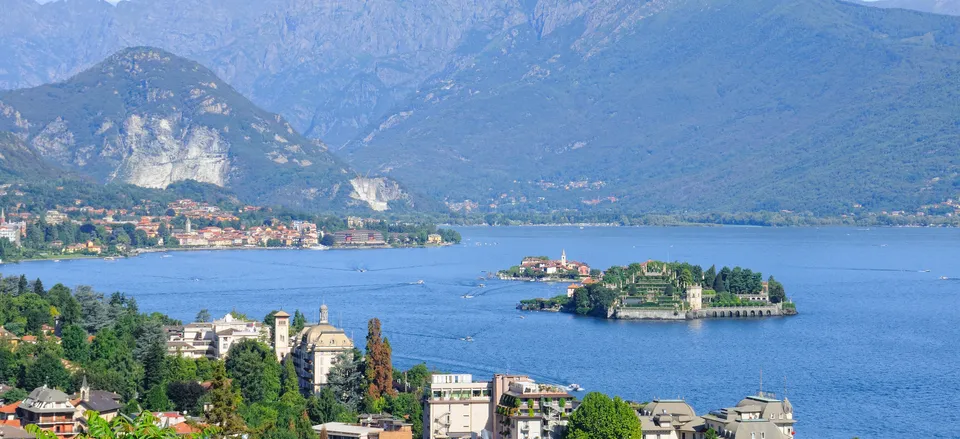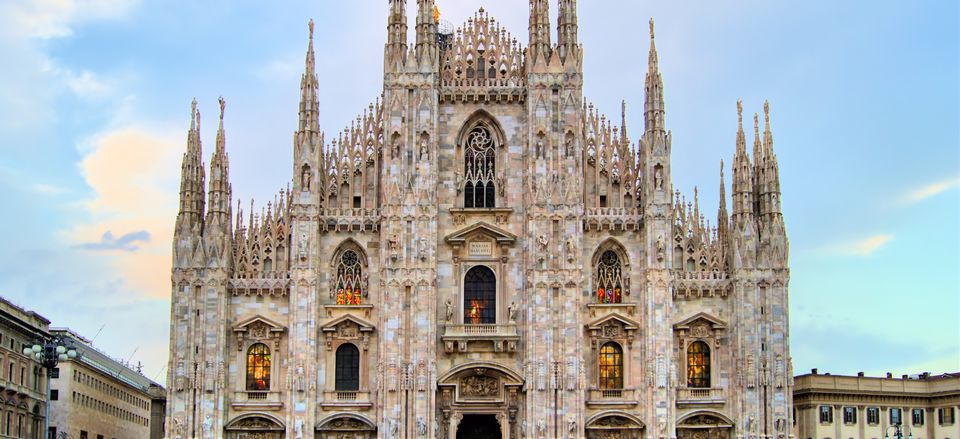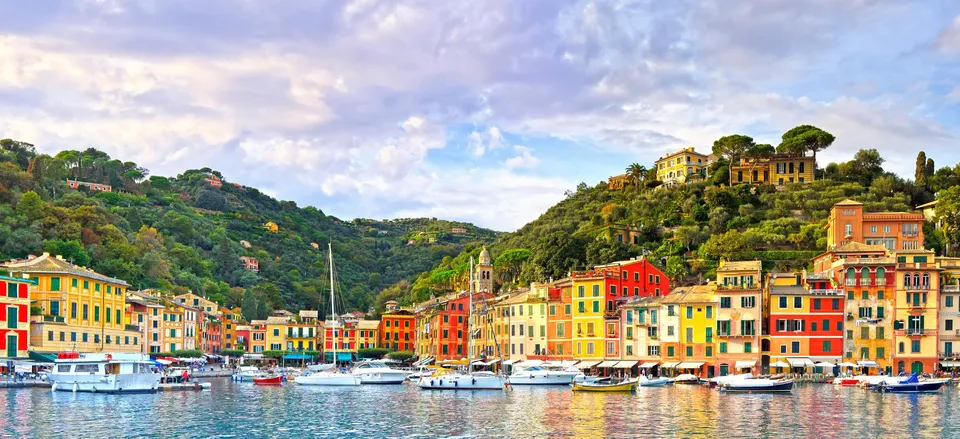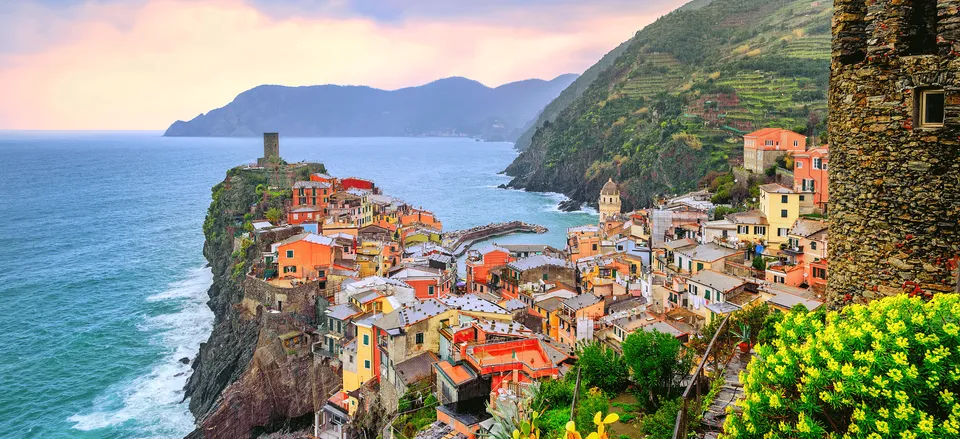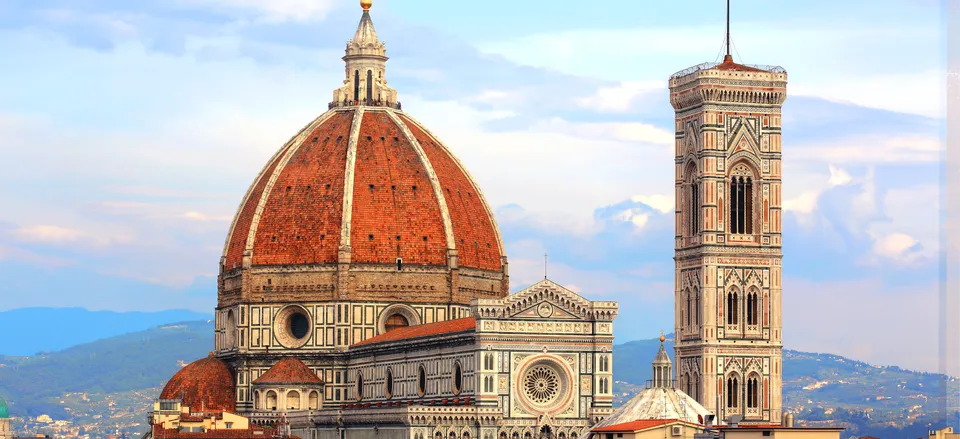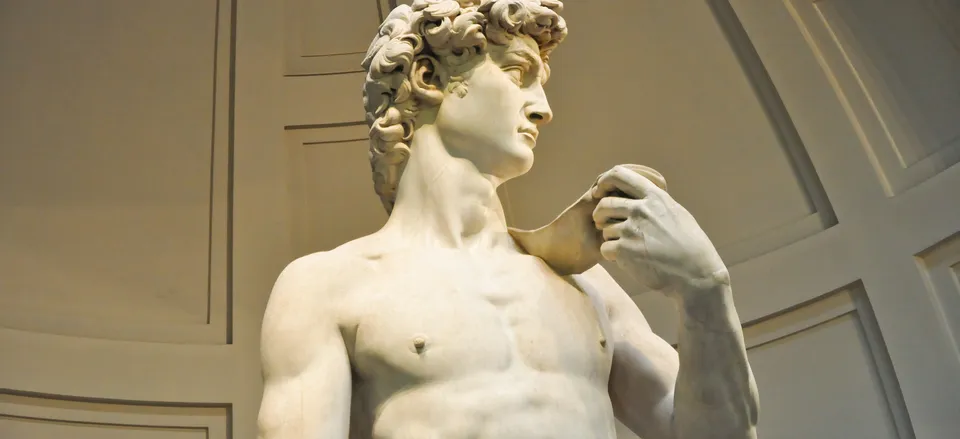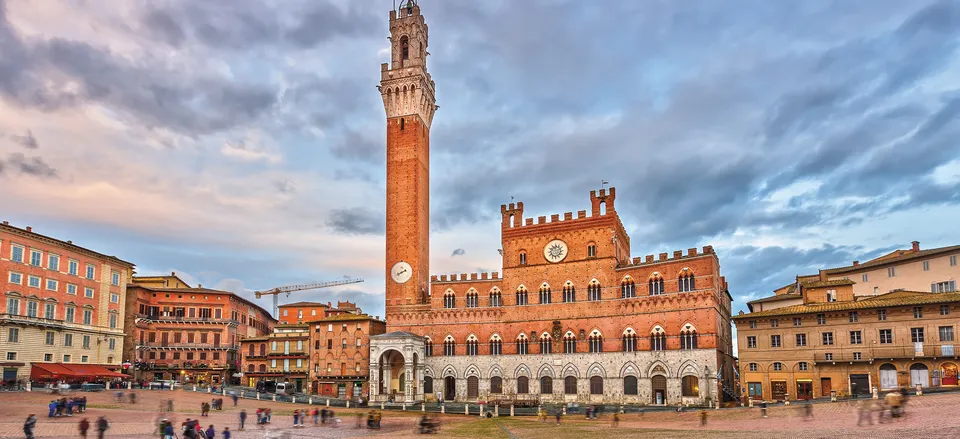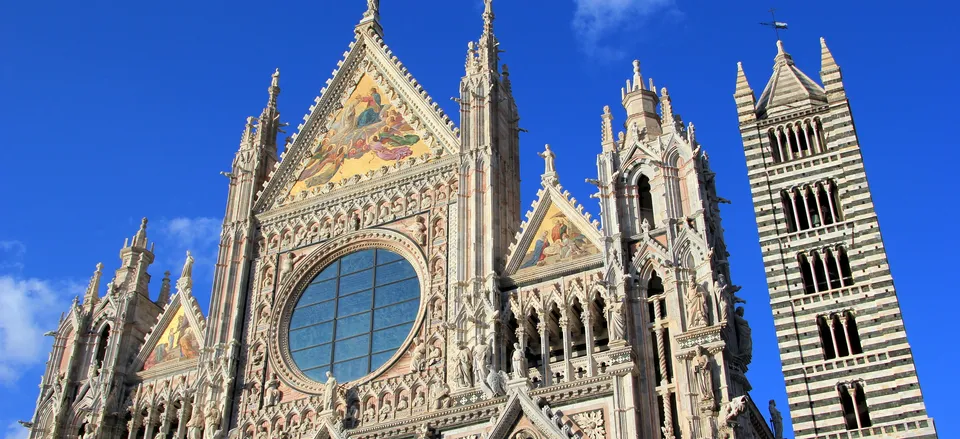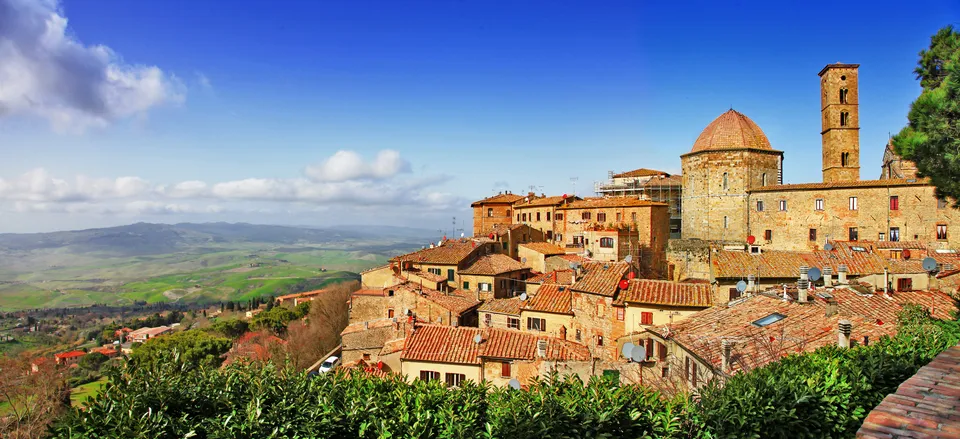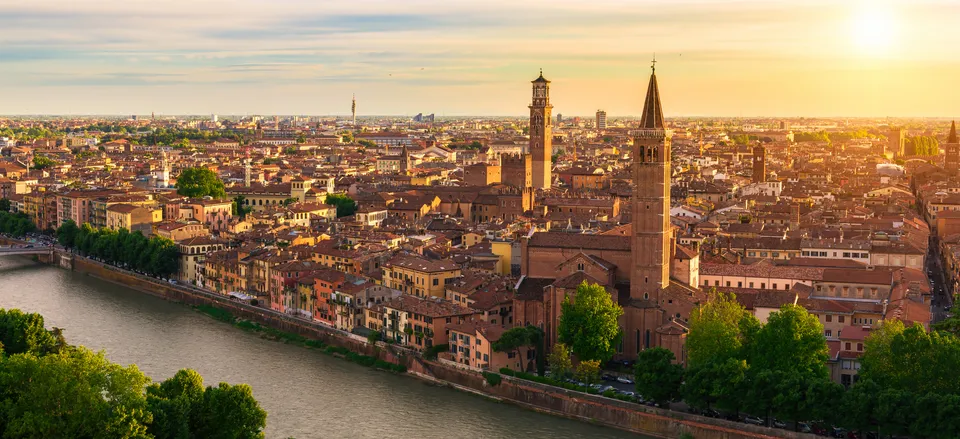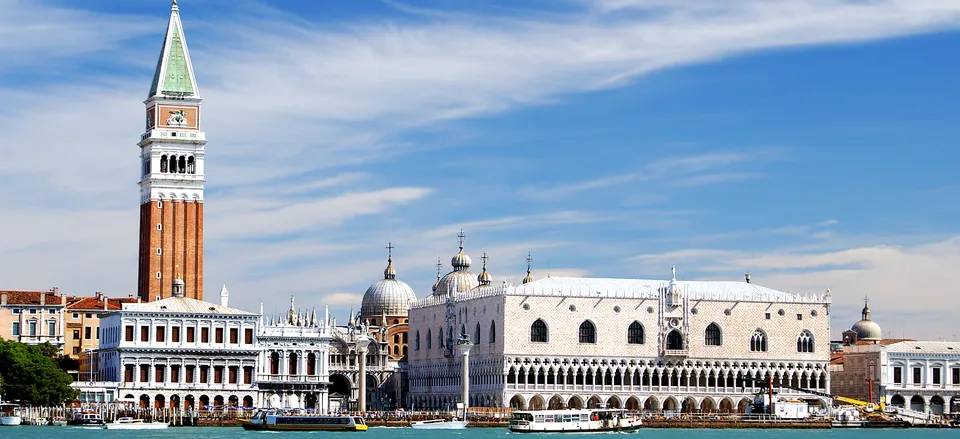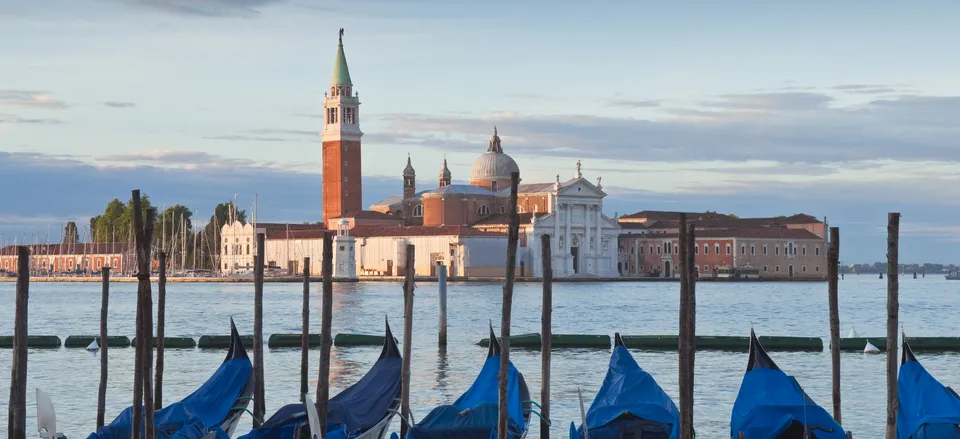 Northern Italy: The Lake District, Tuscany, and the Dolomites
15 days from $6,374
|

includes airfare, taxes and all fees

From the Italian Lake District to the Cinque Terre and from Tuscany to the Dolomites, discover the diverse landscapes, culture, arts, and history of Italy's northern regions.
WHAT OUR TRAVELERS SAY
A wonderful program. Everything is planned meticulously. This journey gave a great idea of Northern Italy and its history. I feel like I saw so much of this beautiful country. Tour guide was AMAZING!
- Past Smithsonian Journeys Traveler
SPECIAL OFFER
This tour is specially designed for a small group of 16 to 24 Smithsonian travelers and offers outstanding travel value. Prices include airfare, airline taxes, fuel surcharges, and departure fees.
Overview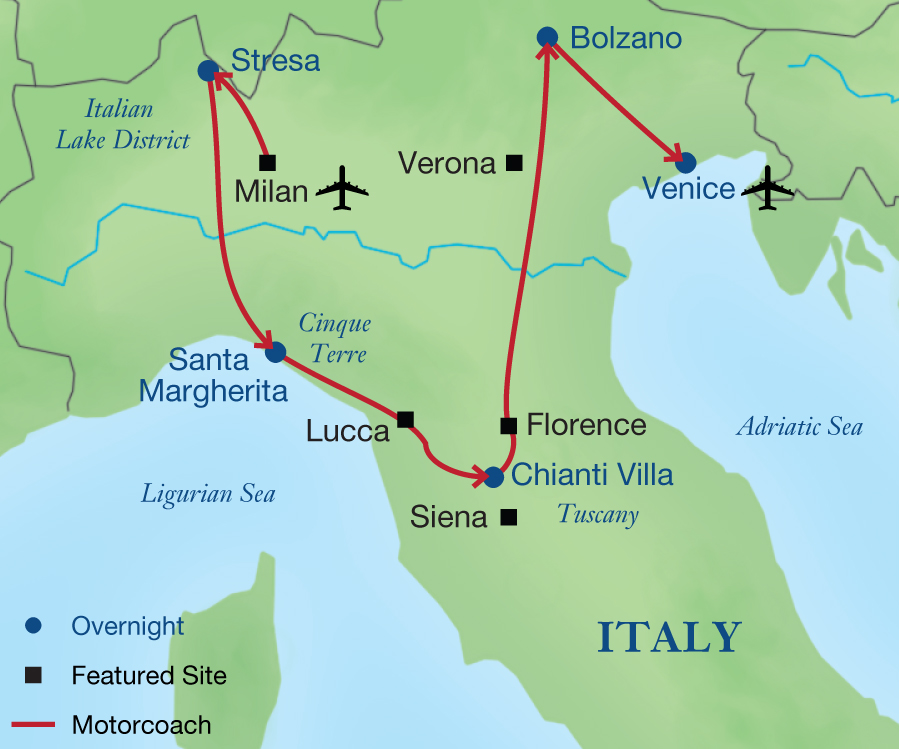 Make your way across five regions of Northern Italy, experiencing a plethora of natural and cultural treasures on a journey that features seven World Heritage sites. Soak up the delights of the Italian Lake District, and sample premier vintages at a winery in Barolo. Stay on the Italian Riviera and cruise the rugged Ligurian coast to Portofino and to the spectacular Cinque Terre. In the Tuscan gems of Florence and Siena, enjoy guided tours of Renaissance masterpieces and plenty of free time to explore on your own. Then get acquainted with the unique culture of South Tyrol, and travel through the mighty Dolomites to end your journey amid the storied canals of Venice.
Highlights Include
The Italian Lake District: Spend three nights in Stresa, a haunt of Ernest Hemingway situated on beautiful Lake Maggiore. From here, experience lovely Orta San Giulia on Lake Orta, and cruise to Isola Bella to explore a 17th-century palace and its extravagant gardens.
Italian Riviera and Cinque Terre: Stay in the resort town of Santa Margherita and encounter the highlights of the Ligurian coast on a morning boat ride to charming Portofino and a full-day cruise to the villages of the World Heritage-listed Cinque Terre.
Florence and Tuscany: From your base at a palace in the Chianti hills, explore the Renaissance treasures of Florence on a guided tour of the Accademia and the Duomo. In Siena, discover the Piazza del Campo and the unusual Duomo, and delve into the world of medieval traditions and pageantry at a contrada museum.
The Dolomites and Venice: Explore the lively South Tyrolean town of Bolzano and ride a cable car to a lookout for a breathtaking view of the jagged peaks and vertical cliffs of the Dolomites. Then encounter Ötzi the Iceman, a Copper Age mummy discovered in these mountains on a visit to an archaeological museum. In Venice, see how gondolas are crafted and restored on a tour of a boatyard, and stay at a palazzo overlooking the lagoon.
A wonderful program. Everything is planned meticulously. This journey gave a great idea of Northern Italy and its history. I feel like I saw so much of this beautiful country. Tour guide was AMAZING!
- Past Smithsonian Journeys Traveler
To see itinerary, please click on an option below.
Itinerary
Itinerary
Day 1-2 — Depart the U.S. for Milan, Italy / Stresa
Take an overnight flight to Milan and continue overland to Stresa, a resort town on the shores of lovely Lake Maggiore. Enjoy the afternoon to relax before tonight's welcome dinner. (D)
Day 3 — Stresa and Isola Bella
Just off the shores of Stresa lies a handful of tiny isles known as the Borromean Islands, once a retreat for Europe's nobility. Ride a boat to Isola Bella and take a guided tour of the 17th-century Palazzo Borromeo, which takes up most of the island with its elaborate terraced gardens. Admire impressive fine art and décor within the sumptuous palace, and meander through the gardens, enjoying views of Lake Maggiore and the surrounding mountains. Cruise to Isola dei Pescatori for lunch together. (B,L)
Day 4 — Stresa and Orta San Giulio
Travel west to another of northern Italy's fabled lakes—Lake Orta —and spend the morning discovering the medieval lakeside town of Orta San Giulio. Set on the water's edge overlooking a picturesque island, the town is a delightful maze of cobblestoned streets and pastel-colored homes that date back centuries. Linger here for lunch on your own before returning to the hotel for an afternoon at leisure. (B)
Day 5 —Barolo and Santa Margherita Ligure
Leave the Lombardy region today, traveling through the rolling hills of Piedmont to the acclaimed wine region of Barolo. Stop for lunch and a wine-tasting of the "king of wines" at Marchesi di Barolo, one of Italy's premier vintners. Continue to Santa Margherita Ligure, your home on the Italian Riviera for the next three nights. Take a walk along the palm-lined esplanade overlooking the harbor before dinner together at the hotel (B,L,D)
Day 6 — Santa Margherita and Portofino
A morning boat ride brings you to the celebrated resort town of Portofino, once a humble fishing village that now teems with superyachts and chic boutiques. You'll have free time here to explore the colorful streets and stop in at art galleries, savor an espresso at a waterfront café, or walk up to the 16th-century fortress to take in views of the Ligurian coast. Return to Santa Margherita Ligure mid-day and enjoy the rest of the day at leisure. (B)
Day 7 —Cinque Terre and Portovenere
Travel by train along the coast to the fabled Cinque Terre, five tiny villages that cling to steep slopes at the water's edge. These medieval hamlets were only accessible by boat for centuries, and still today, no road connects all five. Begin your tour in lovely Vernazza, then board a boat to cruise along the rugged shores to another village of the Cinque Terre. Sail on to the port town of Portovenere, where brightly painted, narrow houses cluster along the waterfront. After a brief walking tour of the Old Town, enjoy time to explore and have lunch on your own. Dine together tonight at the hotel. (B,D)
Day 8 —Lucca and Radda-in-Chianti
Travel south to beloved Tuscany and stop for a visit to the medieval gem of Lucca. Take a walking tour of the incredibly well-preserved historic center, surrounded by intact 17th-century city walls. After time for lunch on your own, journey into the hills of Chianti and settle into a historic palace overlooking the vineyards. (B,D)
Day 9 — Radda-in-Chianti and Florence
Immerse yourself in incomparable Florence today, discovering the art and architecture of this living monument to the Renaissance. On a morning tour, visit the Galleria dell'Accademia to view Michelangelo's sublime David and his pieces for the papal tombs. Enter the Duomo to admire its stupendous dome by Brunelleschi. Then you're free to stroll the 14th-century Ponte Vecchio, with its many jewelry shops; visit renowned museums and churches; browse local crafts such as leather goods and Florentine paper. After lunch on your own, return to the hotel in the mid-afternoon. (B)
Day 10 — Radda-in-Chianti and Siena
Set out on a full-day excursion to the walled city of Siena, a quintessential medieval city that was named a World Heritage site for its architecture and artful urban planning. On a guided walking tour of the historic center, learn the history behind the expansive, scallop-shaped Piazza del Campo, which has hosted the annual bareback Paleo horserace for centuries. Then encounter the striking, black-and-white marble façade of the Duomo and step inside to admire masterpieces by Donatello and Michelangelo. Visit a museum dedicated to the contrade to learn about Siena's 17 medieval neighborhoods, each with their own heritage and traditions. You'll have free time to meander through the town's charming lanes, discovering artisanal shops and restaurants before returning to the hotel in the late afternoon. (B)
Day 11 —Verona and Bolzano
From the gentle hills of Tuscany, travel north toward the Italian Alps. Along the way, visit storied Verona, the setting of Romeo and Juliet and other plays by Shakespeare. Head out on a walking tour of this World Heritage-listed medieval old town and its first-century Roman arena, still in use today. After lunch and time to explore on your own, continue your journey to South Tyrol, Italy's northernmost province. Home to the jagged peaks of the Dolomites, South Tyrol borders Austria and Switzerland and has a distinctly Germanic influence. Arrive in the lively provincial capital of Bolzano late in the afternoon and gather for dinner at your hotel tonight. (B,D)
Day 12 — Bolzano
A morning cable car ride whisks you up to a lookout with spectacular views of the vertical cliffs and rocky peaks of the Dolomites—a dramatic backdrop for the bucolic meadows and wooded hills surrounding Bolzano. Then venture into the city's colorful historic center and visit the South Tyrol Museum of Archaeology, home to Ötzi the Iceman, a mummy dating to 3,300 B.C that was found preserved in a nearby glacier in 1991. The afternoon is yours to discover more of cosmopolitan Bolzano as you wish. Meet for dinner at a local restaurant tonight. (B,D)
Day 13 — Bolzano and Venice
Today's journey to Venice will bring you deep into the Dolomites, offering jaw-dropping scenery at every turn. Upon reaching Venice late this afternoon, settle into your hotel overlooking the city's lagoon. This afternoon, head to the Squero boatyard to learn how Venice's famous gondolas are built and restored. You are free to get acquainted with this fabled city during an evening at leisure. (B,L)
Day 14 — Venice
Set out on a guided morning walk through vast St. Mark's Square and admire incredible mosaics on a tour St. Mark's Basilica. Enjoy your final afternoon at leisure, then bid arrivederci to Italy at a farewell dinner tonight. (B,D)
Day 15 — Depart for the U.S.
Depart early this morning for connecting flights to the U.S. (B)
Included meals are denoted as follows: Breakfast (B), Lunch (L), Reception (R), Dinner (D)
Related Tours