Set sail from Amsterdam to Basel on a deluxe ship, cruising past castle-topped hills, medieval villages, and rolling vineyards and exploring culture and history along the Moselle and Rhine Rivers.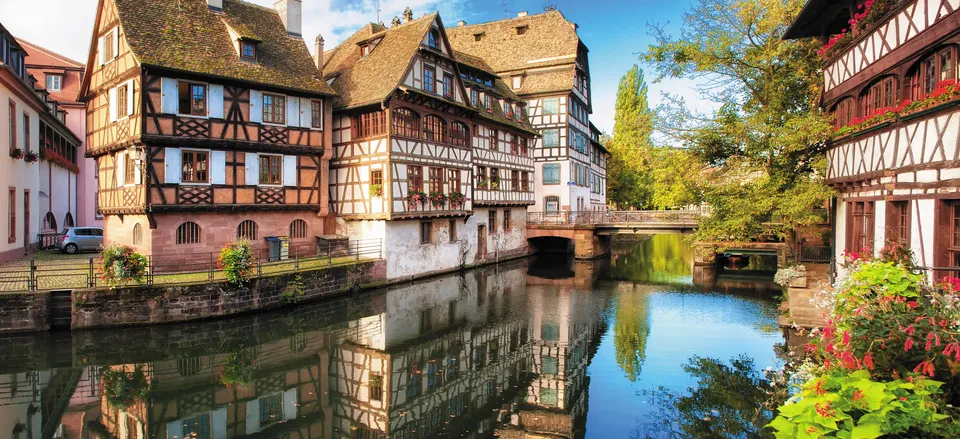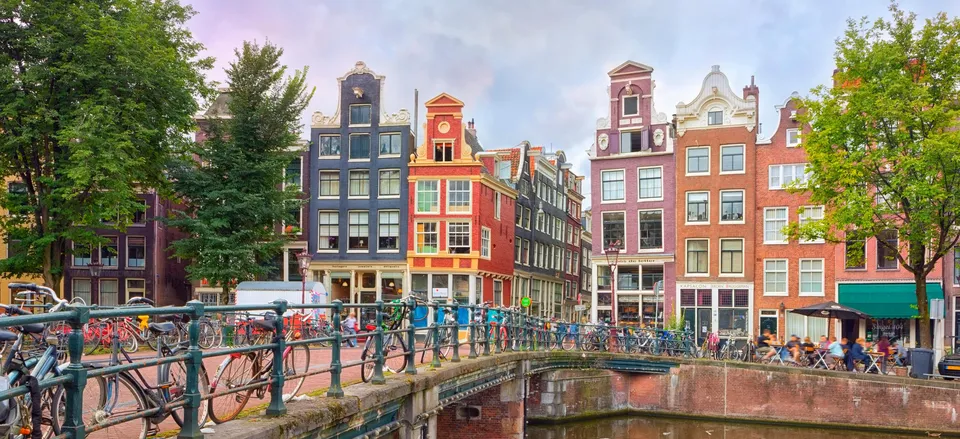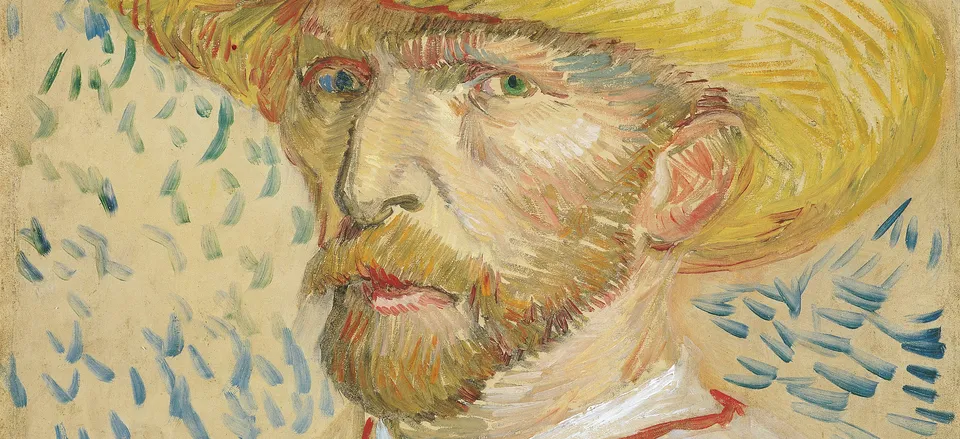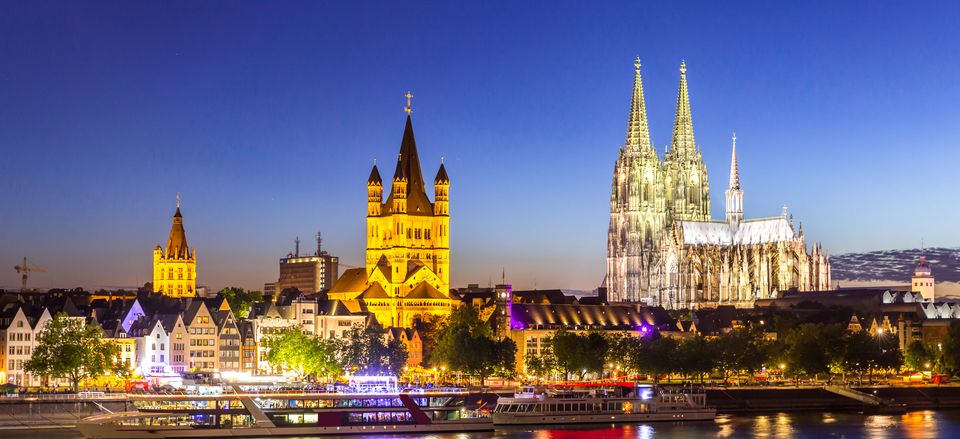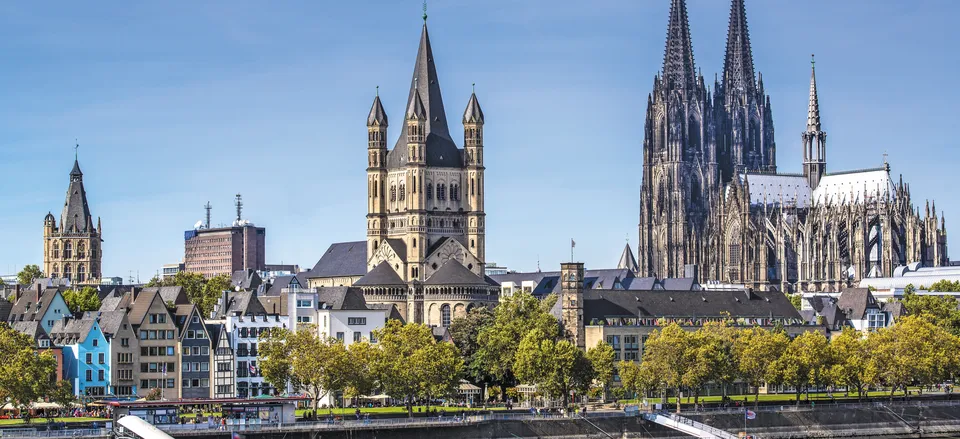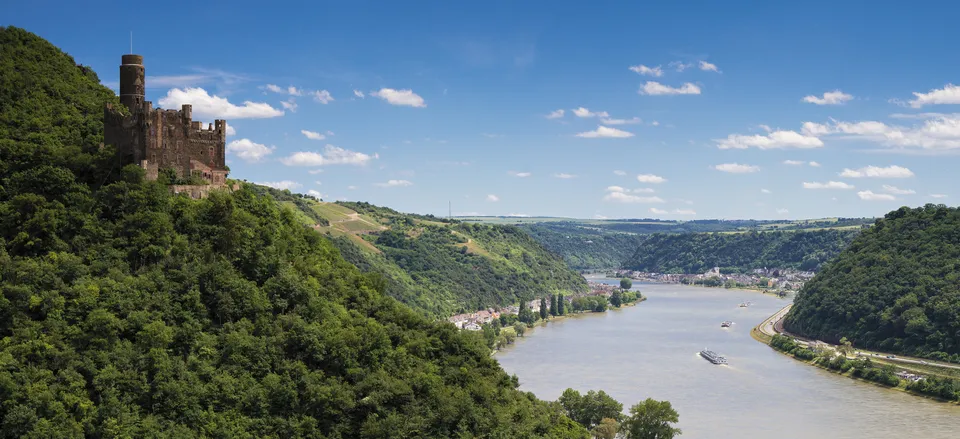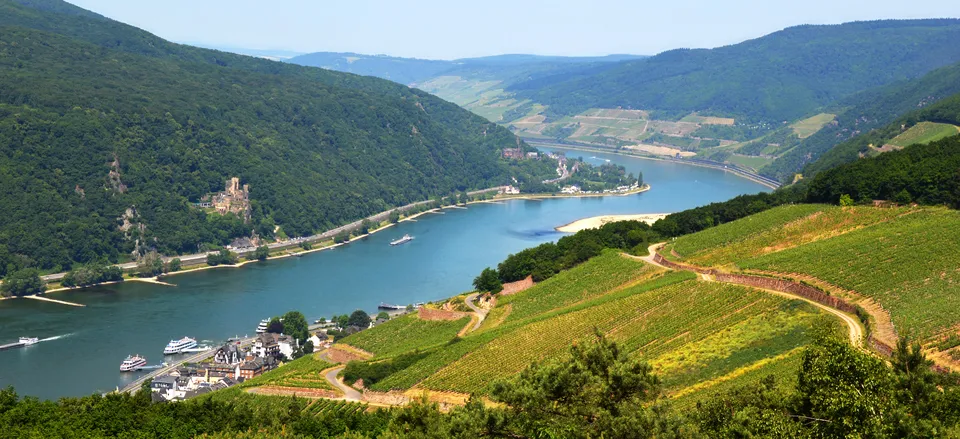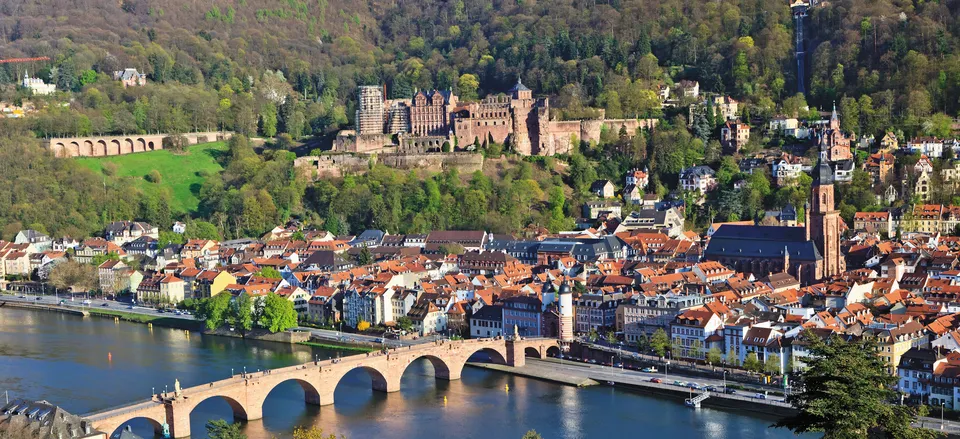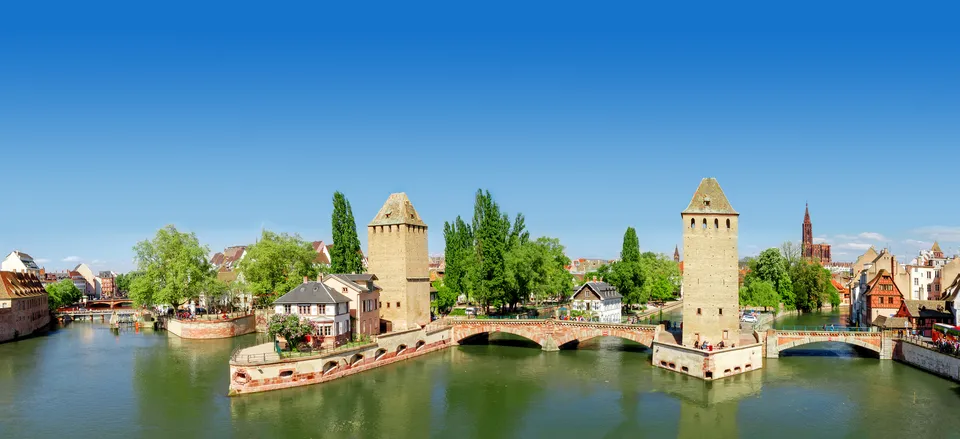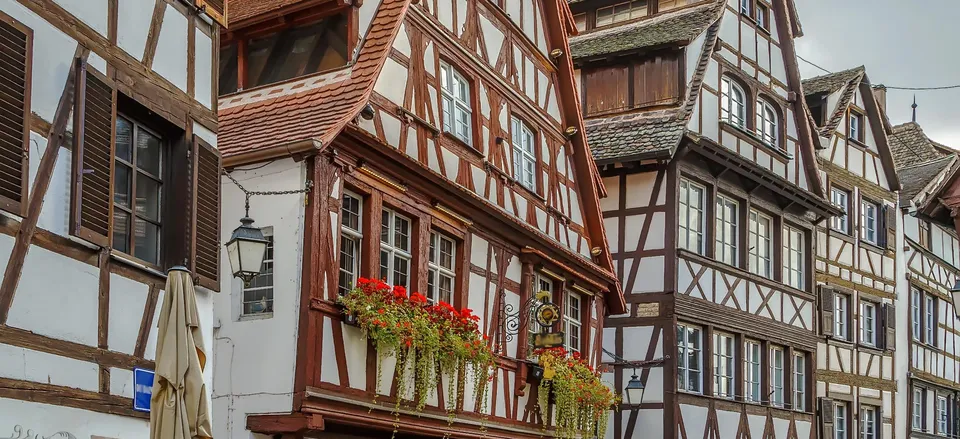 Cruising the Rhine and Moselle Rivers
From Amsterdam to Alsace
9 days from $3,990
Set sail from Amsterdam to Basel on a deluxe ship, cruising past castle-topped hills, medieval villages, and rolling vineyards and exploring culture and history along the Moselle and Rhine Rivers.
SPECIAL OFFER
Save $250 per person when you book by July 14, 2023!
No single supplement for solo travelers! (Limited availability. Book early to ensure your place.)
Overview
The Moselle and Rhine Rivers link enchanting towns and cities across western Europe—from Amsterdam and Cologne to Heidelberg and Strasbourg. They also weave through renowned wine regions and valleys dotted with castles and medieval villages. Set sail from Amsterdam to discover the culture, folklore, and history of two rivers and three countries. In many ports along the way, enjoy your choice of excursion—be it a bike ride from village to village in Holland, a wine tasting in the Rheingau, or a cruise along the canals of Strasbourg. With your Smithsonian Journeys Expert and local experts on board, delve deep into local culture, discovering the rich legends of the Moselle River Valley, the Rhine Gorge, and beyond.
Highlights Include:
Amadeus Cara: With an elegant river ship as your base, you unpack just once and settle into life onboard. Sit down to meals inspired by the cuisines along the Moselle and Rhine, and enjoy culinary traditions such as a Frühschoppen. You'll travel with a Smithsonian Journeys Expert as well as local experts.
Amsterdam: Enjoy a private cruise on the city's World Heritage-listed canals, and choose from three excursions: a visit to the Rijksmuseum, a bike ride to rural villages, or a foodie tour of the lively Jordaan district.
Cologne and Cochem: Visit the extraordinary Dom Cathedral of Cologne, the largest Gothic cathedral in Germany and a World Heritage site. In Cochem, explore a historic castle and the terraced vineyards of the Moselle River Valley.
The Rhine Gorge and the Rheingau: Cruise the Rhine Gorge hearing the lore of the villages and castles along the riverbanks. Then visit Rüdesheim in the Rheingau wine country and sample wines or visit an eclectic music "cabinet" full of antique automatic instruments.
Heidelberg and Strasbourg: Discover two centuries-old university towns. In the baroque gem of Heidelberg, explore the old town and the Renaissance castle, or hike the Philosopher's Way for breathtaking views. In Strasbourg, the capital of Alsace, visit the historic center and its cathedral, take a canal cruise through Petite France, or savor Alsatian delicacies on a food and wine tour.
To see itinerary, please click on an option below.
Itinerary
Itinerary
Days 1-2 – Depart the U.S. for Amsterdam, The Netherlands
Arrive in Amsterdam on an overnight flight and transfer to the port where the new Amadeus Cara awaits. Take some time to get settled in your cabin before meeting to hear a local expert discuss current affairs in the Netherlands and the European Union. Late this afternoon, board a local boat for a private canal cruise along Amsterdam's tree-lined waterways, enjoying lovely views of 17th-century gabled houses and picturesque bridges. Return to the ship for dinner. (D)
Day 3 – Amsterdam
A full buffet breakfast will be served each morning during the cruise. This morning, choose one of the following tours ashore:
Choice #1 - Amsterdam's Rijksmuseum: Delve into a world-renowned art collection that includes the works of Dutch Masters such as Rembrandt, Hals, and Vermeer, as well paintings by Van Gogh, Delft pottery and much more. Experience the museum at your own pace with an audio-guided tour and time at leisure.
Choice #2 - Waterland Bike Hike: Travel to Waterland, just north of Amsterdam, and set off on a guided bicycle tour through fields and wetlands. Your route leads you from one historic village to the next. Stop for coffee and a pastry in Broek.
Choice #3 - Jordaan District Walking and Food Tour: Take a walk through the Jordaan district, where almshouses were built in the 14th century to accommodate the poor. Today it is a bustling neighborhood of specialized food shops, art galleries, and coffee houses. On your walk, stop in at kiosks and restaurants to sample a range of Dutch specialties, from herring, a popular street food, to poffertjes, little pancakes served with powdered sugar and butter. You will also have the chance to taste a variety of Dutch cheeses accompanied by a glass of wine.
Return to the ship in time for lunch. In mid-afternoon, cruise south from Amsterdam to meet the Rhine River and enjoy a peaceful sail toward Germany. Gather with your fellow travelers for a welcome aboard reception and dinner this evening. (B,L,R,D)
Day 4 – Cologne, Germany
Spend much of the day relaxing on the ship, following the Rhine as it curls through the farmlands and towns of western Germany. Arrive in Cologne in the afternoon and take a guided tour, admiring the diverse architecture of the town, which ranges from medieval churches to avant-garde buildings erected after the Allied bombings of World War II. Stroll through the Old Town and visit Cathedral Square and the iconic 13th-century Dom Cathedral—Germany's largest Gothic cathedral and now a World Heritage site. Take advantage of free time to explore on your own or linger at a charming café to watch life go by. Back on board, enjoy dinner as the ship prepares to continue south toward the Moselle River. (B,L,D)
Day 5 – Cochem
Enter the Moselle River Valley, navigating a narrow and picturesque stretch of river flanked by rolling vineyards and medieval villages. Join the crew on the sun deck in mid-morning to take part in the old German tradition of Frühschoppen: drinking a beer before midday along with a snack of pretzels, sausage, and mustard. Dock in Cochem in the early afternoon and venture into its narrow, winding streets with a local guide. Hear the colorful legends associated with the town and ascend to Reichsburg Castle, which towers majestically over the river valley. Here, you'll be treated to a glass of Moselle wine. Enjoy time to discover Cochem on your own before returning to the ship for dinner. (B,L,D)
Day 6 – Koblenz / The Rhine Gorge / Rüdesheim
Make a morning stop in Koblenz for a walking tour of this historic town established by the Romans some 2,000 years ago to guard the confluence of the Moselle and Rhine rivers. In its Alstadt, or Old Town, see an onion-domed church with origins dating back to the 5th century. Continue cruising toward the spectacular Rhine Gorge. Atop the cliffs on either side of the river stand restored castles and fortress ruins, each with its own story to tell. The landscape is also steeped in legend, including that of Lorelei, a siren who lured sailors with her song, causing them to wreck their ships on the slate rock outcropping near St. Goarshausen. As you sail through this stunning landscape, a local expert will share its rich history and folklore.
Dock in Rüdesheim, a village of half-timbered houses and narrow, medieval lanes that is a gateway to the Rheingau wine region. Board the Rüdesheimer Winzerexpress for a panoramic tour of the village and surrounding vineyards. See the city's 15th-century defensive walls and the Eagle Tower, a 67-foot fortification where the poet Goethe is said to have spent time. Then choose one of two afternoon excursions.
Choice #1: Wines of the Rhine – Along the Drosselgasse, you will find numerous wine houses and garden taverns. Enjoy a wine tasting with a local vintner.
Choice #2: A Musical Walk In Time – Visit the Siegfried Mechanical Music Museum and encounter a whimsical collection of self-playing instruments that date back to the 18th century. Examine music boxes and mobile organs, and learn about the mechanisms that make these instruments play.
This evening, depart the ship for the historic Eibinger Zehnthof winery located in the small town of Eibinger situated above Rüdesheim. Here you'll enjoy an exclusive dinner featuring homemade regional specialties complemented by local wine. In late evening, the ship makes its way to Mannheim. (B,L,D)
Day 7 – Heidelberg / Speyer
This morning, experience the historic town of Heidelberg, a baroque university town poised on the banks of an offshoot of the Rhine, the Neckar River, on one of the following morning excursions:
Choice #1: Heidelberg Castle and Town – Travel to historic Heidelberg, for a visit to the red-walled castle with its Great Vat (a 49,000-gallon 18th-century wine cask) and see beautiful views of the Neckar Valley and city below. Afterwards, board a cog wheel train down to the city center where you'll enjoy a short walking tour.
Choice #2: Philosopher's Way Hike – Hike up the famous "Philosopher's Way" for spectacular views of Heidelberg castle and the old town. Take a rest in Philosopher's Garden while enjoying the view along with snacks and drinks.
After lunch on board, the ship arrives in Speyer, one of Germany's oldest cities. Tour the World Heritage-listed Speyer Cathedral, the largest Romanesque church in the world and burial place of numerous kings and emperors. Other historic highlights include the 13th-century Altpörtel or Old Gate and the city's Old Town Center. Enjoy time to explore on your own before dinner on board. (B,L,D)
Day 8 – Strasbourg, France
Arrive in the French province of Alsace and spend the day discovering its captivating capital city, Strasbourg. Located just across the Rhine from Germany, Strasbourg weaves together French and Germanic cultural heritage, and serves as the capital of the European Union. Tailor your experience to your interests on one of the following excursions:
Choice #1: Strasbourg Panoramic Tour – Set out by coach to discover this city with a knowledgeable guide. At the Notre Dame Cathedral, a Gothic marvel finished in the 15th century, admire exquisite facades and stained glass and see its astronomical clock. Then take a walking tour of the old town, including Petite France, where half-timbered houses cluster along picturesque canals.
Choice #2: Strasbourg Canal Cruise and Petite France – Focus on the historic heart of Strasbourg, a World Heritage site known as Grand Ile circumscribed by canals. Board a local boat to navigating these canals and glide into Petite France for views of its brightly painted, half-timbered houses from the water.
Choice #3: Culinary Strasbourg - Gain insight into Strasbourg's culinary heritage on a "foodie" tour. Stop in traditional weinstubs to try Alsatian dishes such as flammkuchen, choucroute, or spaetzle and note the German influence in the region's cuisine. You'll also have the opportunity to sample fine Alsatian wines.
This afternoon, the ship sails for Basel. The balance of the afternoon on board is at leisure. Tonight, toast your cruise through three countries at a farewell reception and dinner. (B,L,R,D)
Day 9 – Basel, Switzerland / Zurich / Return Home
Early this morning, the ship will dock at Basel. Disembark after breakfast and transfer to the airport in Zurich for your flight home. (B)
Included meals are denoted as follows: Breakfast (B), Lunch (L), Reception (R), Dinner (D)
Related Tours