Delve into some of the most legendary sites in ancient Greece—and soak up contemporary Greek culture—as you journey from the Athens Acropolis to the Peloponnese, Crete, and Santorini.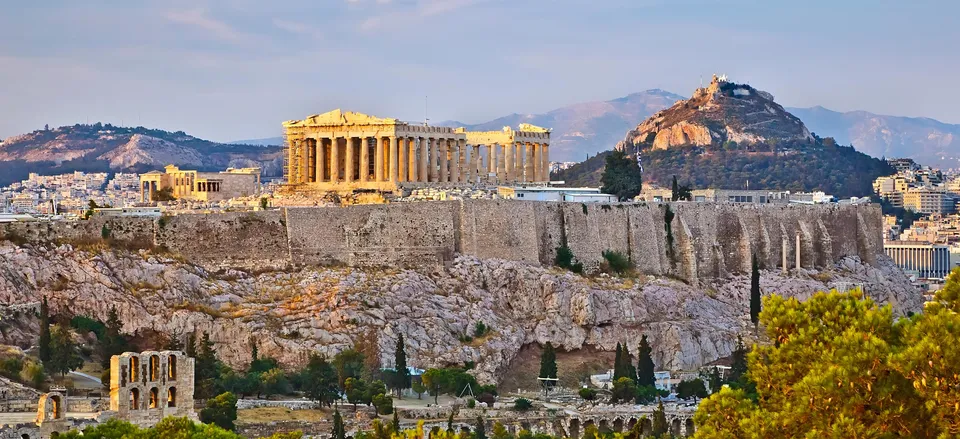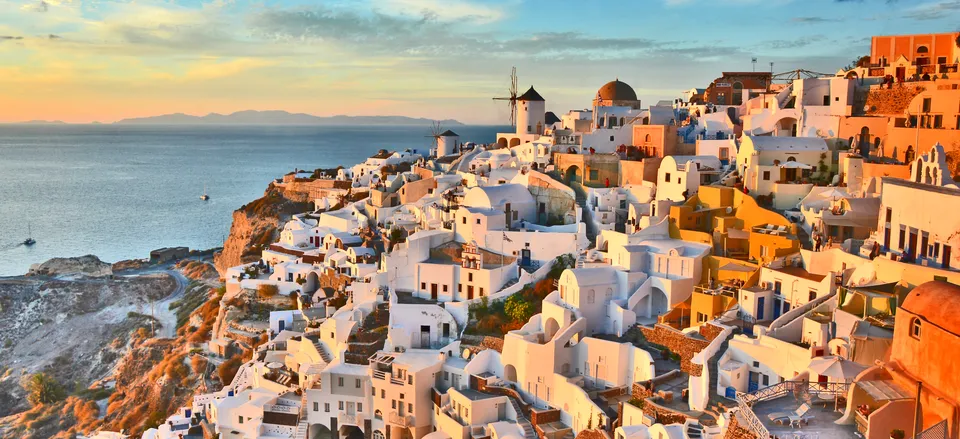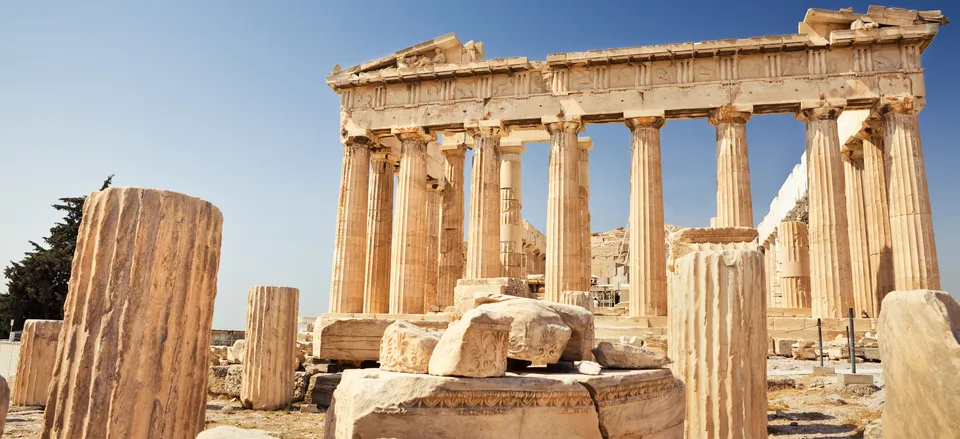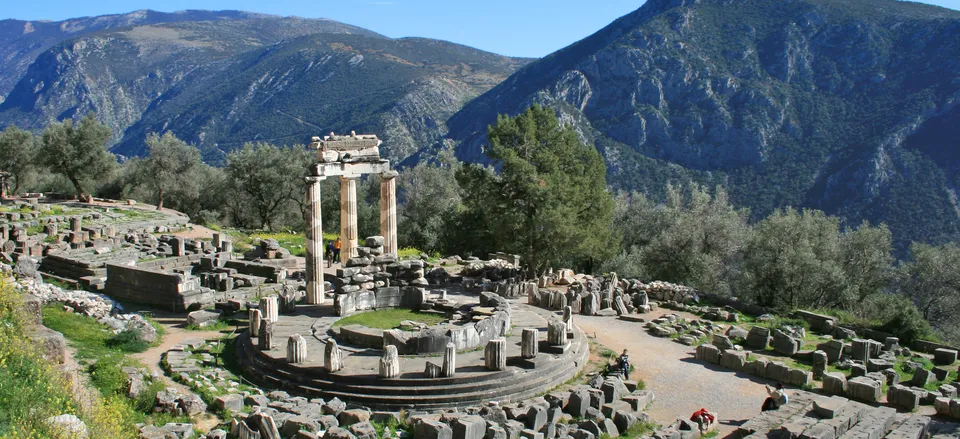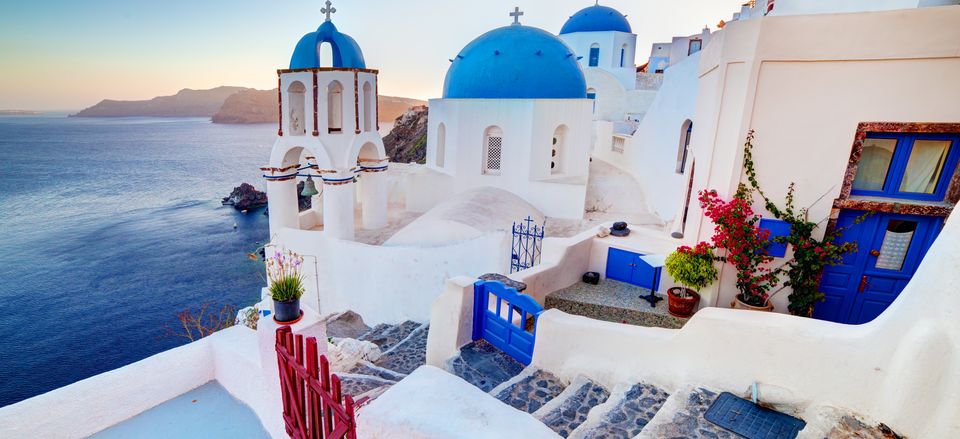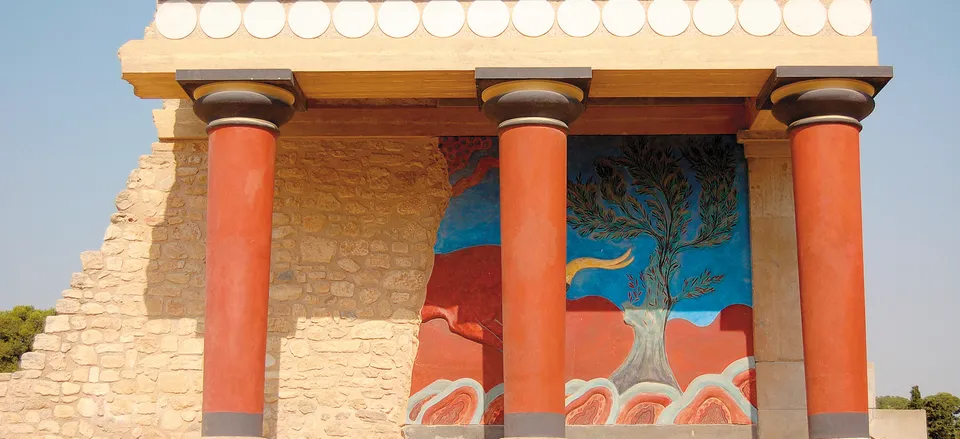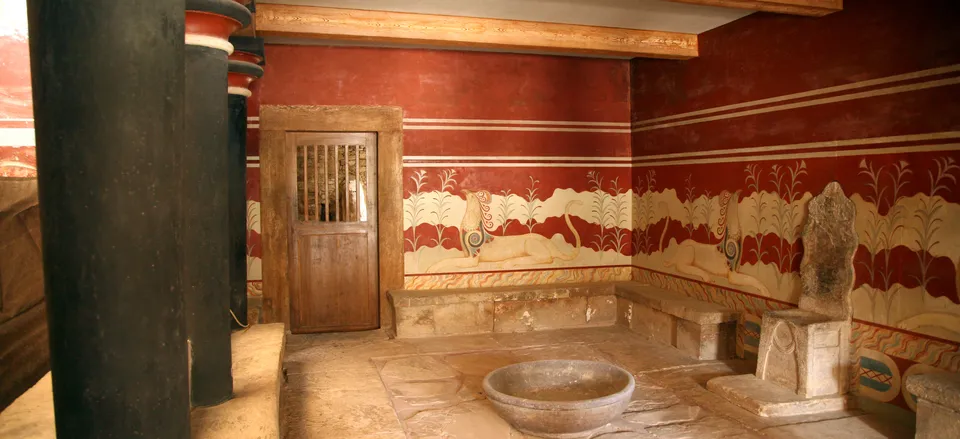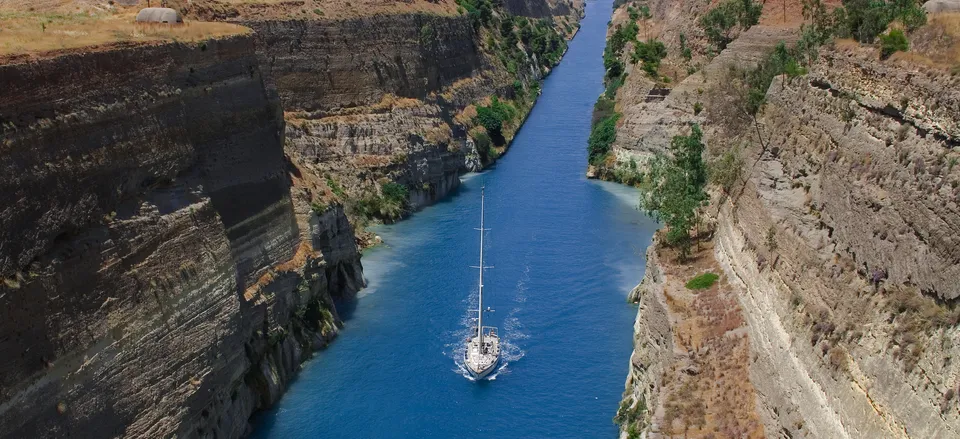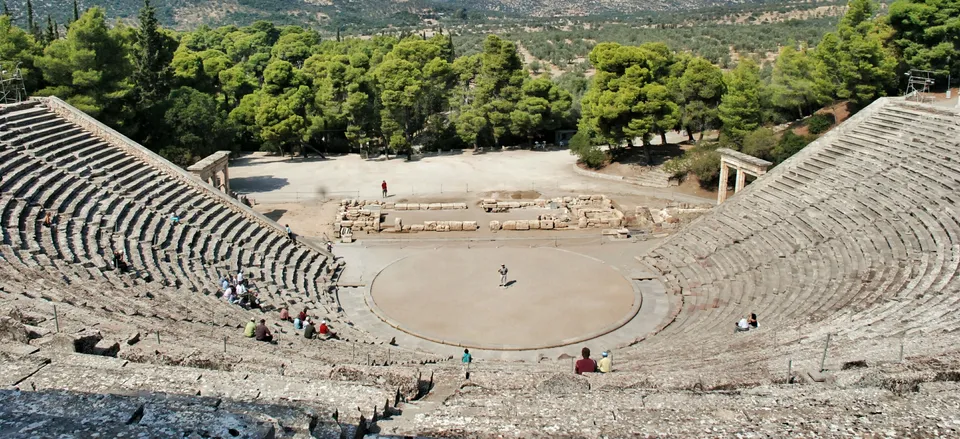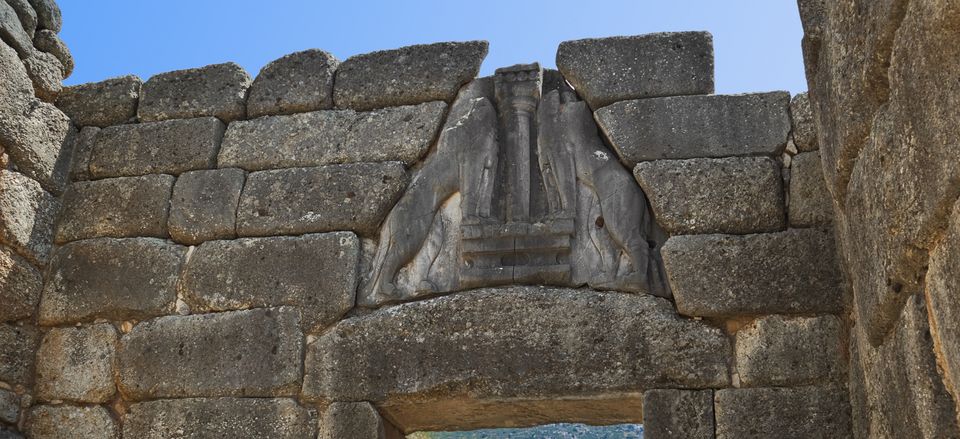 Classical Greece
14 days from $7,092
|

includes airfare, taxes and all fees

Delve into some of the most legendary sites in ancient Greece—and soak up contemporary Greek culture—as you journey from the Athens Acropolis to the Peloponnese, Crete, and Santorini.
Overview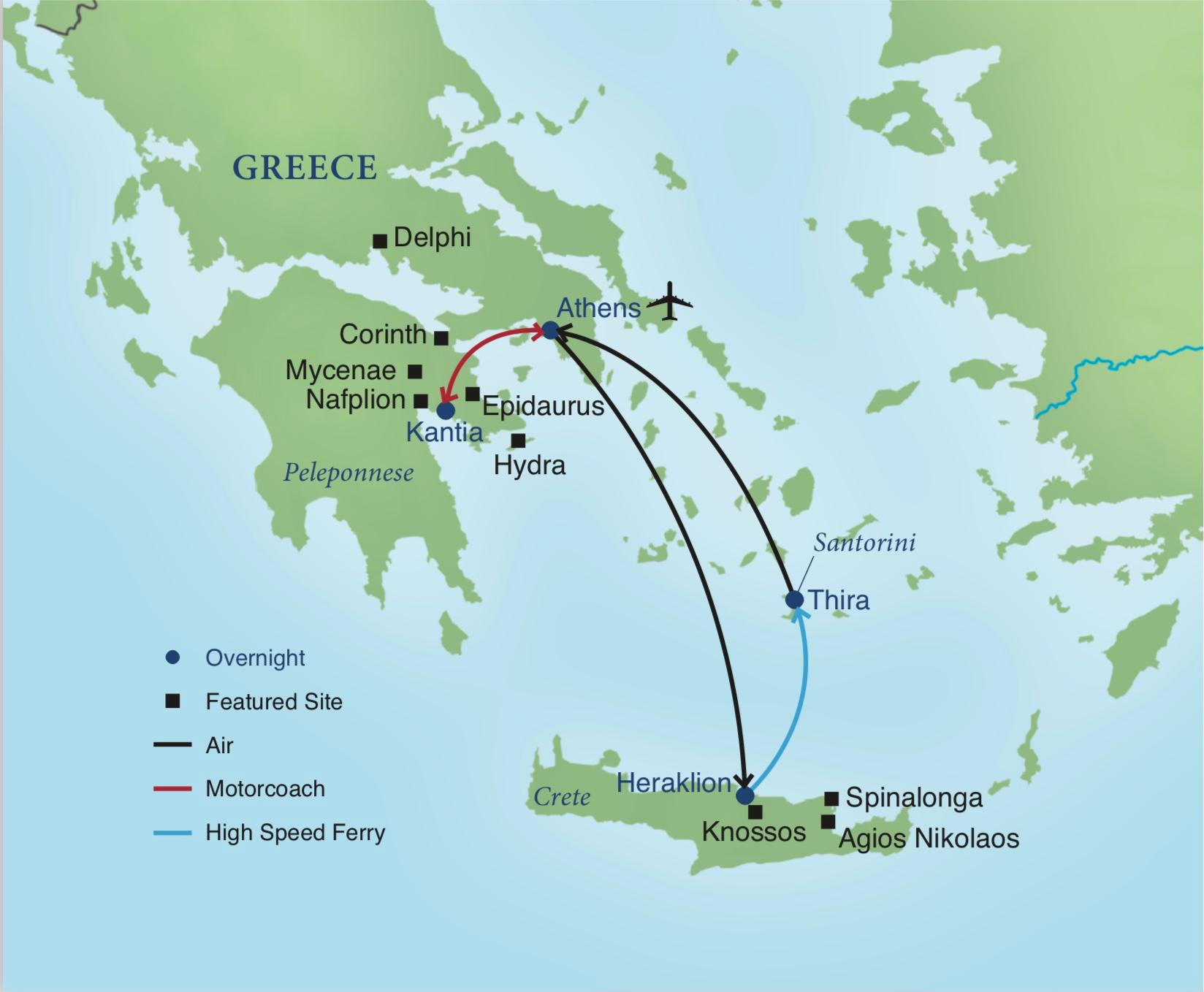 Activity Level 3: Moderate

Expectations: This Classic Land Journey features visits to cities, ancient ruins, and coastal towns in several different regions and stays at four different hotels. Although comprehensive, it is not rushed, but well paced and finely tuned. Expectations include long touring days with full-day motor coach excursions, standing and walking for long periods of time during city tours, museum visits, and outdoor activities. Daily walks of up to three miles, sometimes including difficult terrain such as cobblestones, unpaved trails, and uneven pavement (especially at archaeological sites), stairs without handrails. Many sites do not have elevators and longer walks may be necessary to get to town centers where coaches are prohibited. Most full-day excursions last from four to six hours, and there are several afternoons at leisure. The itinerary features two boat trips and drives along winding roads.
Appropriate for: Travelers who are physically fit and comfortable with longer days of touring (both walking tours and coach time).
To see itinerary, please click on an option below.
Itinerary
Itinerary
Day 1 and 2 – Depart the U.S. for Athens, Greece
Fly overnight to Athens, arriving late in the morning in the Greek capital. Take the remainder of the day to relax or explore on your own.
Day 3 – Athens
Set out to visit the city's most important sites on a guided tour that includes the 5th-century B.C. Acropolis and the Parthenon, the renowned Acropolis Museum, and a walk through Hadrian Street and the Plaka district. View a magnificent collection that spans many centuries of art at the Benaki Museum of Greek Culture. During a free afternoon, discover the ancient sites, lively neighborhoods, and museums of Athens at your leisure. Tonight, meet up for a welcome dinner at a local restaurant. (B,D)
Day 4 – Delphi
Venture to the beautiful ancient site of Delphi, nestled between cliffs on the slopes of Mount Parnassus and spilling out onto the Sacred Plain. Here, an oracle representing the revered god Apollo presided over the ancient world.
See the ruins of the Sanctuary of Apollo; walk the marble Sacred Way, and climb to the 4th-century B.C. theater still in use today. Also visit Delphi's museum to see artifacts such as the bronze "Charioteer," one of the best-preserved statues from ancient Greece. After lunch in a local restaurant, return to Athens late afternoon. (B,L)
Day 5— Corinth / Peloponnese
Start the day with a visit to the National Archeological Museum, home to the world's most significant collections of Greek artifacts. After, travel by coach to the Peloponnese, a peninsula separated from the mainland by the Corinth Canal. On the way, stop to see the ruins and museum of Ancient Corinth, a once-thriving city that was demolished by the Romans in 146 B.C. only to be rebuilt a century later. It was here that Saint Paul wrote his two letters, First and Second Corinthians; and the altar where he preached remains to this day. Late this morning, pay a visit to the Mela olive oil factory to learn about the history of olive oil production and enjoy a light lunch and tasting. Arrive at your resort hotel on the Peloponnesian coast this afternoon and gather for dinner there tonight. (B,L,D)
Day 6 – Epidaurus, Mycenae, and Nafplio
Venture to the 2,300-year-old theater at Epidaurus, a masterpiece of Greek architecture known for its perfect acoustics and still in use today. Tour this ancient sanctuary, long associated with healing and medicine, and visit its museum. Continue to the World Heritage site of Mycenae, a capital of western civilization from the 15th to the 12th centuries B.C. Discover its influence on Greek and western culture and see its famous landmarks, such as the Tomb of Agamemnon and the Lion's Gate. Travel to seaside Nafplio, a gem of a Venetian-Byzantine town surrounded by fortification and edged with waterfront cafés. Take the afternoon to explore the town's picturesque streets as you wish before dinner at a taverna tonight. (B,L,D)
Day 7 – Peloponnese / Hydra
Travel to the port of Metohi and board a private boat to ride to Hydra, a storied Saronic Island where cars are not permitted and donkeys provide transportation. After lunch together, enjoy time at leisure to get acquainted with this beautiful island, once a favorite hideaway of celebrities. Late in the afternoon, return to your hotel. (B,L)
Day 8 – Peloponnese / Heraklion, Crete
As you depart the Peloponnese, stop to see the Corinth Canal, a steep-sided, man-made canal that links the Ionian Sea to the Aegean. Continue to the Athens airport for the 50-minute flight to Crete, arriving mid-afternoon in Heraklion, the Cretan capital. After checking in at your hotel, enjoy free time to settle in this afternoon. Gather in the evening for a walking tour of the Venetian and Ottoman-influenced old town before dinner at a local restaurant. (B,D)
Day 9 – Heraklion / Knossos
In the morning, visit Knossos, the largest Bronze Age archaeological site on Crete, sometimes called "Europe's oldest city". After lunch at a local restaurant, return to Heraklion, and enjoy a tour of the Archaeological Museum, which houses artifacts representing 5,500 years of Cretan history, from the Neolithic period to Roman times. Examine the renowned Minoan collection, much of which was excavated from the Palace of Knossos, on your next stop. The palace served as the political center of Minoan civilization and the setting of the labyrinth containing the Minotaur in ancient Greek mythology. Walk among its recreations and ruins, admiring the frescoes and architectural flourishes of a once-grand city. The late afternoon offers an optional visit to Koules Fortress, a 16th-century bastion at the entrance to the city's old port. The evening is yours to explore Heraklion on your own. (B,L)
Day 10 – Heraklion / Spinalonga / Agios Nikolaos
Drive east to the Bay of Elounda, and board a private boat for a cruise to Spinalonga, a former Venetian island fortress later occupied by the Ottomans then used as a leper colony from 1903 to 1957. Enjoy lunch at a women's cooperative, where, in order to maintain the traditions of the village, the women work together to grow and cook food using traditional, age-old recipes. Afterwards, travel to the colorful harbor town of Agios Nikolaos, and enjoy time to discover its galleries, shops, cafés, and tavernas. See tiny Lake Voulismeni, where, legend has it, the goddess Athena once bathed. Take a guided tour of charming Kritsa, a traditional village nestled among olive groves near Agios Nikolaos, and stop at a women's cooperative for lunch. (B,L)
Day 11 – Crete / Santorini
Depart by high-speed ferry for Santorini, the southernmost of the Cycladic islands. A flooded volcanic caldera once considered to shelter the lost city of Atlantis, Santorini is a crescent-shaped island of dramatic cliffs topped with dazzling, whitewashed villages. Your first stop on the island is the Venetsanos Winery for a tour and tasting. Then head to the town of Thira, where you'll have free time for lunch and independent exploration. (B,D)
Day 12 – Santorini
Begin the day at the archaeological site of Akrotiri, a Bronze Age Minoan location that was abandoned in the 17th century B.C. following a volcanic eruption that preserved the city in ash. Late this afternoon, travel north to the town of Oia, where whitewashed houses, windmills, and churches are perched at the cliff's edge, affording stunning sunset views. (B,D)
Day 13 – Santorini / Athens
After a late morning flight to Athens, you're free for lunch on your own and an afternoon at leisure, perhaps to visit the Plaka for last-minute shopping or to stroll the broad plaza of lively Syntagma Square. Tonight, meet for a farewell dinner overlooking the Acropolis at the rooftop restaurant of your hotel. (B,D)
Day 14 – Depart for the U.S.
Transfer to Athens' international airport this morning, where you connect with your return flight home. (B)
Included meals are denoted as follows: Breakfast (B), Lunch (L), Reception (R), Dinner (D)
Related Tours