Smithsonian Journeys Experts
Aneta Georgievska-Shine
Aneta Georgievska-Shine is a scholar of the Renaissance and the baroque eras, yet as an art historian, her interests range from ancient to contemporary art. In addition to her affiliation with the University of Maryland, she frequently presents lectures for museums and art institutions in the Washington D.C. area, including the Walters Art Museum, the Baltimore Museum of Art, the Virginia Museum of Fine Art, and the Smithsonian. Her publications include scholarly books and numerous articles in U.S. and international journals, as well as essays in exhibition catalogs.
A popular Smithsonian Journeys Expert, Aneta has led numerous journeys to France, Italy, Germany, the Netherlands, as well as Central and Eastern Europe. In addition to her art historical expertise, she brings a deep knowledge of the history, politics, and languages of Central and Eastern Europe. Aneta is a native speaker of Macedonian and has working knowledge of several other European languages.
What Our Travelers Say
Aneta was a delight and truly an expert, she was our hilight on the trip. We enjoyed her contributions the most during our tours.
- Smithsonian Journeys Traveler
She shares her wealth of knowledge with enthusiasm, genuine ability to connect with audience.
- Smithsonian Journeys Traveler
Personable, enthusiastic, and knowledgeable. Spent personal time with all travelers in the program. Crown jewel of the trip.
- Smithsonian Journeys Traveler
She was like a burst of sunshine! Plus her incredible MIND, coupled with her delivery, made every subject come alive. I learned so much from her, both while she was lecturing and when she was accompanying us on a tour [or just having a meal together!] I would totally look for other journeys that she is going on. I will be keeping in touch with her via email.
- Smithsonian Journeys Traveler
I cannot praise her enough - her extensive knowledge, her passion about her field, and her enthusiasm to transmit her knowledge to us. She went over and beyond what was required of her every day. Wonderful!!!
- Smithsonian Journeys Traveler
Her knowledge, enthusiasm, and eagerness to share were a large reason that we enjoyed the tour so much. I will look for other programs, both local and travel, where she is the expert.
- Smithsonian Journeys Traveler
Upcoming Tours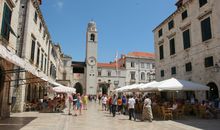 8 days | Starting at: $5,050
Sep 17, 2023 - Sep 24, 2023

From Athens to Venice (aboard Le Lyrial)
Tour Details ››