Smithsonian Journeys Experts
Veronica Kalas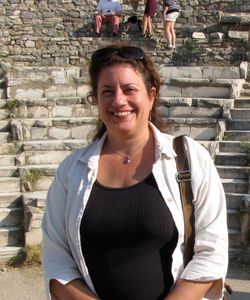 Veronica Kalas is an art historian and archaeologist with special expertise in the ancient through Byzantine periods. She has taught courses on such topics as ancient Rome, ancient to medieval art and architecture, and special topics in Byzantine art at the University of Michigan (Ann Arbor and Dearborn) and Wayne State University, as well as in Ankara. Veronica has also worked on archaeological excavations and architectural surveys in Greece, Turkey, and Tunisia. She earned her Ph.D. in art history and archeology from New York University's Institute of Fine Arts and her B.A. in Classical Archaeology from the University of Michigan, Ann Arbor. Her special area of expertise focuses on the architecture and society of Byzantine Cappadocia, a volcanic region located in central Turkey. She is also very interested in cross cultural and interdisciplinary approaches to the history of art and archaeology. Veronica has published many articles and papers, and is currently working on a book on Cappadocia. Her work has been supported by various grants and fellowships, including the American Research Institute in Turkey, the Program in Hellenic Studies at Princeton University, and Dumbarton Oaks Research Libraries and Collections in Washington, D.C. Veronica has enjoyed filming and fact-checking for the History Channel and the Smithsonian Channel, lecturing to the public, and leading archeological study tours.
What Our Travelers Say
Veronica as an academic knew a lot about the sites we visited and added greatly to the experience.
- Previous Journeys Traveler, Legendary Turkey and the Turquoise Coast
Tremendous knowledge, passion, and personality! She is an asset on any tour involving art and antiquities.
- Previous Journeys Traveler, Glories of Turkey and Classical Greece