Smithsonian Journeys Experts
Thomas Mirenda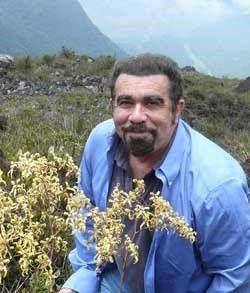 Tom Mirenda has been cultivating plants since his early childhood and lives to create beauty with plants in botanic Garden settings for more than half of his adult life. Originally trained as a Marine Biologist, Tom moved to Hawaii in his early 20s to pursue a MB career and worked on the Trophic relationships of denizens of Coral reefs in the Northwest Hawaiian Islands (Midway and French Frigate Shoals). There he realized he was better suited to Horticultural pursuits and took positions at New York Botanical Garden, Brooklyn Botanical Garden and at the Incredible Greentree Estate in Long Island where he cared for a first class Orchid collection. Eventually Tom accepted the Orchid Collection Specialist Position at the Smithsonian Institution in Washington DC where he cultivated and curated a huge diverse orchid collection for 17 years. The collection was used to create massive 4 to 5 month long educational orchid exhibits displayed to literally millions of visitors each year.
Recently, Tom decided to take a leadership position at the Hawaii Tropical Botanical Garden, an exceptionally beautiful jewel on the lush Hamakua coast just north of Hilo on the Big Island. What Tom found there was an Orchid Paradise where myriad spectacular orchids of all types, both lowland and montane species and hybrids seem to thrive, simply planted in the trees, placing them thoughtfully in the landscape.
Tom looks forward to sharing his love of plants and nature with you on this tour.
What Our Travelers Say
His lectures were very informative and his knowledge was great. Well researched and interesting.
- Smithsonian Journeys Traveler, Costa Rica's Natural Treasures
Tom was very knowledgeable. He was very personable and patient with us, a wonderful addition to the tour.
- Smithsonian Journeys Traveler, Costa Rica's Natural Treasures