Smithsonian Journeys Experts
Kate Evans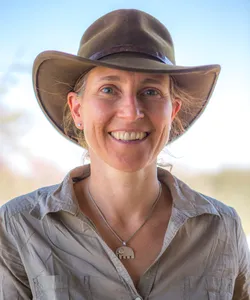 Dr. Kate Evans is an award-winning behavioral ecologist and conservation biologist. Upon completing her BSc (Hons) in Zoology, during which she studied the meerkats of the Kalahari, she gathered field experience that saw her researching the ecology of the insects of the Namib to the social interactions of the Samango monkey of South Africa. She then returned to academia to complete her Master's degree in the parasitology of lion, before undertaking her Ph.D. on adolescent male African elephant in the Okavango Delta, Botswana.
With over 20 years of experience as a field biologist throughout Southern Africa on a variety of species, as well as a childhood living in Africa, Asia, the Middle East, and the Nordics, she has a solid understanding of the challenges of conservation, the complexities of resource competition, the implications of policies and the importance of stakeholder relationships.
Kate heads up an international team researching male elephants, is on the board of an environmental organization and a member of groups involved in human-wildlife competition, conservation and biodiversity. Her passion for the natural world is infectious and she loves spending time in the wilderness and experiencing different cultures.
What Our Travelers Say
I very much like the educational aspect of Smithsonian Journeys...the knowledge of their Experts and their ability to relate that knowledge to us.
- Ellen V.