Smithsonian Journeys Experts
Ed Albin
Dr. Ed Albin holds the positions of Associate Professor and Department Chair for the Space Studies department at the American Public University. With an enduring passion for astronomy and planetary science, Ed has actively engaged in the field for more than 35 years. A significant portion of Dr. Albin's career was at the Fernbank Science Center in Atlanta, where he presented captivating planetarium programs and held a key position in overseeing the Zeiss planetarium and its associated observatory. Inspired by the historic Apollo Moon landings in the 1960s and 1970s, Ed acquired a master's degree in planetary geology from Arizona State University and went on to complete his Ph.D. at the University of Georgia. In addition to his academic pursuits, Dr. Albin is an accomplished astrophotographer, capturing images of celestial objects and phenomena. Throughout his career, Ed's dedication to educating and inspiring others in the field of astronomy has remained a prominent aspect of his work.
What Our Travelers Say
I very much like the educational aspect of Smithsonian Journeys...the knowledge of their Experts and their ability to relate that knowledge to us.
- Ellen V.
Upcoming Tours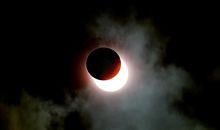 5 days | Starting at: $5,395
Apr 5, 2024 - Apr 9, 2024

Featuring a Deluxe Retreat
Tour Details ››