Smithsonian Journeys Experts
Bill Sapp
Bill Sapp is an archaeologist with special expertise in the Andes. He has been leading tours for almost two decades and is an expert in the Inca site of Machu Picchu, the Machu Picchu Sanctuary, the Sacred Valley, and other sites in and around Cusco. Bill received his PhD in Anthropology from UCLA, where his dissertation documented his excavations at Cabur, a Lambayeque country palace located on Peru's north coast. He also excavated at Farfán, a large Lambayeque and Chimú administrative center, and El Algarrobal de Moro, a Chimú administrative site in the Jequetepeque Valley. His primary interests are the late prehispanic polities and the structure and development of their administrative systems. Bill previously served on the Board of Conservation Volunteers International Program, where for a number of years he brought volunteers to Machu Picchu Sanctuary to work with the Ministry of Culture and the Ministry of the Environment to maintain and protect the sites and trails within the Sanctuary. Bill currently works as an archaeologist and tribal liaison for the US Forest Service on the Lincoln National Forest in New Mexico.
What Our Travelers Say
Professor Sapp was very good. He is very enthusiastic about Peruvian archaeology and his knowledge and experience in the Peruvian cultures really shows. He is also very enjoyable and easy to understand.
- Previous Traveler, Legendary Peru
Upcoming Tours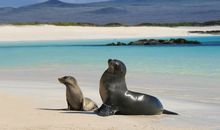 9 days | Starting at: $7,995
Feb 2, 2023 - Feb 10, 2023

Aboard the 48-guest La Pinta
Tour Details ››