Listening to a Garden
---
High in the volcanic hills of Matinique lies Jardin de Balata, a magnificent botanical garden containing several thousand kinds of tropical plants.  Named for the tree from which latex once was extracted to make golf balls, the garden was begun in 1982 by Jean-Philippe Thoze, a horticulturist, though his creation seems to have been the work of a composer.
The garden contains some three hundred types of palm, which our Smithsonian Journeys Expert, Dubliner Patrick "Paddy" Bowe emphatically teaches us are not trees because their trunks contain fiber, not wood.  (I'll wager a pint o' Guinness that none of us ever says "palm tree" again.) 
As we follow behind Paddy like students on an outing with their headmaster, it soon becomes obvious how many of the terms he uses to describe and explain vegetation derive from musical interpretation.
The path we walk winds melodically past various themes, groups of plants that often create harmony and texture between upper leaves, which allow dappled sunlight to filter down, and lower plants punctuated by exotic flowers and variegated leaves.  Throughout, hummingbirds pause and dart.  There's rhythm in a staccato line of very tall palms, even syncopation between shorter palms evenly spaced and set back from their primary row.  The massive roots of a mahogany tree remind one of a whole section of low, ominous double basses.
Indeed, the overall impression of this stunning display of beauty is not unlike listening to a symphony orchestra, and in my informal poll among other travelers, Jardin de Balata is voted the favorite of all the botanical gardens we've visited on six islands during our Caribbean cruise aboard Sea Cloud.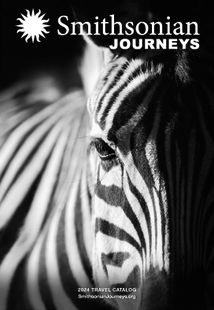 Request a Free Catalog
Download now to find inspiration for your next journey
Get It Free!
Be the First to Know
Sign up to learn more about our tours and special offers
Sign Up