A Tailor-Made Journey to India and Nepal
---
Our trip of a lifetime really started 5 years before we left home. Our son, then age 6, became very interested in animals of the world. In addition to his favorite, the Sulawesi Macaque, he studied every type of rhinoceros, learning their status on the IUCN list and planning to save them. He printed out pictures of the Asiatic one-horned rhino, complete with fact sheet, and taped it all over his bedroom door.
Little did we know that a few years later we'd be walking through Chitwan National Park in Nepal, watching four large rhinos relax and splash after a long day in the forest.
But let me back up a bit.
Once we decided to go to India, we intended to book a standard tour, but our son was too young to join an organized group. That turned out to be a blessing in disguise, because the tailor-made journey we ended up taking couldn't have been more perfect for us.
Our son has had his heart and mind set on traveling to India since he was about 7 years old. He's born in the U.S. but of Indian and Pakistani heritage. Every night he fairly badgered us until, after months of nonstop pushing, I faltered. "Fine," I told him, "we'll go to India." "When?" he demanded. "In 2015. Now go to sleep." That was in 2010.
Fast-forward to New Year's Day 2014. "We better start planning now," he said with a big smile. "The trip is only a year away!" Soon afterward, he asked to study Hindi so he'd know the language when we went. My husband and I knew we better start focusing on this trip. But we also realized that, for medical reasons, I'd be taking our son alone.
Two weeks in India and Nepal is not the kind of adventure every family thinks of as safe, or necessarily wise, for a mother and her 11-year-old son to take. But we knew better: We were embarking on this introductory tour with a Smithsonian Tailor-Made Journey. We really struck gold when we were assigned to the incredibly patient and visionary organizer, Sian Wait, India/Sri Lanka Senior Specialist at Audley Travel. From our first conversation, she seemed to understand what we needed as if she'd known us all our lives.
Within a week, Sian sent a preliminary itinerary that offered exactly the mix we were looking for: a week in northern India—ancient, majestic, and full of macaques—and a week across the border in Nepal, specifically to see the Himalayas and the animals, especially rhinos. We had three stops in each country.
India
We left for India a week before our son turned 12. We planned the so-called "Golden Triangle" tour: Delhi-Agra-Jaipur. In our too-brief time there, we visited six UNESCO World Heritage Sites: Qutb Minar and Red Fort; Taj Mahal and Agra Fort; Fatehpur Sikri; and the Jantar Manta in Jaipur (http://whc.unesco.org/en/statesparties/in).
To say we loved India doesn't quite suffice. It might be more telling to say we felt as if India loved us back. We gobbled it up—from the crowded, noisy streets of Old Delhi, living up to their reputation as other-worldly, to the sacred cows in the middle of the road, to the monkeys jumping across building tops and rummaging through bins.
A true highlight of Delhi for us was the Samadhi of Mahatma Gandhi, the Father of India. The approach to the revered place through a lovely park opens out to an eternal flame and people paying their respects quietly. It was a nice surprise, then, when a group of schoolchildren in their bright blue uniforms came bouncing across the green grass toward the site. Their joy would have made Gandhi smile.
From Delhi we traveled by train to Agra. We did our research beforehand, but we weren't prepared for the utter beauty that is the Taj Mahal, its cool, crisp white marble unlike any we'd ever imagined. Its inlay of precious materials creates a subtle splash of color everywhere the eye lands. The majesty of Mughal architecture aside, the essence of the place enfolds you. Visit the magnificent "Baby Taj" a short distance away, and you see why Shah Jahan was inspired by his mother's structure to create his Taj Mahal.
Standing at the Red Fort on the Yamuna River, looking across at the memorial to Shah Jahan's wife, if you close your eyes and let the cool breeze through the marble window screens transport you, you are for a moment, back in time. The Fort is doubly interesting as the place Shah Jahan lived out his life, having been imprisoned there by his son, who seized power from his father after killing all his brothers. So Shah Jahan spent his final years gazing at the Taj Mahal, the final resting place of his beloved wife, until he died and was buried next to her, in an odd twist of fate, throwing off the intentional symmetry in the structure's design.
Our fascinating trip from Agra to Jaipur included a tour of Fatehpur Sikri, a desert city built in the second half of the 16th century by Shah Jahan's grandfather, Emperor Akbar, who also built Agra Fort. Fatehpur Sikri, resplendent with red sandstone and innovative architecture, was the capital of the Mughal Empire for more than 10 years, until Akbar went to war and chose a new capital at Lahore.
From Fatehpur Sikri, we drove to Jaipur, and camels ruled the roads along our way. Before entering Jaipur, we took a quick side trip to the Abhaneri Stepwell, with its 13 levels of narrows steps leading, at one time, to water reserves. Another side trip en route brought us to Galtaji, the Monkey Temple east of Jaipur, where a friendly local guide walked us up to the top. It was, our son said, his favorite place of all, surrounded by hundreds monkeys gleefully snatching candy from our hands and tugging on shirts while climbing on our heads.
In Jaipur, the Pink City, we found a warm welcome and great comforting care at Dera Mandawa, a home away from home we'd both like to revisit. Our time in Jaipur included ogling the stunning Palace of the Winds and wandering through the Jantar Mantar, Amber Fort, and City Palace. Best of all, our son's birthday occurred during our time in Jaipur. For a special gift, we spent the day with a pregnant elephant named Birli at Elefantastic, an elephant farm that helps people meet and appreciate elephants up close.
By the time our India portion of the trip was ending, we felt like we had been immersed in so many experiences that it didn't seem possible we'd been there only one week.
Nepal
Next, we flew to Nepal, where we visited Kathmandu, the capital; Chitwan, the wildlife park; and Nagarkot, the mountains. Just a month before the Great Earthquakes, as the Nepali people now refer to April and May 2015, we were lucky enough to see five of the seven UNESCO World Heritage Sites in the Kathmandu Valley (http://whc.unesco.org/en/list/121/).
In Kathmandu, we spent hours at Swayambhu, a religious complex with the oldest Buddhist stupa, where we visited a monastery. We strolled along the Bagmati River behind Pashupatinath, the holiest Hindu temple in Nepal, where several families were honoring their dead with cremation ceremonies. We covered every corner of Hanuman Dhoka Durbar Square, and waited for the Living Goddess Kumari to show her face at high noon through a tiny window above our heads. We wandered around Boudhanath, the largest stupa in Nepal, and met a Tibetan Buddhist High Monk on a rooftop.
Later, we drove down into the Valley, passing rice nurseries and san trees on our way to Chitwan National Park, where our first walk into the forest led us to four one-horned rhinos swimming in a tributary to the Rapti, which flows to the Ganges. We canoed that river looking for gharial and mugger crocodiles, and finding them, as well as countless colorful birds, such as the kingfisher. We stayed at Maruni Sanctuary Lodge, located on the border of the park, between two villages of the Rana Tharu Community, so every time we went into the forest, we walked through the amazing village.
We traveled a couple of days later back through Kathmandu and up to Nagarkot, known for sunrises that leave you breathless. We hiked for hours with our guide through Tamang villages, passing hard-working farmers planting corn and houses that looked like we could blow them over with a puff. We hiked up, down, and through tree-lined paths and out in the open until we reached Changu Narayan, climbing the last set of long stairs to the oldest temple in Nepal, built in the 4th century.
It sounds like a lot, and it was, but we didn't notice or mind one bit. Sian arranged every movement, so we never thought twice about our next step. We had great and ample care from the instant we landed in Delhi to the second we left Nepal. And our travels were tailor-made for an adventurous 12-year-old, including plane, train, automobile, as well as canoe and elephant.
All the details taken care of for us by Smithsonian Tailor-made Journeys by Audley Travel, we were free to relax and observe and admire. Before we went on this trip, we were a bit concerned that we might be spending too little time in each place or too much time on the road, traveling between sites. But Sian knew what she was doing, and we never once felt anything except gratitude and wonder at everything and everyone we encountered.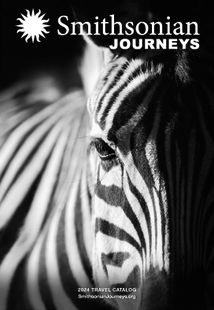 Request a Free Catalog
Download now to find inspiration for your next journey
Get It Free!
Be the First to Know
Sign up to learn more about our tours and special offers
Sign Up