France Through the Ages, a Tangible Experience of Art, Culture, and Traditions
---
For anyone interested in France, the Smithsonian Journey "France Through the Ages" provides exactly what it promises; a real journey through the long history of France from Prehistory to present days.
It is especially through its art and architecture (the visit of Lascaux II, the mention of Roman remains and ruins, the exploration of Middle Ages churches, fortresses, abbeys and castles, the exposure to Renaissance, Baroque, and/or Neo-classical and Modern periods and worldviews) that this is obtained. First hand experiences make the past palpable, as is for example the visit of Monet's garden in Giverny, which he so often represented in painting after 1890 to the end of his life.
As an Art Historian and as Smithsonian Journeys Expert this journey allowed me to survey in my lectures the entire history of France clearly and concisely, chronologically and stylistically reorganizing and revisiting mentions of visited locations. For instance, there are countless of churches to visit along the way, in each French town even the smallest, allowing to experience on site that life was organized around its Church and to master the evolution in art and architecture from Romanesque to Gothic styles (11th to 14th centuries). Beyond the Middle Ages, there is the Loire Valley marked by the establishment of the French Monarchy and its scenery of marvelous Renaissance landmarks (Chenonceau Chateau and Leonardo da Vinci's Clos Lucé to mention only a few). There is in addition, 19th century Paris, Normandy with its D-Day memorials and landmarks, amongst others.
Furthermore, this journey is an opportunity to explore how French cultural inheritance still nourishes today's life and customs. Travelers are for instance invited to visit French markets amongst the locals (Sarlat and Honfleur's local markets); they are also introduced to the lively French gastronomic and wine traditions (in Black Perigord with truffles and foie gras or with Normandy's dairy and apple products, etc. all served with local wines or ciders).
With all the contextual information provided, this journey might as well be France has you have not seen it yet.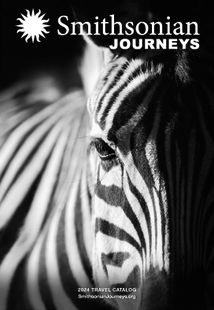 Request a Free Catalog
Download now to find inspiration for your next journey
Get It Free!
Be the First to Know
Sign up to learn more about our tours and special offers
Sign Up