7 Must-Have Items for Any Trip
---
​
If you Google "travel must-haves," you'll find a deluge of lists compiled with the common traveler in mind. But we know you're no common traveler! Below are the highly practical and versatile items a seasoned traveler such as yourself should carry when traversing the globe.
Collapsible water bottle
A collapsible water bottle sidesteps so many travel issues: its small size when empty makes it ideal for carryon luggage and you'll stay hydrated without having to spend $4 on a bottle of water. Plus it's eco-friendly!
Baby wipes
What aren't these good for? If you need napkins, hand sanitizer, make-up remover, a quick alternative to showering, or emergency toilet paper, a pack of baby wipes is the answer to your travel prayers.
Scarf/bandana
Though hats are certainly useful, they are nowhere as versatile as a lightweight scarf or bandana. Need a quick headband? Traveling to a country where head coverings are the cultural norm? Desperate for an easy way to cool off? Bandanas have got you covered (pun intended).
Safety pins
Wardrobe malfunctions become momentary inconveniences when you travel with safety pins. They also come in handy for keeping hotel window drapes completely closed for a deeper night's sleep, and can even remove splinters in a pinch.
Camera accoutrements
Since you can only estimate how many pictures you plan to take on your travels, you should plan to bring additional memory cards or a USB flash drive to ensure you capture every moment. If this seems like too much of a hassle, consider buying a camera with built-in Wi-Fi so you can store your images online - and maybe share a few on our Facebook page.
Ziploc bags
Ziploc bags routinely appear on lists of must-have travel items because their utility knows (nearly) no bounds. Keep luggage organized, wet or dirty clothes isolated, and important documents safe with Ziploc!
Collapsible tote bag
When carrying around the day-to-day essentials, the last thing you want is a bag that adds weight. A collapsible (and preferably zippable) tote bag safely holds your wallet, camera, map, sunglasses, and the items listed above, as well as anything else you happen to pick up along the way.
Did we forget your go-to travel must-have? Tell us below!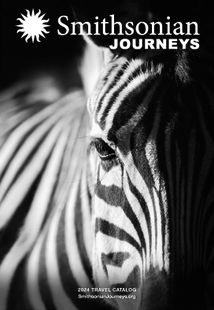 Request a Free Catalog
Download now to find inspiration for your next journey
Get It Free!
Be the First to Know
Sign up to learn more about our tours and special offers
Sign Up