Time Traveling up a Creek Without a Paddle?
---
The Zambezi River is hardly a creek. Indeed it is Africa's fourth largest river that collects nearly half of south central Africa's rainfall and deposits it, after a 1700 mile long journey, into the Indian Ocean. Its name translates from the Tonga language as 'The Great River' which is an apt and befitting moniker. A Smithsonian African Safari is a modern day exploration of this mighty waterway; our itinerary taking us in the footprints of that most legendary of African Explorers, David Livingstone. However, unlike Dr. Livingstone, we have the luxury of modern transport to cover in two weeks what took him many years of grueling pioneering. I have often wondered what drove Livingstone in his quest to open 'God's Highway' to the interior of Africa, and I think I may have found one of his greatest motivators.
A Smithsonian safari through Zimbabwe, Botswana and Zambia makes use of just about every modern transport vehicle bar trains. We do game drives in specially adapted 4x4's, boat cruises on luxury river craft, view the Vic Falls from helicopters, move from one country to another in luxury coaches or private aircraft, and skim along the Zambezi in small power boats in search of the formidable Tiger Fish. We are so habituated to the sound of the internal combustion engine (or as I call it, the infernal combustion engine) that we consider its intrusive racket as normal. Dr. Livingstone, I presume, would not approve.
When our group of Smithsonian Travelers reached the Royal Zambezi Lodge in Zambia's remote Lower Zambezi National Park (after a bus ride, ferry crossing, another bus ride, a private charter flight, and a transfer by 4x4) many of us were ready for the tranquility that epitomizes this destination. The lodge offers a wide variety of activities including two of Livingstone's preferred modes of transport: walking and canoeing.
Simeon, our guide and de facto protector, instructs us with a stern lecture prior to our departure. "Remember" he says, "should your canoe tip over or you fall out, swim as quietly as possible to the shore. Do not splash about as this attracts crocodiles." Enough said!
In truth, canoeing is a safe as walking across a busy street – if you obey the traffic lights you are unlikely to get hit by a car. We clamber into our fourteen foot Canadian canoes armed with nothing but our cameras and binoculars, i.e. we are paddleless! This is because each canoe is paddled by a young man from the lodge who knows these waters intimately and is adept at keeping us out of potential trouble.
Once we set off, the serenity of the river takes over almost immediately. The flow of the Zambezi has us in her gentle grasp and we quickly hit our individual mute buttons. Simultaneously our 'other' senses start working and we begin to notice so much we have missed before. Every bird chirp is a loud proclamation of territory, the snap of twigs gives an elephant's position away, the unmistakable smell of a baboon roost, the sucking noise of antelope drinking, the audible snap of a bee-eater hawking an insect on the wing, the blast of air from a surfacing hippo's nostrils. The only intrusion to this is the dip and splash of our helmsman's paddle. The afternoon sun is at our backs and bathes the scene before us in a magical light that emphasizes the verdant river banks of giant mahogany and winter-thorn trees. It picks up the glisten of the crocodiles' scales as they sunbathe, mouths agape to show off their weaponry, and illuminates an elephant in a halo as he throws clouds of dust over himself. It was at about this point that I was struck with a thought. David Livingstone conducted the first 'European' canoe safari on the Zambezi River and what we are witnessing is a scene that must have been a daily experience for him. Ageless wild Africa becomes apparent and, at this moment, a thread through time connects us. Generations of bee-eaters have made their nests in the sheer clay banks we drift past; the lineage of elephants that have drunk from these waters is unbroken; the fruits of the giant trees have provided sustenance for countless baboon dynasties, and always the river flows in a never ending continuum.
All too soon we reach the end of the channel and the connection is lost as we are collected by motor boat for the trip back upstream to our comfortable lodge. Livingstone, on his side of the wormhole, is setting up camp on the bank of the river, staring out over a cooking fire at the mighty Zambezi and looking forward to doing it all again tomorrow.
***
Click here to learn more about our African Safari.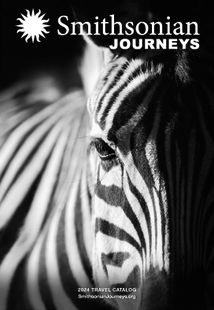 Request a Free Catalog
Download now to find inspiration for your next journey
Get It Free!
Be the First to Know
Sign up to learn more about our tours and special offers
Sign Up