Diwali Fervour
---
Coming to India is a sure tryst with colour, verve and vibrancy. And if you come in time for the biggest Hindu festival, Diwali (held in October or November as per the lunar calendar), you are in for a super-sized magnificent celebration that exceeds your imagination.  Diwali or Deepavali is one of India's most well-known festivals and is celebrated with gaiety and pomp throughout the country. The name Deepavali comprises of two words – deep meaning light and avali referring to a row -   the name thus translates to a row of lights.  A festival of bright lights, fireworks, beautiful floor paintings called rangolis, beautiful new clothes, mouth-watering delicacies and sweets, Diwali is an opportunity to spend wonderful moments with loved ones.
Like many other Indian festivals, Diwali has its roots in ancient times when it must have started off as an important harvest festival. Several myths revolve around Diwali and thus it is a celebration with multiple meanings spread over five days. In North India, Diwali celebrates the return of Lord Rama, the hero of the Indian epic Ramayana who was banished to 14 years of exile by his father King Dashrath to fulfil a wish made to Rama's step-mother Queen Kaikeyi. Rama, the heir to the throne, is a dutiful son and leaves for the forest accompanied by his wife Sita and younger brother Lakshmana. In the forest, Sita is abducted by the demon-king of Sri Lanka, Ravana and taken away to his island kingdom. Rama, aided by his devotees including Hanuman, the monkey-god, wages a battle with Ravana and brings Sita back. Diwali marks the night Rama comes back to Ayodhya, the capital of his kingdom with Sita and Lakshmana after 14 long years. The people of Ayodhya are joyous and light up the night with row upon row of oil lamps to celebrate his return, a practice followed even today.
Diwali also symbolizes the victory of Lord Krishna over the demon Narakaasura who troubled the gopis ( milk-maids) of Vrindavan. In the south of India, Diwali celebrates the defeat of Bali, a demon king by Lord Vishnu who appeared before him in his avatar as Vamana, the dwarf. The king offered to fulfil any wish and Vamana asked for three paces of land. The moment Bali agreed, Vishnu assumed his magnificent form – with one stride, he covered heaven, with the second, the nether-world. Bali in humility offered his head for the third stride and in doing so, attained immortality. Vishnu made him the king of the underworld and Diwali is the one day Bali is allowed to return to Earth so that his devotion to Lord Vishnu and his good deeds can be celebrated.
The Feminine is not forgotten on Diwali – Goddess Lakshmi, the consort of Lord Vishnu who is the goddess of wealth and prosperity is worshipped in every home. In India, 'spring cleaning' happens in autumn before Diwali as homes are renovated, painted and cleaned thoroughly in Goddess Lakshmi's honour. Beautiful floor patterns called rangolis are made with rice-flour, coloured powders or flowers in different parts of the country. In the eastern Indian state of West Bengal, Diwali brings the worship of Goddess Kali, the fierce deity who represents power.
For our group, what better place to await Diwali than the holy city of Varanasi, one of the most sacred pilgrimage centres for Hindus all over the world. Even though Diwali was the day after the group was leaving for US, all of India was caught up in anticipation of this amazing festival. In fact, from the moment the trip started in New Delhi, Diwali 'fever' was in the air. The road to Jama Masjid, the biggest mosque in India was lined with shops selling fireworks and guests were able to see people buying up myriad crackers for Diwali. Colourful banners advertising the major firework brands lined the narrow streets of Chandi Chowk where we went for our rickshaw ride – a spell-binding ride if ever there was one.
En-route to the Dera Village retreat and thereafter to the city of Jaipur, the highway was punctuated by colourful stalls selling brightly hued yarn and tinsel-embellished truck decorations as well as black tassels to remove the evil eye, beautiful scarves, pennants, etc. For a truck driver, the truck is not just a machine – she is a beautiful woman, precious to the truck-driver and deserves to be gifted with ornaments. The stalls were a photographer's delight – row upon row of intense colour and bling, a quintessential India image.
As our trip progressed, so did the Diwali 'fever' accelerate across the cities we visited. In Jaipur, all the markets were being decorated with strings of bright silver and gold tinsel spread out like a canopy overhead. Loops of lights were being festooned from one building to another and colourful fabric gates were being erected on all major roads – the bamboo scaffolding for the gates were like gigantic art installation in themselves. Stalls selling terracotta lamps or diyas  were prominent in all the markets. Stores dealing in electric lights and lamps were not far behind in advertising their wares by stringing up these lamps right out in the street from trees, bamboo poles or street-lights. Clothing stores, showrooms for cars and electric goods, furniture shops – each shop was bedecked as a bride with bright flowers, fabric pennants and fairy lights beckoning customers to come over. Customarily, most Indians invest in new appliances, clothing and vehicles at Diwali and it is a bountiful time for these stores.
Our last stop, Varanasi, was especially brightly lit up for Diwali was just a day away. Our boat-ride was magical that evening with the lights on the ghats. Early in the morning, there was a mile-long queue of devotees waiting to get into the Vishvanath temple as it was the auspicious day of Dhanteras, the day to worship Goddess Lakshmi and Lord Kubera, the deities representing wealth and prosperity. It is also a day to buy metal – precious ones like gold and silver  or less expensive ones such as steel and iron. During our bus ride through the city, we saw utensil store display a wealth of steel vessels, containers, pitchers and lunch-boxes. Another interesting and eye-catching display seen across the city were temporary stalls selling clay images of Lakshmi and Ganesha, ranging from plain terracotta colour to poly-chrome painted ones. Everyone in the group could not resist clicking pictures of these statues. Varanasi was well and truly geared up to celebrate Diwali and so were we!!
***
To learn more about our Mystical India tour, click here.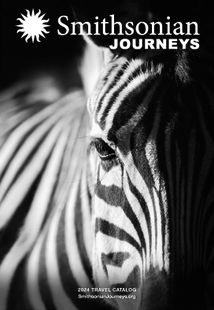 Request a Free Catalog
Download now to find inspiration for your next journey
Get It Free!
Be the First to Know
Sign up to learn more about our tours and special offers
Sign Up