The Southward Journey Through Vietnam
---
Over two activity filled weeks, our Smithsonian study tour followed a route parallel to the one historically traversed by the Vietnamese people from north to south. After three days visiting the ancient capital of Hanoi and the sublime islands of Halong Bay in the north, our group flew south to Danang, into the heart of what was once the Champa Kingdom in central Vietnam. The landscape, cuisine, and climate were dramatically different than what we had experienced in the wintery north. After a relaxed afternoon at our charming beach side hotel, the group enjoyed a delicious seafood buffet dinner over high spirits and animated conversations. The following morning we started out early - our bus driver awaited with fresh incense on the front bumper to protect the voyagers from malicious spirits that might cause a traffic accident. We began with a visit to the Cham relics museum, displaying artifacts of the lost Cham civilization carefully collected and curated by French archaeologists during the colonial period.
Afterwards, the travelers clamored for more adventure and so we decided to detour along the scenic shoreline to find the source of a towering Buddhist statue visible from a distance. Winding along the seaside cliffs, the bus arrived at a majestic Buddhist temple complex, replete with holy bodhisattvas, ringing gongs and burning incense. Visiting pilgrims meandered through the courtyards, behind the temple wispy clouds hovered over mountaintops and before the Goddess of Mercy's gaze a blue ocean horizon stretched out for miles.
We would continue on that day to visit the ancient town of Hoi An, once a thriving seaport in the 17th Century frequented by merchants and traders from across East and South Asia. Many of the wooden houses and even bridges from that era built in Japanese, Chinese, and Vietnamese architectural styles remain. Wandering along the pedestrian streets of the town, our travelers discovered a variety of material and culinary wonders, from a busy fresh produce market to local restaurants selling regional food specialties such as the delicate white rose dumpling. Later we would partake in a cooking class, learning about and using a variety of fresh local ingredients, waiting in savory anticipation as our food cooked and sizzled before us, and finally partaking in the delicious fruits of our labor. Afterwards folks strolled in smaller groups through the lively streets of the town, transformed at night by colorful lanterns and playful children, before returning to the hotel to retire for a good night's sleep in preparation for the next day's adventure.
Although not yet the midway point of the trip – many interesting historical, cultural, and geographical sites lay ahead including the grand old imperial city of Hue, the laid back Mekong River Delta town of Can Tho, and bustling Ho Chi Minh City – this midpoint of travel in central Vietnam impresses upon my senses as a memorable moment in our Smithsonian journey together. It was a brief pause where delicious food, beautiful scenery, rich history, lively traveler camaraderie and curious anticipation for what lay ahead came together quite magically. As a study leader, to share with and live vicariously through others experiencing and discovering Vietnam for the first time is one of the greatest rewards.
---
"Trip to Da Nang"
Poem written by Smithsonian Traveler Marsha A. Temlock  after traveling with her husband on the January 2013 "Discovering Vietnam" program
The road that rims the mountain
Precipitous and blind.
Below the verdant valleys
awake with morning glory.
Purple, white bauhinia
above the peaks of trees
Distant in the sunlight
Sway gently in the breeze.
Mountains veiled in fog,
Rice paddies, streams and bogs,
A peasant thins rice seedlings.
A child squats in mud.
Floating markets
Flower markets
Ancestral altars
Emperors Temples
Sampans eye the shore.
Lanterns gleam
Incense furls
Cables crimp
Steam swirls
A rice paper sky.
Monks chant
Bells chime
Silk spins
Girls stitch
Fingers fine as pins
Babies rock in hammocks
Grandpa sips snake tea,
Grandma fixes pho,
Girls in red neckerchiefs
Bow heads to Uncle Ho.
Napping cyclists
Speeding bicyclists
Couples clutched on Dreams.
Sleeping dragon
Spanning dragon
Bridging old and new.
Honk, honk
Make way, make way
Bodhisattva on the hill
Statuesque and calm
She'll reveal what we feel
Visiting Da Nang.
Lotus sown in mud
Blooms fragrant in the morn.
Vietnam is a country,
Vietnam is not a war*
*  "Vietnam is a country, not a war." Le Van Bang, Former Vietnamese Ambassador to the United States.
 ***
To learn more about our Discovering Vietnam trip click here.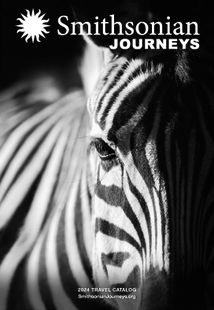 Request a Free Catalog
Download now to find inspiration for your next journey
Get It Free!
Be the First to Know
Sign up to learn more about our tours and special offers
Sign Up