A Day in the Land of Gods & Heroes
---
For the rest of the world it may have been a normal Thursday morning, but for those of us aboard the Corinthian II the day had brought wonder, adventure, and exuberant joy. After disembarking from our ship, which was anchored in the caldera off the cliffs of Santorini, the adults spent the morning exploring the Bronze Age site of Akrotiri. This site had been buried in darkness for thousands of years by the violent eruption of the Thira volcano that created the caldera, and we walked in hushed awe over the ancient
streets that had been brought back into the light. We looked into the houses, abandoned eons ago by their caretakers, strewn with pottery that lay were it fell when the inhabitants fled the island, warned by earthquakes of the impending eruption.
As we explored the results of the volcano's past, the Young Explorers from
Corinthian II
traversed its living presence. The Young Explorers hiked to Nea Kameni, the volcano at the center of the caldera, and felt the heat still rising from the ground. The groups, young and adult, reunited for a delectable lunch on Santorini perched high on the cliffs overlooking the caldera. Breathless stories of riding the donkeys up the cliffs, feeling the steam from the volcano, and marveling at the colorful and detailed frescoes from Akrotiri at the museum were shared over an endless array of Greek dishes. Our laughter echoed down the cliffs, and our smiles rivaled the sun for their brilliance. Could this day be any more amazing, we wondered? After exploring the island a bit more that afternoon, we returned to the Corinthian II for dinner, which never failed to delight with exquisite flavors. But the adventure was not over for the day yet! After sailing out of the caldera, the captain found a calm, sapphire blue anchorage, and we went for a pre-dinner dip in the Aegean from the ship's stern. The sun sparkled on the waters, and the waters responded with twinkling reflections, all flashing over the faces of the splashing, laughing bathers. Over dinner, we talked of how we shared many adventures over the course of the trip and how we transformed from fellow adventurers into friends, as we sailed through these lands of gods and heroes. Each day brought new sites, new tastes, and new reasons to smile and laugh.
 * * *
Kris will be leading two upcoming trips this fall and coming spring. Check them out here: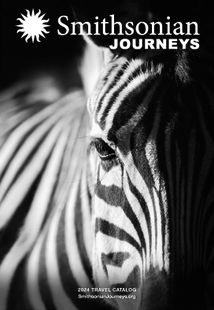 Request a Free Catalog
Download now to find inspiration for your next journey
Get It Free!
Be the First to Know
Sign up to learn more about our tours and special offers
Sign Up