Q&A With Italy Expert Angela Buriani
---
Q: Why do you enjoy leading people around Italy or to Florence?
A: I am always extremely glad and proud to bring travelers around Italy in general and to Florence in particular. Italy is a special country, special from several points of view. It is beautiful and fascinating but also sometimes difficult and different. An Italian journalist wrote, "To be Italian, it's a full time job." I believe that being in contact with a native person helps the travelers to fully enjoy and understand Italy, going deeper than the mere appearance.
Q: What does it mean to you to be Italian? Or is it more important to show allegiance to a region?
A: We are a very young nation, so it is no wonder some people still show a low national spirit. I love my region, Tuscany, but I definitely consider myself first of all Italian and to me being an Italian means to be part of the beautiful and immense heritage we have inherited from our ancestors.
Q: What sort of topics will you address in your lectures?
A: During my lectures on tour I discuss the history of the city we are visiting, its art, and its people. I try to give people a sense of why certain things happened in that place and not elsewhere and what makes that place unique.
Q: Your focus is on art and history, what other topics do you cover?
A: Travelers are generally very interested in knowing about our present way of life, the organization of the society and politics. I also love to talk about the food and wine of Italy, I have a special professional interest in these topics. A tour through Italy is naturally also a tour through our traditional foods and local wines, that varies from season to season. At every meal we have the right wine paired with a particular dish, and it becomes an occasion to discuss the two and why they work so well together. In this way the travelers gain a better understanding of Italian cuisine, but more importantly they enjoy the ritual of eating together; this is a fundamental part of our everyday life in Italy.
Q: What is the one thing you want any visitor to know when they leave?
A: I would love visitors to know the long history hidden behind the sense of beauty, the pleasure for simple things and the general wish for enjoying life that characterizes Italy and the Italians.
I want them to understand the sense of beauty and of challenge that has always characterized the Italians. I believe that this is clearly visible on any journey through my country.
Packed yet? Click here to learn more about traveling wth Angela Buriani, and here for all of Smithsonian's tours to Italy.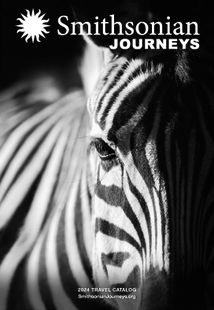 Request a Free Catalog
Download now to find inspiration for your next journey
Get It Free!
Be the First to Know
Sign up to learn more about our tours and special offers
Sign Up