Exploring a Spanish Olive Farm with Smithsonian
---
Stepping from the bus onto the white gravel road, we were wrapped in the dry warmth of the Spanish sun. A soft breeze rustled the slender grey-green leaves of the olive trees that stretched as far as the eye could see, in every direction. The gnarled trunks of the trees—some ancient—suggested the depth of Iberian history, a story which steadily had been unfolding with each stop on our journey and every turn of the road. The group was unusually quiet, as if each were taking in the expanse –and the moment—on his own terms.
A crisp, cheerful "Hello!" drew our attention down the road a bit. Don Diego was striding toward us—white moustache, dapper straw hat, loose linen shirt—a gentleman inviting us to come in and rest for a while. As we approached his lovely white-washed farmhouse with wrought iron and bougainvillea—the essence of Andalusian architecture—we felt instantly at home.
We entered the large main room to find tables set with linens and laden with artisan cheeses, the finest cured Iberian ham, grilled local sausages, rustic bread, cool wine—and, of course, olive oil and olives of several shades and distinctive flavors. Don Diego and his nephew had prepared for us a feast for the senses.
When we had eaten our fill, Don Diego led us outside, where we strolled around as he pointed out distinctive features of the trees, answered more questions, and told us about his farm and life in this part of Spain. A lawyer and scholar prior to olive farming, Don Diego was widely informative, and his warm personality and wry sense of humor were endearing.
We left feeling as though we had spent the afternoon in the home of a good friend. How nice that we would meet Don Diego again the next morning for our walking tour of Ronda, and an intimate look at a captivating town!
Want to experience the hospitality of people like Don Diego? Click here to learn more about our Paradores and Pousadas tour through Spain and Portugal.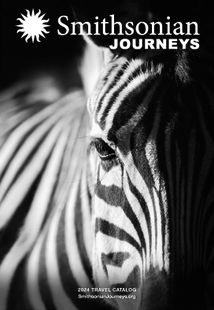 Request a Free Catalog
Download now to find inspiration for your next journey
Get It Free!
Be the First to Know
Sign up to learn more about our tours and special offers
Sign Up