Smithsonian Journeys on the 150th Anniversary of the Civil War
---
This summer and fall, we have two unique Civil War tours to commemorate the sesquicentennial (150th anniversary) of the Civil War. Both tours are led by renowned historian and author A. Wilson Greene, who will explore the personalities, controversies and tensions that led to the Civil War. Click here for more details or read on...
From August 20-27 at Chautauqua, N.Y., Smithsonian participants can attend a sweeping survey of the Civil War—one of the most pivotal events in American history. Study Leader Greene will explore many of the core issues of the war: the events leading up to the conflicts, the resulting political and social upheavals, the plight of individual soldiers and the role of the great commanders and their strategies. Plus, he will examine whether the Civil War was an avoidable tragedy or an irrepressible conflict. Pulitzer Prize-winning authors and historians Gordon Wood and Daniel Walker Howe will also be presenting at Chautauqua while we're there.
Civil War lovers can also join Greene on our fall Journey through Hallowed Ground from September 13 - 18. This tour traces themes of American history along the "Old Carolina Road" from Charlottesville, Va., to Gettysburg, Pa. We'll visit two presidential homes, including President Thomas Jefferson's magnificent Monticello and James Madison's newly restored mansion, Montpelier. Other highlights include Brandy Station Battlefield, site of the Civil War's largest cavalry campaign,  Harpers Ferry National Historical Park, Antietam National Battlefield,  and finally Gettysburg.
Full details on both tours and an interview with the A. Wilson Greene can be found here.  

Bonus Link:
From Smithsonian Magazine - Who had the best Civil War facial hair? Click here to see photos and cast your vote today.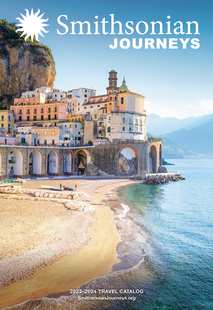 Request a Free Catalog
Download now to find inspiration for your next journey
Get It Free!
Be the First to Know
Sign up to learn more about our tours and special offers
Sign Up