The Peacock Room—More than they Bargained for
---
Who said art history is boring? If you're inclined to think that, read the story of the Peacock Room...
In 1876, a wealthy English shipping magnate named Frederick R. Leyland hired an architect named Thomas Jekyll to redesign his dining room, where he wanted to present his large collection of Chinese porcelain. All was going well until Jekyll asked painter James McNeill Whistler, who had been engaged to decorate Leyland's entrance hall, for advice on what color to paint the dining room's shutters and doors.
Since Whistler's painting Princesse du pays de la porcelaine — or The Princess from the Land of Porcelain — would be the room's centerpiece, Jekyll wanted to make sure everything matched. Whistler had a couple of suggestions about the trim and other decorative work in the room, and offered to do the minor retouching required. Jekyll, who was happy to have the artist help out, agreed to Whistler's recommendations and left the job site with the understanding that work was nearly complete.
Left to his own devices, Whistler gave his creativity free reign. He recovered the ceiling in imitation gold leaf painted over with peacock feathers. He then gilded the shelving designed to showcase Leyland's Chinese porcelain collection and embellished the wooden shutters with four elaborately plumed peacocks. At the same time, he encouraged his client to stay away, saying that he wanted everything to be perfect upon Leyland's return.
Here's where the story gets even more interesting. While Leyland was dutifully staying away from his own house so the artist could finish his work in peace, Whistler entertained friends and hosted the press in his client's dining room. Upon returning home, Leyland, who had not authorized the work that Whistler had done, or the after-parties, refused to pay the bill. After an angry dispute, Leyland paid about half the money. Whistler may have had the last laugh, though. He painted a humongous pair of peacocks fighting over gold coins opposite Princesse du pays de la porcelaine, a lasting reminder of the controversy. After completing the room in 1877, the artist never saw it again.
Despite all the drama, Leyland kept the room exactly as Whistler had left it, and displayed his porcelain collection as he had intended to until his death in 1892. Charles Lang Freer purchased the Peacock Room in 1904, having already bought Princesse du pays de la porcelaine. Freer had the Peacock room added on to his home in Detroit, where he used it to display his own porcelain collection. The room was moved to Smithsonian's Freer Gallery of Art, where it stands today, in 1919.
What famous artist would you want to redecorate your home? Please share.
Did you know that Whistler attended the United States Military Academy in West Point, NY? You can learn about his time as a student there on this fall's Art Along the Hudson tour, one of our most popular trips.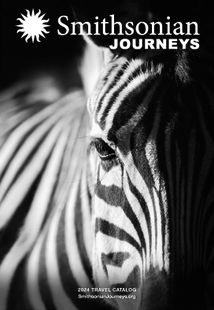 Request a Free Catalog
Download now to find inspiration for your next journey
Get It Free!
Be the First to Know
Sign up to learn more about our tours and special offers
Sign Up