World Heritage: Morocco
---
Visit just once and it becomes clear why the ksar, or fortified city, of Ait-Ben-Haddou was declared a UNESCO World Heritage Site in 1987. The setting Moroccan sun brilliantly illuminates the red buildings of the city, which is situated on a hill in Souss-Massa-Draâ along the Ouarzazate River. Ait-Ben-Haddou is a group of earthen buildings established in the 11th century. The village is surrounded by high defensive walls and is located along a former caravan route used by ancient travelers to transport salt, gold and ivory between the Sahara and Marrakech.
Inside the defensive walls are beautiful examples of kasbahs (high-walled fortresses) which are fragile enough that they can be damaged by rainfall. Ait-Ben-Haddou is a striking example of the historic architecture in southern Morocco that is disappearing due to weather, cultural shifts, and new technology. Despite the modernization of the area, the ksar still stands as a testament to a way of life that was once widespread. Today, the city consists of a mosque, small castles, modest houses, stables, lofts, and silos. The remaining inhabitants of Ait-Ben-Haddou, about 700 souls, make their living tending to herds of sheep and trading at the local market. A town just across the river provides its locals with access to electricity and modern appliances, throwing traditional and contemporary lifestyles into sharp relief.
By 1977, Ait-Ben-Haddou had fallen into disrepair. Restoration of the lower facades began after Hollywood producers decided to use the city as the setting for the film Jesus of Nazareth (1977). As a result, many other filmmakers wished to use Ait-Ben-Haddou for the scene of their own productions, which prompted the Moroccan government to increase their efforts to preserve the city. After the site's designation as a UNESCO World Heritage Site, preservation efforts in cooperation with UNESCO standards have made Ait-Ben-Haddou a popular destination for nearly 130,000 tourists annually.
What is the most striking contrast of ancient and modern that you've seen? Share your comments.
Intrigued by Ait-Ben-Haddou? See it for yourself on our Moroccan Discovery tour.
Click here for all of our travel opportunities featuring Morocco.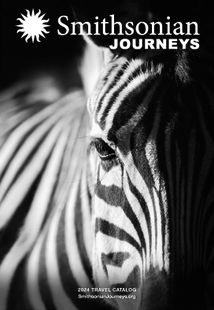 Request a Free Catalog
Download now to find inspiration for your next journey
Get It Free!
Be the First to Know
Sign up to learn more about our tours and special offers
Sign Up