World Heritage: The Taj Mahal
---
Mughal Emperor
Shah Jahan
ordered the construction of the massive, multi-chambered
Taj Mahal
in memory of his favorite wife, Mumtaz Mahal, his true love and steadfast companion. Mumtaz died during the birth of their 14th child, inspiring the Emperor to build the mausoleum in her honor. Both
Mumtaz
and her husband were later interred there. Between 1632 and 1653, thousands of artisans and craftsmen worked to erect the towering buildings that are regarded as the finest examples of Mughal architecture, a style that combines Persian, Indian and Islamic architectural styles. In 1983, the Taj Mahal was declared a UNESCO World Heritage Site.
The central focus of the complex is the large, white, marble dome situated on a 7 meter drum-like base, which soars 35 meters into the air. Decorated with a lotus design and topped by a bronze finial, the onion-shaped dome has become a symbol of India's cultural identity. In keeping with the emphasis of symmetry in Islamic architecture, four minarets of equal height and width flank the sides of the dome. An expansive garden featuring carefully positioned trees and fountains as well as the famous reflecting pool on the north-south axis reflects the image of the mausoleum, thus creating a stunning double image of the Taj.
The small decorative details of the interior and exterior are indicative of the care and precision with which the Mughal architects designed this tribute to the emperor's beloved wife. Because Islam prohibits the use of anthropomorphic forms in art, flowing abstract forms, intricate calligraphy, and vegetative motif are used through the Taj. These were created by applying paint, stucco, stone inlays or carvings to the marble walls of the exterior. The interior of the tomb is decorated with inlays of precious and semi-precious stones.
Unfortunately, the Taj Mahal has experienced deterioration in past years due to environmental pollution and acid rain. At the end of the 19th century, it was restored and today the Taj attracts between two and four million people each year. Despite its many visitors, the Taj Mahal is characterized by a quiet and solemn atmosphere. Guests report an overwhelming sense of calm and spirituality within the marble walls of the mausoleum.
What intrigues you most about the Taj Mahal? Comment below.
We hope the Taj is near the top of your "must see" list. Join us there today on a journey to India.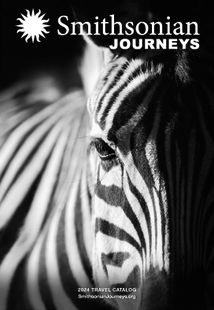 Request a Free Catalog
Download now to find inspiration for your next journey
Get It Free!
Be the First to Know
Sign up to learn more about our tours and special offers
Sign Up