Lured by Eastern Europe
---
A journey through Eastern Europe takes you along ancient trade routes which have existed since prehistoric times, linking the Baltic region to Southern Europe and the Mediterranean Sea. The great powers of Europe -- Prussia, Austria, Russia and France --have clashed here throughout history, altering borders by changing allegiances, devastating cities and countryside well into the 20th century. With the fall of the Communist system and the rebuilding and restoration of the many cities on our tour, we can experience their past glory, magnificent architecture and extraordinary art collections.
This entire region has nurtured some of the greatest of European arts, architecture, music and literature: having traveled extensively in these countries, I am passionate about sharing my fascination with its many riches.
These cities and landscapes evoke many musical and visual memories - whether it is sitting in St. Katjan, a baroque Church below the Hradčany, Prague's Castle Hill, listening to a concert on a baroque organ and trumpet with the sounds soaring into the painted heavens, or wandering through the romantic gardens of Zelazowa Wola, Chopin's Birthplace outside Warsaw, with one of his haunting Nocturnes drifting from the concert hall.
In Krakow resides one of my favorite paintings, Leonardo da Vinci's 'Lady with an Ermine' in the Czartoryski Museum, and in Vienna's Kunsthistorisches Museum the wonderful 'Brueghel room', in the extraordinary collections of the Habsburgs.
The Old World coffee house culture is very much alive in Krakow, Budapest and Prague, with many coffee houses retaining their Fin-de- Siècle atmosphere and authentic Art Nouveau furniture and decorations. In Vienna, at Zuckerbäcker Demel's, one of the 19th century coffee houses, people share an 'Apfelstrudel mit Schlag and a Grosser Brauner', watching elegant Viennese walk by.
Where is your favorie cafe? Share below.
Click here for travel to Eastern Europe.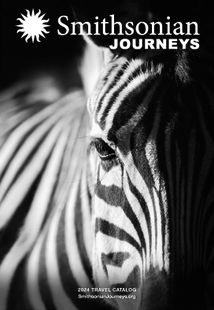 Request a Free Catalog
Download now to find inspiration for your next journey
Get It Free!
Be the First to Know
Sign up to learn more about our tours and special offers
Sign Up