Memories of São Tomé
---
After disembarking our ship the Corinithian II in the morning, we made our way by zodiac to the seaside town of  São Tomé. We drove up into the cool, lush mountains at the interior of the island, enjoying the vibrant greens and the calls of some of the 135 species of birds that call the island home. Tucked into a beautiful mountain valley was a coffee plantation straight out of a Victorian novel.
We walked the short distance up a stone path to take a look at the current crop. At the top of the hill, ripe red beans burst from the profusion of dark green coffee plants. Next, we walked to the preparation area, a metal covered porch, to greet the workers. They welcomed us in Portugese, calling "Bom Dia! Bom Dia!" (Good morning! Good morning!) and held out bowls of chocolate covered coffee beans…an immediate hit with our group.
We watched as local São Toméian women pulled the hulls off the beans and prepared them for washing, and then walked further along the porch, lured by the smell of what many of us could only describe as heaven—fresh coffee beans roasting over an open fire. As we looked on, a worker raked the beans back and forth to be sure that they roasted evenly. We stood there transfixed as the workers described the traditional roasting methods they'd always used to create perfectly roasted beans. Finally, we had a chance to sample some of the most delicious coffee we'd ever tasted! It was well worth the journey up the mountain and through the jungle.
As we were getting ready to leave, the clouds literally descended on the valley and a hard rain began to fall. I sat with a group of Smithsonian travelers waiting out the deluge. We looked out on the pouring rain, the steep stand of coffee plants, the green mountain ridges in the distance, the palms slick with rain, the air fragrant with roasting coffee, the warm cups in our hands…no one said a word, we all just smiled and listened to the falling rain.
Click here for more information on travel to São Tomé.
Click here for more information on other travel to Africa.
Tell us about your favorite travel memories. Please share below.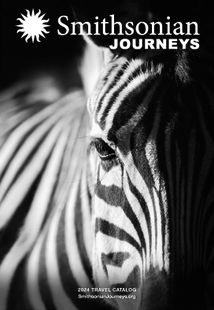 Request a Free Catalog
Download now to find inspiration for your next journey
Get It Free!
Be the First to Know
Sign up to learn more about our tours and special offers
Sign Up