Summer Book Picks from Journeys
---
Just like you, we try to make some more time for reading during those hot summer days. Here are some of the Journeys staff's favorite travel reads.
Mary, Queen of Scots, and the Murder of Lord Darnley, by Alison Weir
This is one of the best books I've read recently. It's a history of the life of Mary Queen of Scots, focusing on the romance and downfall of her second marriage to Lord Darnley that ended in his mysterious murder. Set in and around Edinburgh, it really lends an extra spark of history to all the buildings in the Old Town.
Betsy Brand, Program Operations Assistant
Oranges in the Sun: Short Stories from the Arabian Gulf, edited and translated by Deborah S. Akers and Abubaker A. Bagader.
This collection includes short stories from writers in the Gulf region and offers a unique personal perspective. The short story genre is fairly new to the region's writers compared to other places in the world and has really developed in the last 70-80 years.
Alyssa Bobst, Program Support Coordinator
Eurydice Street, A Place in Athens, by Sofka Zinovieff
A fresh and entertaining account of the author's first year in Athens; a description of her new life in a new city as well as the hurdles, frustrations, and joys of integrating into the complex Greek society.
Gloria Baxevanis, Finance and Program Coordinator
Wild Swans: Three Daughters of China, by Jung Chang
An amazing book that gives you insight into traditions of China at a time of tumultuous change in the 20th century, through the prism of three generations of women in one Chinese family.
Amy Kotkin, Director
Finding Nouf, by Zoe Ferraris
A murder mystery set in contemporary Saudi Arabia, this book provides a transporting story as well as unique insight to Saudi society and the roles both women and men assume there. It's an intriguing window into a place that most of us haven't been able to see yet, and a great book to get lost in.
Leah Ibraheem, Direct Marketing Manager
The Guernsey Literary and Potato Peel Pie Society, by Mary Ann Shaffer and Annie Barrows
This is a convoluted tale of a successful but burned-out London journalist and the relationship that develops between her and a group of Guernsey book club members. Some may find it too dear, but the character development, sense of place, and the account of Guernsey life under the Nazi occupation is fascinating.
Linda Stevens, SI Research Notes Coordinator
What are some of your favorite travel reads? Share below.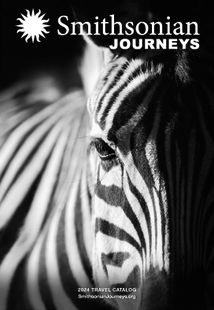 Request a Free Catalog
Download now to find inspiration for your next journey
Get It Free!
Be the First to Know
Sign up to learn more about our tours and special offers
Sign Up