The Undeniable Lure of Venice
---
I love to travel, but as is often the case, near the end of a journey my consciousness often drifts toward the reality of what might await me once I return home. I can all but guarantee that such will not be the case for our Pearls of Dalmatia travelers, as Venice, one of the most familiar yet mysterious and magical cities in the world, serves as the tour's last port of call.
Each time I return to Venice two things are sure to happen to me. I will come across a masterpiece in a church I had not previously visited, and I will get lost at least once in the maze of canals and streets that define the city. Both usually prompt a stop at a nearby café or bakery to collect my thoughts, where depending on the time of day, I might indulge in anything from a chunk of delicious olive bread to a Bellini (not a painting but a combination of prosecco wine and white peach juice).
For me, Venice is a perfect combination of food and art, or art and food (either order works for me); incredible architecture; and an unmatched quality of light and color. Whether it is early morning at the food market near the Rialto Bridge, during a mid-day visit to the Venice Biennale at the Arsenale (this year the city-wide art exhibition runs through late November), or late in the afternoon while walking along the Giudecca, Venice can best be appreciated through the use of all of one's senses.
One should also be open to experiences encountered on a more spiritual level, a fact brought home to me in my visit to the 2007 Venice Biennale. In one small chapel not far from St. Mark's Square, three videos by Bill Viola showing figures walking toward and through a wall of water could be viewed atop the small room's three altars.
Creating a wonderful marriage between the dark architectural space and these spellbinding images, we entered a world far different from the one just left only a few yards away through the doorway. Venice always continues to amaze!
What city most amazes you? Share your comments below.
Click here for more on traveling with Dennis Weller.
Click here to learn more about attending the Venice Biennale with us.
Click here for more on travel to Italy.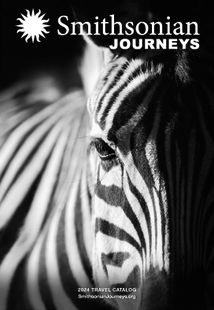 Request a Free Catalog
Download now to find inspiration for your next journey
Get It Free!
Be the First to Know
Sign up to learn more about our tours and special offers
Sign Up