Death Valley – Land of Diversity
---
We've just concluded another successful Smithsonian Journeys walking tour in Death Valley. At the start of the trip, one of the participants shared with the group what a friend had asked her, "Why would you choose to go to Death Valley?!" All twenty of us laughed for we each knew why we were there, but each of us had a different reason.
Despite its dark and foreboding name, Death Valley offers a diverse range of attractions. First there's its obvious appeal for those with an interest in geology. Our Study Leader, Kirt Kempter, an expert geologist, delighted us in sharing his vast knowledge of the region's many noteworthy geological formations such as snow-capped mountains, narrow marble walled canyons, towering sand dunes, volcanic craters, and the lowest spot in the western hemisphere—the salt flat at Badwater, 282 feet below sea level. Geologically the range of attractions is terrific, and there's so much more.
Death Valley – a desert that receives less than 2 inches of rain per year – is still home to a startling array of life. Endemic flora and fauna have evolved to adapt to the famously harsh environment. We witnessed pupfish in their natural home – a highly saline creek inhospitable to all but its brethren. In addition, we were privileged to see the desert come to life with color. The wildflowers including phacelia, desert gold, and gravel ghost were stunning in contrast to the rocky background. We were also treated to see my personal favorite, desert five-spot, named for the red spot at the base of each of its petals.
Then there's the modern human history of miners and colorful characters that such an extreme environment attracts. We visited the ghost town of Rhyolite and toured the ornate Spanish colonial mansion dubbed "Scotty's Castle" named after the entertaining yet scheming "gold miner" Walter Scott. "Scotty" never struck gold but nonetheless found great success mining his investors' pockets. The castle was built in the 1920s by one of Scotty's wealthy investors, Albert Johnson. He soon realized Scotty's ruse, but happily continued their relationship having found humor in Scotty's companionship and natural beauty in Death Valley.
For many of the participants, perhaps one of the greatest pleasures was getting the chance to see the Amargosa Opera House at Death Valley Junction. Who would ever guess that Death Valley had a theater? Marta Beckett, a dancer and a dyed-in-the-wool New Yorker left the city she loved and came to Death Valley in 1967 to create a theater for whomever would show. Given its desolate location, many times no one showed, so she took to the six-year task of painting an audience on the walls of the theater. At age 84, she still performs once a week. Her remarkable story is testimony to the tenacity and creativity of the human spirit.
Certainly a rebranding consultant could argue the need to rename this magical place to something more marketable for tourism, but personally I'm all for keeping the name. It helps save the park for those of us who look beyond the name and who fully appreciate its multifaceted beauty.
Know about more beautiful places with unfortunate names? Share your comments below.
Click here to find out more about our hiking tours.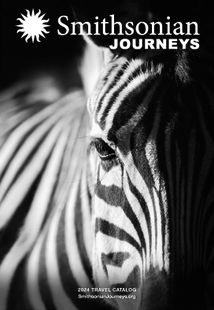 Request a Free Catalog
Download now to find inspiration for your next journey
Get It Free!
Be the First to Know
Sign up to learn more about our tours and special offers
Sign Up