Georgia O'Keeffe at 92
---
Thanks to YouTube, we were able to locate this phenomenal video with Georgia O'Keeffe when she was 92 years old. She discusses her love of the New Mexico landscape, her paintings of bones, and her Model-A Ford, among other things. Below the video,  Journeys Study Leader Ellen Bradbury Reid follows up on her previous post about O'Keeffe with more memories of the artist.
Some recollections from Ellen Bradbury Reid, who shared a personal bond with Georgia O'Keeffe in her later years.
"O'Keeffe never wore sunglasses because they changed the color of things. She wore big brimmed black hats. She made or had all her clothes made. She always made her own clothes, even when she was a small girl. When she was at Chatham Academy, an Episcopal girls school in Virginia, she would wear very plain simple dresses. Most of the Chatham girls were from the South and had lace and pretty bows on their dresses, and they longed to dress O'Keeffe up...but she resisted. She once said that if she had to figure out what color to wear each day it would be a waste of time. As a young woman she wore black, brown, and white, but as she grew older she wore only black and white.
O'Keeffe had many patterns for dresses that she saved and reused for years. Most of the dresses were cut on the bias and had batwing sleeves so that they moved beautifully and were comfortable. Once when she was older, her friend Juan Hamilton had a dress made following one of her standard patterns but in a mauve, plum color. O'Keeffe refused to wear it and gave it back to the dressmaker."
Can't get enough Georgia O'Keeffe? Join us in Santa Fe and walk in her shoes for a few days.
Love our art tours? Click here for more.
Who is your favorite artist and why? Tell us below.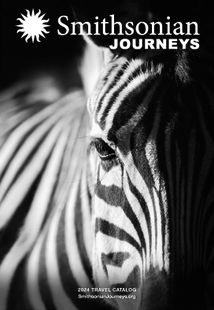 Request a Free Catalog
Download now to find inspiration for your next journey
Get It Free!
Be the First to Know
Sign up to learn more about our tours and special offers
Sign Up