SI Research Notes: Gardens of the Alhambra in Washington, D.C.
---
The Smithsonian Institution includes a number of outdoor museums. These alternative centers for learning are the colorful and attractive gardens that surround the Smithsonian museums along the National Mall. The Horticulture Services Division was established in 1972 to manage the grounds of the Institution museums in Washington, D.C., and to develop specific interior and exterior spaces as horticulture exhibitions. In addition, a research and educational program promotes the ongoing development of collections of living plants, horticultural artifacts, and garden documentation.
The Enid A. Haupt Garden is located on the National Mall above the underground Sackler Gallery, the Ripley Center, and the National Museum of African Art. The Haupt Garden, which opened to the public in 1987 when these Smithsonian museums were inaugurated, includes three distinct areas—the Asian-influenced Moongate Garden, the central 19th-century-style parterre, and a Moorish-style Fountain Garden. This garden is geometrically symmetrical and includes a central fountain and water channels. The Fountain Garden is modeled after the Court of the Lions at the Alhambra, a 13th, 14th, and 15th century Moorish palace and fortress in Granada, Spain, now included on UNESCO's World Heritage List. The legendary Court features a chahar bogh —a Persian term meaning "four gardens"—pattern of four quadrants formed by water channels that meet at a central fountain.
The Fountain Garden suggests a walled paradise, an important concept in early Persian and Islamic garden design. Water channels on top of the low walls around the central fountain represent the four rivers of paradise (water, wine, honey, and milk) while the bubbling center jet symbolizes eternity. At the garden's north end, a "veil" of water cascades down a carved stone wall. So it is that from the Court of the Lions in Spain, to the Fountain Garden in Washington, D.C., the visitor may enjoy a little bit of paradise.
For more information on our gardens and garden tours, click here.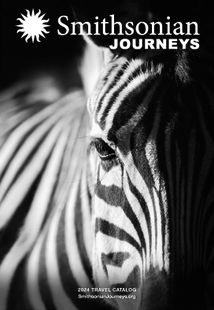 Request a Free Catalog
Download now to find inspiration for your next journey
Get It Free!
Be the First to Know
Sign up to learn more about our tours and special offers
Sign Up