Sunrise at the Taj Mahal
---
The greatest love stories in history often share two qualities: tragedy and triumph. I was reminded of this seeming contradiction as I walked barefoot amidst the gleaming marble chambers of the Taj Mahal just after sunrise on an invigoratingly crisp morning with a group of Smithsonian travelers. It is customary to either remove one's shoes or to wear shoe coverings when entering the Taj. I opted for bare feet, and I didn't regret it, as walking on the chilly marble provided another sensory layer to an already moving experience. Our insightful Smithsonian Study Leader Minhazz Majumdar illuminated the mysteries and lesser-known details of this one-of-kind monument, which the great Indian poet Rabindranath Tagore called "a teardrop on the cheek of eternity."
The Taj is so magnificent that it is easy to forget at first that it is a tomb, holding the mortal remains of the Emperor Shah Jahan and his beloved Mumtaz Mahal. And yet, it is so much more: a triumphant testimony to the transcendent power of love, captured for time immemorial in sleek marble lines and curves. I have had a lifelong fascination with the Taj, amazed that a man who had many wives was so in love with one of them that he built a temple of love for her which required 22 years and the slow and steady work of thousands to complete.
Our Smithsonian group had journeyed from the bustling streets of New Delhi to the remote Rajasthani countryside, before arriving in Agra for one of the most anticipated visits of our action-packed Indian journey. The entrance to the Taj bears the inscription, "O Soul, thou art at rest." A certain reverent quiet came over the Smithsonian group during our visit, as we took in the soaring Mughal architecture and pristine white marble. There is much calligraphic writing throughout the Taj Mahal, enhancing its stunning architectural beauty with an air of mysticism and poetry.
Later in the day, we visited Agra Fort, just across the Yamuna River from the Taj Mahal.  Agra Fort is one of the most significant forts in India and a well-known UNESCO World Heritage site. What is less known is that Shah Jahan spent the end of his life imprisoned there by his third son, Aurangzeb. Shah Jahan's only wish when he was taken captive was that he be held somewhere where he could look out upon Mumtaz's tomb, a wish that was granted. Standing in front of his prison cell which has just a few tiny windows that look out upon the Taj, I could almost feel the spirit of the old emperor pacing back and forth in his marble cell, gazing through the drafty windows across the river at his beloved Mumtaz, and longing for the day when he would be reunited with her.
Click here to learn more about travel to India.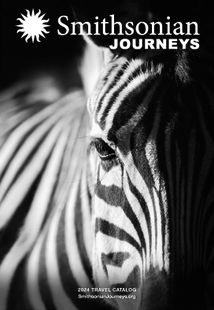 Request a Free Catalog
Download now to find inspiration for your next journey
Get It Free!
Be the First to Know
Sign up to learn more about our tours and special offers
Sign Up