Dream Vacations from Our Readers
---
And the results are in! Thanks to everyone who wrote to us about their dream vacation. Here are a few of our favorites.
"My ideal vacation would include flight for 2 to Frankfurt, Germany, driving a rental car up the Rhine River area to St. Goar, staying in a "Robber Baron" castle Bed and Breakfast along the Rhine River area of the historic Lorelei rock, then continuing the vacation by driving through the Swiss Alps to a tram ride up the face of the mountains to a hotel carved out of a rock precipice. The view would be magnificent!"
Kathleen Leach
"Well, I would like to visit China without the three gorges and the terra cotta army. Several years ago I traveled to China and these two sites were included and I know there are other parts of China that are of great interest and if any travel company can do it, it certainly would be Smithsonian Journeys. I hope Smithsonian will plan such a trip and I am sure there would be many responses."
Liz Barnett
"I feel the perfect vacation would be to go to a quiet hawaiian island and enjoy the hospitality of the islands with a large feast, beautiful floral arrangements, dancing by the moonlight and Hawain tiki lights. Then to travel to a nearby island not well known and continue on an adventure through this different island with a native tour guide; continue on and swim in and around the island seeing and hearing the sights first hand. In the evening hear tales of the native areas and how the Hawaiin islands became what they are today. On the next day, Climb a volcano mountain with a tour guide or native of the area. The next day to travel in boats around the islands. There are so many islands that have never been seen and this would be awesome to do this."
Heather Kondrew
"My dream vacation is to go pony-trekking across Ireland. It should include visits to the National Stud and a race track or horse show. Meals and accommodations should emphasize local cuisine and avoid chains. And how can you tour Ireland without a tour of the Guinness brewery and a visit to the Blarney Stone?"
Nancy
"Bora Bora, in an overwater villa!"
From one of our Twitter followers
"I would really like to go to the Île-de-France to see all the amazing Romanesque and Gothic cathedrals and learn about their history and the history of this region in France."
Eileen, VA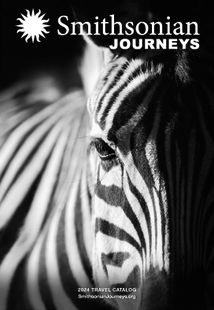 Request a Free Catalog
Download now to find inspiration for your next journey
Get It Free!
Be the First to Know
Sign up to learn more about our tours and special offers
Sign Up