Smithsonian Journeys Experts
Solange Ashby
Solange Ashby received her Ph.D. in Egyptology from the University of Chicago with a specialization in ancient Egyptian language and religion. She has conducted doctoral research at the temple of Philae in Egypt and participated in the excavation of a royal tomb in the Kushite cemetery of El-Kurru in Sudan. Her dissertation explores the prayer inscriptions of Nubian groups that traveled to the Egyptian temples of Lower Nubia, including Philae. Dr. Ashby's expertise in sacred ancient languages including Egyptian hieroglyphs, Demotic, and Coptic, Ethiopic, Biblical Greek and Biblical Hebrew underpins her research into the history of religious transformation in Northeast Africa and the Middle East during the period when monotheistic religions (Judaism, Christianity, and Islam) replaced traditional religion in Egypt and Nubia. Her current research explores the roles of women in traditional Egyptian and Nubian religious practices.
Dr. Ashby holds fellowships at Catholic University's Institute of Christian Oriental Research and the American Research Center in Egypt. She teaches Religious History at American University in Washington, DC.
What Our Travelers Say
I very much like the educational aspect of Smithsonian Journeys...the knowledge of their Experts and their ability to relate that knowledge to us.
- Ellen V.
Upcoming Tours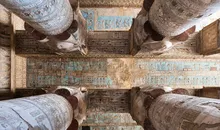 14 days | Starting at: $6,697
Mar 23, 2024 - Apr 5, 2024

Featuring Abu Simbel
Tour Details ››