Smithsonian Journeys Experts
Peter Bobrowsky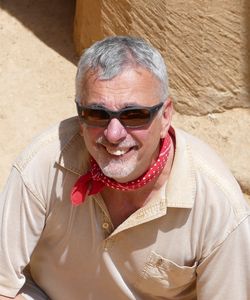 Peter Bobrowsky is a professional archaeologist and geologist with 40 years of experience working as a consultant, scholar, teacher and researcher across the globe. His academic achievements include almost 500 publications - 20 technical books such as the Encyclopedia of Natural Hazards, Encyclopedia of Engineering Geology and The Landslide Handbook - the latter written for the general public has been translated into Spanish, Portuguese, Mandarin, and Japanese; induction as an International Fellow of the Explorers Club of New York and Fellow of the Geological Society of America. He is the recipient of numerous awards including most notably the Eugene Shoemaker Communications Award for Best Book (2009), the Edward B. Burwell Jr. Award for Engineering Geology (2011), the Queen Elizabeth II Diamond Jubilee Medal (2012) and the James Harrison Outstanding Achievement Award (2020).
Dr. Bobrowsky has a prominent history of international positions and appointments in particular Secretary General of the International Union of Geological Sciences an NGO representing some 1 million earth scientists around the world, President of the Canadian Quaternary Association, President of the Geological Association of Canada and President of the International Consortium on Landslides.
A popular global public speaker for the past 25 years he remains a much sought after and well-liked lecturer for the Smithsonian since 2004. His multi-disciplinary background and extensive travel to over 110 countries contribute to his unique, informative and enthusiastic speaking style. A born extrovert, with an easy going manner, Peter strives to understand and explain the crucial links between a diverse and dynamically changing Earth and the evolution of changing societies through history.
He divides his time between travel adventures and home life near Sidney by the Sea on Vancouver Island.
What Our Travelers Say
He is very knowledgeable, a real expert. Always available and friendly
- Marvin A. Expedition to Antarctica
Peter was very knowledgeable and personable! We enjoyed him immensely. He made a point of spending time and socializing with all of us!
- Jane G. Alaska's Glaciers and Inside Passage