Smithsonian Journeys Experts
Howard Topoff and Carol Simon
Howard Topoff and Carol Simon are biologists specializing in the fields of Animal Behavior, Ecology, and Evolutionary Biology. After receiving their Ph.D. degrees, they spent their scientific careers as professors at The City University of New York, and as Research Associates at The American Museum of Natural History. Their field research on animal behavior is conducted in Central and South America, Africa, and the southwestern corner of the United States. As study leaders on Natural History tours for over 35 years, they have developed an extensive series of educational and entertaining multimedia presentations, which they offer to vacationing guests who enjoy location-specific enrichment programs.
What Our Travelers Say
Carol and Howard were knowledgeable and enthusiastic and thorougly answered any questions by the group. Would love to have them as Study Leaders on another tour.
- Smithsonian Journeys Traveler
Upcoming Tours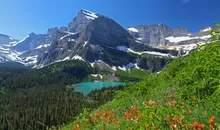 11 days | Starting at: $6,851
Jun 15, 2024 - Jun 25, 2024

Featuring Glacier, Banff, and Jasper National Parks
Tour Details ››