Smithsonian Journeys Experts
Carola Stearns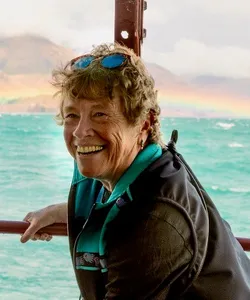 Carola Stearns is a field geologist and geophysicist with over 40 years of experience enthusiastically sharing her fascination with the Earth and how it works. She earned a Ph.D at the University of Michigan, has worked in exploration for major oil companies, taught at universities, and maintains a research affiliation with the Kelsey Museum of Archaeology at the University of Michigan. She has worked with archaeologists on both prehistoric and classical sites around the Mediterranean and in the southwest of the US. Her diverse research interests include tectonics as well as climatic geomorphology, especially as it relates to human history. She has lectured as a park ranger at the Grand Canyon, on trips for the UM Alumni Association, and in Ann Arbor training docents for the botanical gardens, arboretum and the public school's environmental education program. Currently she works part-time as an interpretive guide in Santa Fe.
What Our Travelers Say
Can't say enough about her! Such a great addition to the trip! Loved the lectures and how she talked about each area when we were literally there.
- Maureen G., Journey through New Zealand
Carola did an excellent job with lecture preparation, visuals, and making the content for guests easy to understand. She was always enthusiatic, warm and friendly, and her great interest in geology was infectious.
- Cathy B., Patagonian Explorer
She was extremely knowledgeable and passionate about the subject - always available and eager to answer our questions. Her lectures were well prepared, chock full of relevant material and presented in a clear and understandable manner.
- Diane K., Alaska's Natural Wonders