Though tiny compared to neighboring India, Sri Lanka still packs plenty in. Discover Sri Lanka's vibrant cities, gorgeous landscapes and rich culture on a carefully crafted tailor-made journey.
Tailor-Made Travel to Sri Lanka
10 days from $3,090
Though tiny compared to neighboring India, Sri Lanka still packs plenty in. Discover Sri Lanka's vibrant cities, gorgeous landscapes and rich culture on a carefully crafted tailor-made journey.
Overview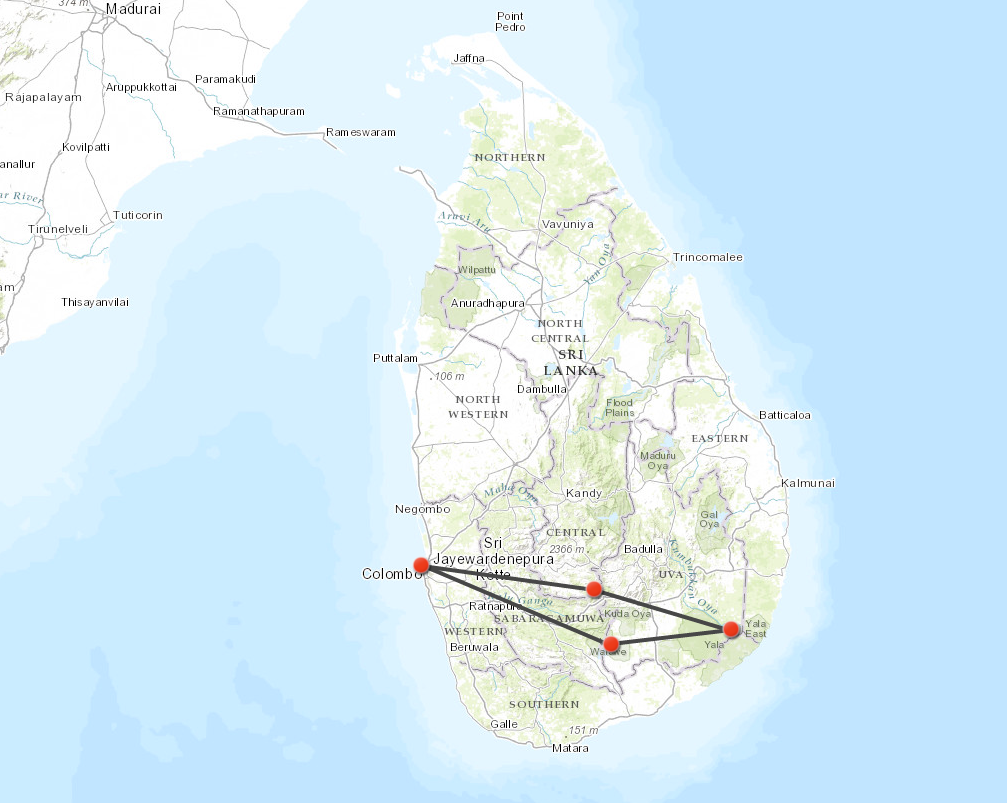 This sample itinerary can be tailored to match a variety of budgets and interests by selecting the trip duration, departure date, accommodation style, and tours that fit your needs.
Though tiny compared to neighboring India, Sri Lanka still packs plenty in. Vibrant cities, intriguing traditions, beautiful landscapes, perfect beaches, and incredibly friendly people combine to make a destination that our specialists love to visit and don't hesitate to recommend.
To see itinerary, please click on an option below.
Sample Itinerary
Sample Itinerary
Days 1 and 2
Outbound flight to Sri Lanka.
Day 3
Land in Sri Lanka's capital, Colombo, in the early hours of the morning, allowing yourself a few hours of recuperation and adjustment in a nearby hotel before the day ahead. After a hearty breakfast you will be taken North by private car to the mesmerising ancient city of Sigiriya. Here you will be in awe at mysterious cave temples, and ornate palaces. In the afternoon you will safari out to the Minneriya National Park and come face to face with the herds of wild yet tame elephants that call this exotic landscape their home.
Day 4
In the morning, still staying in the cultural triangle of central Sri Lanka, you will venture to Sigiriya once more to explore the famed rock fortress, one of the country's most recognisable landmarks. The UNESCO protected site is hard to compare; rising 200 metres above the landscape are the remains of a 5th-century palace, built by King Kasyapa, is sat atop of it, filled with vivid frescoes and adorned with the 1,000-year-old graffiti of ancient visitors. For the afternoon you will head to Polonnaruwa, another of Sri Lanka's historic cities. This settlement was formed after its predecessor Anuradhapura was destroyed in the year 993, making it a highly accessible and well preserved site. Here you will examine temples, palaces, stupas and giant Buddha statues, with them being so unspoiled that you won't believe their thousand year past.
Day 5
Saying goodbye to the wonders of Sigiriya you will travel to Kandy via the pilgrimage site of the Dambulla cave temples. These caves, carved out of a granite outcrop are thought to date back to the 1st century BC, with them receiving new additions over successive reigns, leading to the current complex of five separate temples. You will be amazed at the beautiful wall paintings and large Buddha states, that have remarkably kept much of their colour over the centuries. In Kandy, a pretty lakeside town, though still bustling with activity, you will spend the evening exploring the exalted 'Temple of the Tooth'. This grand site houses of Buddhism's most precious relics; one of the Buddha's teeth, surprisingly a lively place by night. If you plan your trip well, you can experience the ten-day Perahera festival, set in July or August according to the moon, where you can watch colourful acrobatics and thunderous musical displays.
Day 6
Today you will spend another day in and around Kandy, having some free time to discover the city yourself or do a spot of shopping, but also having the chance to tour the Peradeniya Botanical Gardens. These royal gardens are located a few kilometres outside Kandy near the Mahaweli River. The site is renowned for its collection of orchids, as well as its more than 4,000 species of plants, spices and trees. With 147 acres to explore, the mesmerising gardens, originally dating back to the late 14th century, will not fail to be a feast for your eyes.
Day 7
Leaving Kandy, now you will head on Sri Lanka's iconic train journey to the tea country. The train ride is not for resting your eyes, as you will be transported gently through beautiful landscapes, allowing views of magnificent mist-clad hills and graceful waterfalls. Also witness local Tamil women tending to their tea crop as the train goes straight through working tea plantations. After your leisurely trip you will be met by a driver who will take you to a tea plantation for an afternoon tour. Here you will see the terraced hills blanketed in tea plants, ideal for exploring by foot, whilst also seeing how tea is actually processed and blended. The region also gives many possibilities for accommodation, from restored tea planter's bungalows to even a converted former factory.
Day 8
Remaining in the tea country, you will head to Horton Plains National Park, a superb place for walkers and bird watchers. If you aren't opposed to early starts, head to the World's End plateau, in the morning to catch a glimpse of the unspoilt view before the clouds arise in front of its 700m drop to the lowlands. Though a popular spot for tourists, sometimes making it very busy, Horton Plains is a unique ecosystem, encompassed in lush grasslands. Also make sure you check out the streams that merge into the crashing Baker's Falls; a must see on your trip.
Day 9
Head now from tea country to Yala National Park, a wild and unspoilt area filled with a mixture of dry woodland, open grassland and rocky patches. The park also encompasses the dramatic coastline and picturesque lagoons. Here you can see the diverse wildlife that the terrain supports, during an afternoon safari, with it being one of the highest densities of leopard population in Asia.
Day 10
Today you will experience a more in depth and spread out safari in Yala National Park, getting the chance to see elephants that lurk by the water's edge in certain months of the year. Also take time to admire the many other creatures such as proud peacocks, energetic monkeys, and graceful painted storks trying to avoid the cunning crocodiles that bask in the sun nearby.
Day 11
Leaving Yala National Park you will head towards one of the penultimate sights of your trip, Galle. This trip will take you down the South coast Westwards to this colonial preserved town surrounded by water on three sides. Although these days, as is inevitable with time, a modern city has developed outside, Galle's old town still seems remarkably unchanged. If you are a keen historian take chance to discover the story of Galle's pre-colonial era, when it was formerly known as the much exhaustive "Gimhathiththa"; it being the main port on the island, before the Portuguese came colonised the region in the 16th century. In the 18th century it reached its height of development from its Dutch occupants, taking advantage of the vast fortifications made by its various predecessors.
Day 12
Spend the remainder of your time further exploring Galle before heading back to Colombo, taking a chance to shop or meet some of the friendly locals. With the old town a designated World Heritage site, Galle features well-preserved grand churches, huge ramparts, bastions and colonial villas; the main fortified area is a must explore on foot. Another option is to simply wonder at your leisure and soak in the beautiful atmosphere of the tangled streets. If you really want to achieve the full local experience, take a trip to the Galle International Cricket Ground, one of the most picturesque in the world, and relax whilst watching the talented locals 'bowl' and 'slog' their way through their day. After fully enjoying Galle return to Colombo for your flight home.
Included meals are denoted as follows: Breakfast (B), Lunch (L), Reception (R), Dinner (D)