This extraordinary adventure features the heritage of South Africa, a rail journey aboard the legendary Rovos Rail, safaris in three important game parks, and a stay at dramatic Victoria Falls.
Treasures of South Africa, Zimbabwe, and Botswana
Featuring Rovos Rail
16 days from $9,190
This extraordinary adventure features the heritage of South Africa, a rail journey aboard the legendary Rovos Rail, safaris in three important game parks, and a stay at dramatic Victoria Falls.
WHAT OUR TRAVELERS SAY
I would highly recommend Smithsonian. They are a high quality tour organization. They organize the tour in a highly efficient manner. I would travel again with them.
- Victoria B.
SPECIAL OFFER
Save $250 per person when you book by January 29, 2021!
Special Air Rates & Services: As part of our special air program, FlexAir, available with this tour, you can choose from a wide variety of flight options. Visit the Tour Details tab and click on "Special Air Rates/Services" drop down.
Overview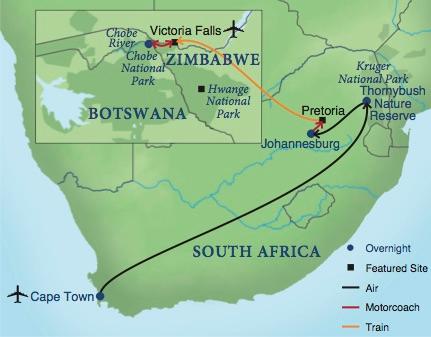 Discover the rich natural and cultural heritage of southern Africa as you explore three of the continent's most fascinating countries: South Africa, Zimbabwe, and Botswana. Our extraordinary adventure features the cultural and political heritage of South Africa, a rail journey aboard the legendary Rovos Rail, safaris in three important game parks, and a stay at dramatic Victoria Falls.
Highlights Include
South Africa: Enjoy a comprehensive overview of Cape Town featuring views from Table Mountain and Cape Point, a visit to Boulder Beach to see African penguins, and a tour of Robben Island prison where Nelson Mandela and other political dissidents made strides in attaining equal rights. In Johannesburg's Soweto township, visit many of the sites associated with important leaders in the anti-apartheid movement.
Safari Adventures: Experience the thrill of up-close encounters with animals in the wild—lion, elephant, leopard, Cape buffalo, rhino, zebra, giraffe, hippo, and more—during safaris at three important parks. Spot the "Big Five" on game drives during a three-night stay at South Africa's Thornybush Nature Reserve. Stop at Zimbabwe's Hwange National Park to watch animals gather at The Hide's water hole. Plus, see the renowned elephant herds at Botswana's Chobe National Park.
Rovos Rail: Savor the romance of the Golden Age of train travel during a three-night rail journey from Pretoria to Victoria Falls. Ride in vintage carriages, restored to mint condition and impeccably appointed, and take in sweeping landscapes from the observation car. Read more about Rovos Rail on the Tour Details tab.
Victoria Falls: Feel the awesome power of Victoria Falls, a World Heritage site and one of the Seven Wonders of the Natural World, during a two-night stay at the historic Victoria Falls Hotel.
I would highly recommend Smithsonian. They are a high quality tour organization. They organize the tour in a highly efficient manner. I would travel again with them.
- Victoria B.
To see itinerary, please click on an option below.
Itinerary
Itinerary
Day 1 — Depart the U.S.
Smithsonian Journeys travelers depart the U.S. for London via overnight air service.
Important Note: This itinerary is based on an air schedule provided by British Airways. If you plan to purchase the land program only and/or use an alternative airline to Cape Town, please notify the tour operator as it may effect your departure date from the U.S.
Day 2 — London in Transit
After a morning arrival at London's Heathrow International Airport, check-in at the Sofitel London Heathrow Hotel, where dayrooms have been reserved for your comfort and convenience between flights. This only applies to travelers purchasing Air through the tour operator. This evening, depart refreshed and rested for the overnight flight to Cape Town, South Africa.
Day 3 — Cape Town
Arrive at the Cape Town International Airport, and transfer to your hotel, the deluxe and distinguished Belmond Mt. Nelson Hotel. The balance of the day will be at leisure to relax and settle in. This evening, gather with fellow Smithsonian Journeys travelers for a welcome reception at the hotel. (R)
Day 4 — Cape Town
A full English breakfast will be served each morning during your stay. This morning drive to the Cape Point Nature Reserve. Travel along the spectacular Marine Drive, beyond Lion's Head Mountain and past the Twelve Apostles, a line of small peaks that that run along the coast. Ascend Cape Point by funicular and marvel at remarkable ocean views. Stop at Boulders Beach and see the African Penguin Colony. A luncheon stop will be made on the Cape Peninsula during the excursion. Return to the hotel where the remainder of the afternoon is free of planned activities. In early evening, you're invited to attend a presentation that will highlight the key events in the history of this amazing country. You'll learn about the Dutch and British colonization, the introduction of slavery, the struggle of native tribes, discovery of gold and diamonds, and more. (B,L)
Day 5 — Cape Town
Begin exploring in Cape Town on an excursion that showcases the city's historical highlights. For nearly 400 years, isolated Robben Island was a place of exile and now it is designated a World Heritage Site. Travel by boat to the island and visit the former prison where the late Nelson Mandela was held from 1964 to1982. A former inmate will offer fascinating narrative and first-hand knowledge about life on the island. See the island's lime quarry and the local village.
Later, continue to the top of Table Mountain (weather permitting) for awesome views of Cape Town, Table Bay and the Cape of Good Hope. The balance of the day is free of planned activities so you can follow your own path.
This evening, join fellow travelers for dinner at a restaurant on the Victoria and Albert Waterfront. (B,D)
Day 6 — Cape Town and Thornybush Nature Reserve
Begin the day with a flight from Cape Town to Hoedspruit, gateway to Thornybush Game Reserve. Lunch is served upon arrival at your five-star safari lodge. In late afternoon, board an open-air safari vehicle for an introduction to the African bushveld and get acquainted with your ranger and tracker who will accompany you on each game drive. Before dinner, meet in the Smithsonian Traveler's Corner for lively conversation and to exchange today's experiences. Afterwards, dinner will be served al fresco on the deck. (B,L,D)
Day 7 — Thornybush Nature Reserve
Each day on safari starts at dawn with a wakeup call from the lodge ranger. Meet on the deck for coffee and toast before climbing into your safari vehicle. As you drive along, it may seem quiet, but there is plenty of activity. Many animals are just waking up and in search of breakfast. Others spent the night on the prowl and are searching for a spot where they can sleep during the day. See how many of the Big Five you can spot this morning. During each morning game drive, stop for coffee or tea. Return to the lodge for a hearty English breakfast. The balance of the morning is free to relax and enjoy a leisure activity.
This afternoon, enjoy a presentation by a Thornybush naturalist. Set-out for a late afternoon game drive to gain a different perspective of the animal life in the reserve. As the sun sets, stop for a round of drinks, aptly called "sundowners". Return to the lodge for a sumptuous dinner. (B,L,D)
Day 8 — Thornybush Nature Reserve
There's another day of game viewing with early morning and late afternoon drives. Tracking game is exhilarating, and rich with new sights and experiences at every turn. After the afternoon drive, return to the lodge in time for dinner. (B,L,D)
Day 9 — Johannesburg
Drive from Thornybush to the airport at Hoedspruit for the hour-long flight to Johannesburg, the third largest city in Africa. This afternoon tour Soweto Township, past the homes of Nelson Mandela, Winnie Mandela and Desmond Tutu. Drive to Kliptown for a visit to a local youth project and attend a dance performance of local dances. Continue to your hotel where overnight accommodations have been reserved. Join fellow travelers in Smithsonian Traveler's Corner. (B,L)
Day 10 — Pretoria and Rovos Rail Train
After breakfast, depart the hotel and drive to Pretoria's Edwardian-style Rail Station and board one of the most luxurious trains in the world bound for Victoria Falls. It's reminiscent of an era of elegant simplicity and gracious service. Gather with fellow travelers in the observation lounge and revel in the breathtaking landscapes of southern Africa. Enjoy the distinctive character and charm of Rovos Rail's classic, refurbished wood-paneled coaches. Meals aboard Rovos Rail are always a treat. This evening, enjoy fine cuisine accompanied by a selection of excellent South African wines. Your "rail safari" travels north toward Zimbabwe through West Nicholson on the way to Messina and Beitbridge for the border-crossing into Zimbabwe. (B,L,D)
Day 11 — Rovos Rail Train
Travel through remarkable landscapes toward Colleen Bawn and Gwanda and continue the journey for an overnight stop at Mpopoma. (B,L,D)
Day 12 — Rovos Rail Train
The journey continues, this morning, between Gwaai and Dete on one of the world's longest runs of straight railroad track to Kennedy Siding. From here, you'll leave the train for a game drive at The Hide in Hwange National Park. The train will overnight at Thompson's Junction. (B,L,D)
Day 13 — Victoria Falls and Chobe National Park
This morning, disembark the train and transfer to the historic Victoria Falls Hotel. This afternoon, tour Victoria Falls, a remarkable place where the Zambezi River plunges 328 ft. into the basalt Batoka Gorge below, creating a mist that can be seen for 50 miles around.
Discovered in November of 1855 by Dr. David Livingstone and named for England's queen, Victoria Falls is the earth's largest curtain of water spanning more than a mile. (B)
Day 14 — Victoria Falls / Chobe National Park
After an early English breakfast, set out on a full-day safari to explore Chobe National Park, one of the most famous game parks in southern Africa. Be on the lookout for lions, leopards, giraffe, impala, and baboons. During the game drive, it's likely to see several herds of elephants wandering the savanna or stopping at the river for a drink or a bath. The immense bird population of more than 460 species, makes Chobe a favored destination for birdwatchers from the world over.
After lunch, take a leisurely cruise on the Chobe River for a chance to spot hippos, crocodiles and other animals along this life-giving waterway. Later this evening, join fellow Smithsonian Journeys Travelers for a festive farewell dinner. (B,L,D)
Day 15 —Victoria Falls / Johannesburg
Later this morning, transfer by motor coach to the Victoria Falls Airport. There, board the flight to Johannesburg and connecting flights to the U.S. (B)
Important Note: The flight to Johannesburg is not included in the land only tour cost. The land tour ends at Victoria Falls Airport. Land Only travelers can purchase flights to Johannesburg from the tour operator.
Included meals are denoted as follows: Breakfast (B), Lunch (L), Reception (R), Dinner (D)