A new cruise offering from Smithsonian Journeys and PONANT
Witness a rare total solar eclipse on a voyage that will have you exploring the unusual natural wonders of Komodo National Park and the Kimberley, snorkeling off tropical isles, and discovering the compelling history and culture of Timor-Leste.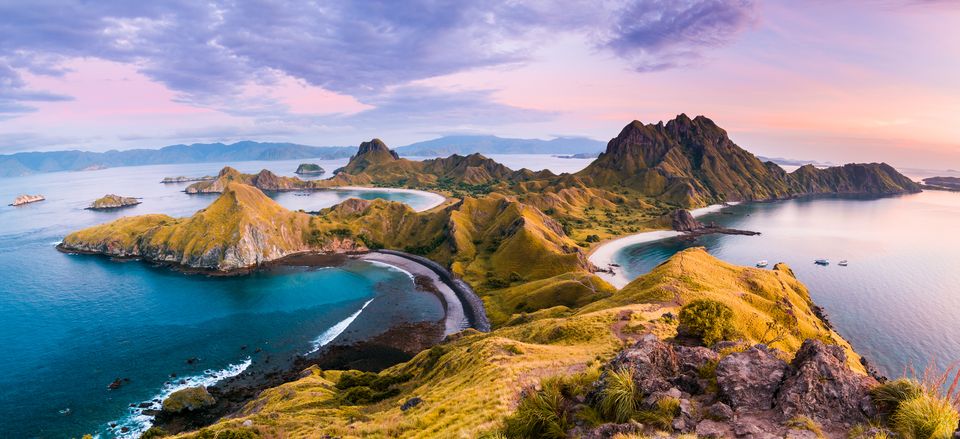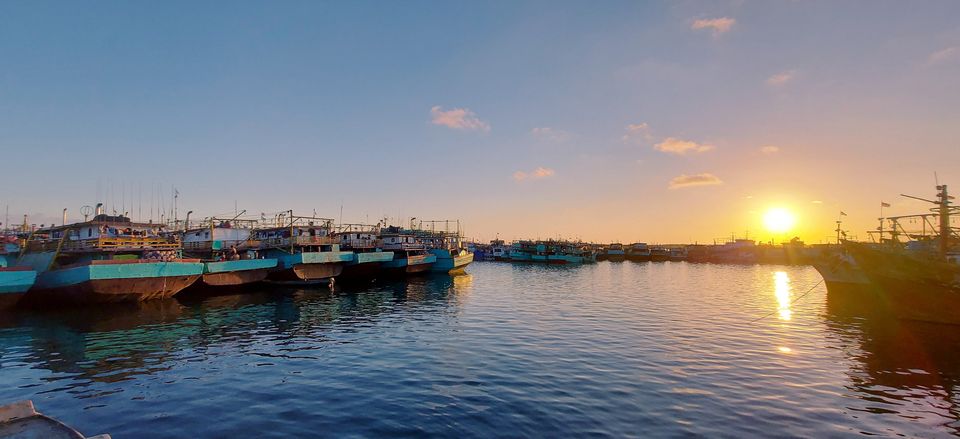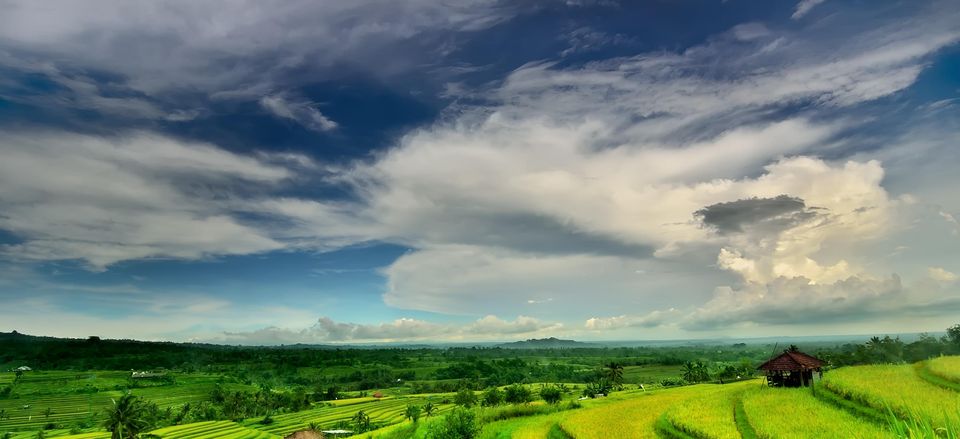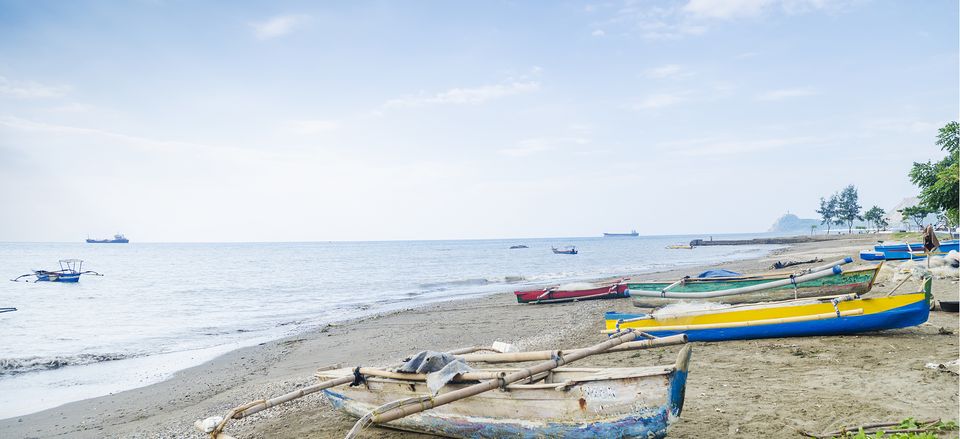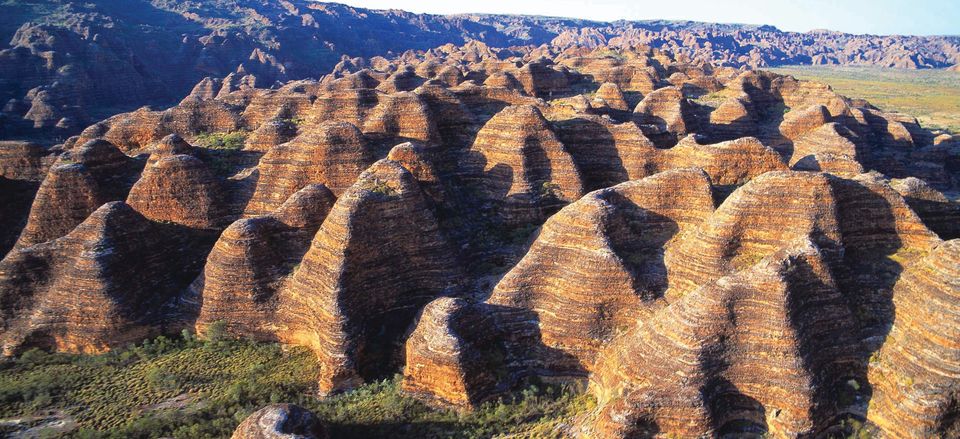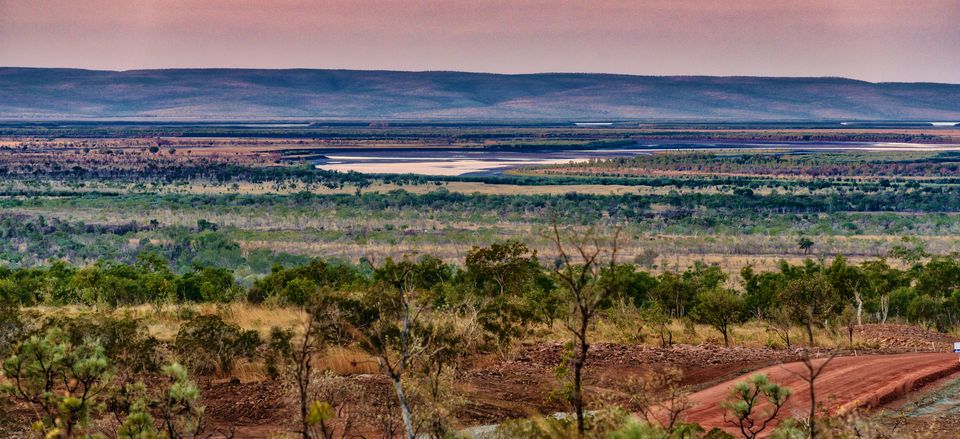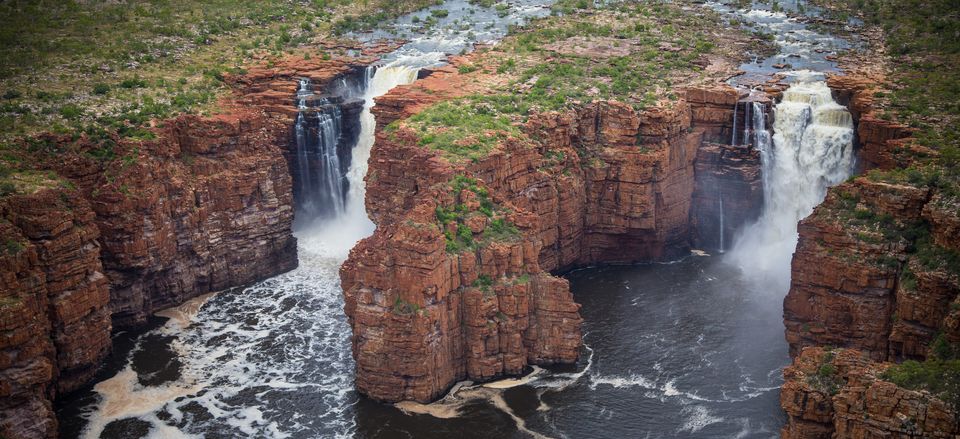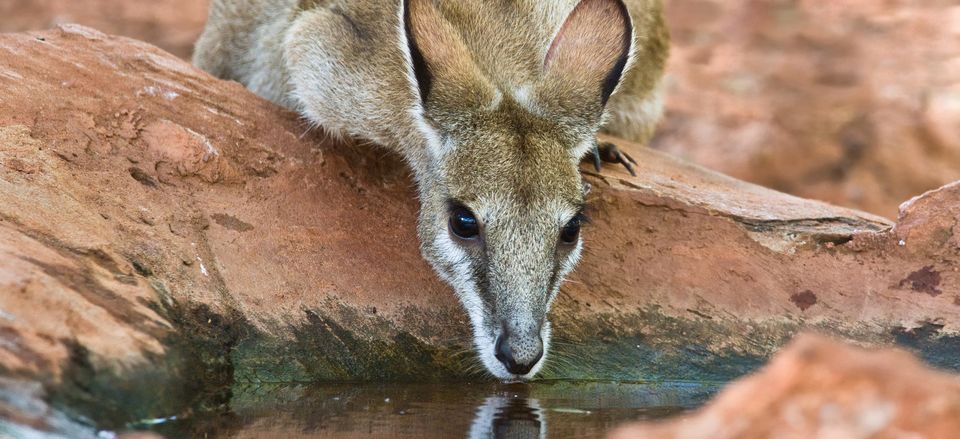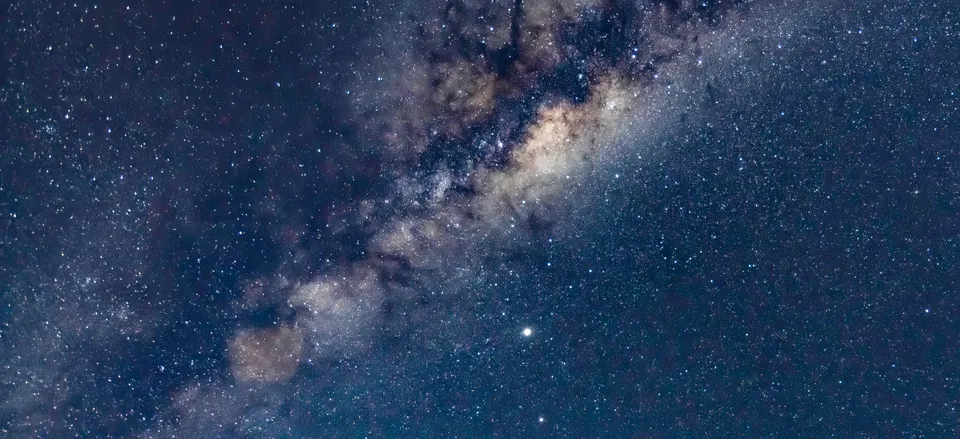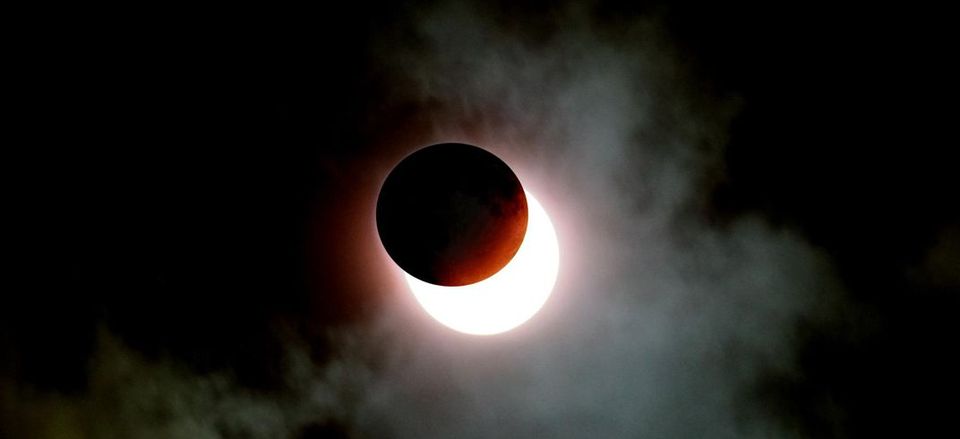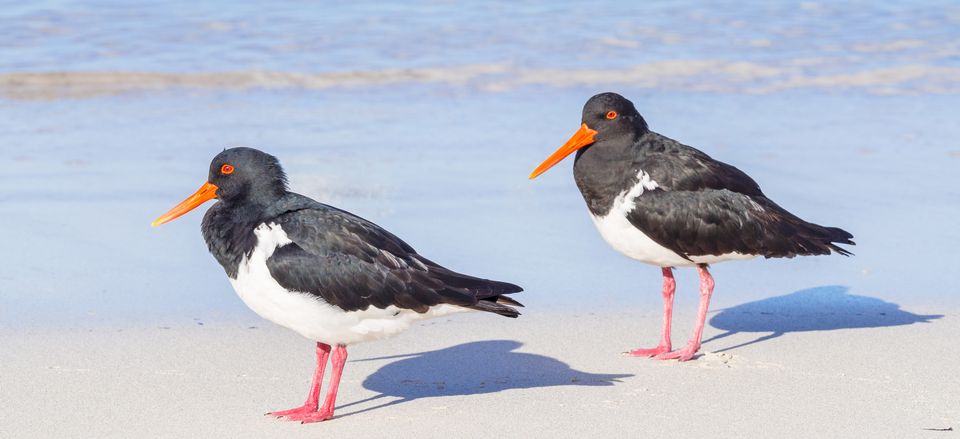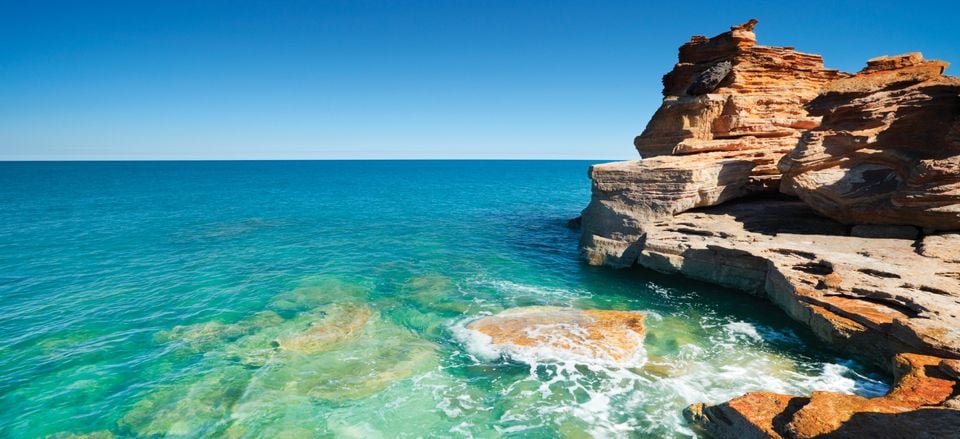 Solar Eclipse 2023: Indonesia to Australia's Kimberley
Aboard the 184-guest Le Lapérouse
16 days from $20,480
A new cruise offering from Smithsonian Journeys and PONANT
Witness a rare total solar eclipse on a voyage that will have you exploring the unusual natural wonders of Komodo National Park and the Kimberley, snorkeling off tropical isles, and discovering the compelling history and culture of Timor-Leste.
Overview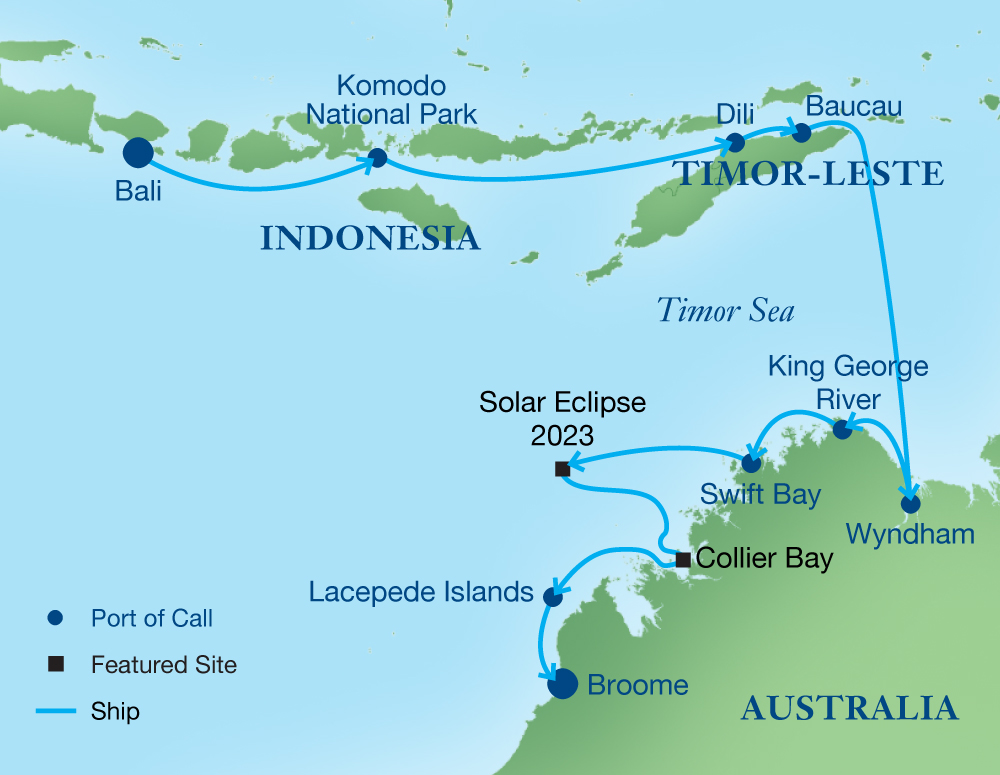 Set sail from Bali to the Komodo Islands and Australia's Kimberley coast on a voyage that showcases some of nature's most unusual feats—including the total solar eclipse of 2023. Encounter unique species like the Komodo dragon, and snorkel amid rich marine life on the reefs of Banta Island and Timor-Leste. Then turn south to Australia's rugged Kimberley coast to discover ancient rock art, dramatic geology, horizontal waterfalls, and more. On the way, enjoy the once-in-a-lifetime chance to experience a solar eclipse at sea.
The Smithsonian Journeys / PONANT Experience: Our cruise to Indonesia, Timor-Leste, and Australia's Kimberley will be accompanied by two Smithsonian Journeys Experts and a team of experienced naturalist guides. Lectures and information sessions will cover the solar eclipse, geology, history, culture, and flora and fauna of this fascinating region. You will be offered a choice of excursions in Wyndham, Australia.
Solar Eclipse: The solar eclipse of 2023 is a hybrid eclipse and will only appear as a total solar eclipse on part of its path—as it passes over Western Australia and Timor-Leste. This will be one of only five total eclipses remaining worldwide this decade, and you'll be right there, among the few, to catch this rare, natural phenomenon as the moon passes between the Earth and the sun.
Komodo National Park: Named a World Heritage site in 1991, Komodo National Park comprises volcanic islands and the reefs that surround them and is as ecologically important as it is beautiful. Go on walks and hikes with local guides to learn about the park's unusual flora and fauna, and observe its most famous residents: giant lizards known as Komodo dragons that exist naturally nowhere else in the world.
Timor-Leste: Get acquainted with the cultural heritage of Timor-Leste, also known as East Timor, a tiny country with a tumultuous past. Tour the sites of Dili, tracing the influence of two colonizers—Portugal and Indonesia—and the islanders' fight for independence. Take in a cultural performance in Baucau before a chance to swim and snorkel the world-class reefs offshore.
The Kimberley: Discover the wonderfully rugged coast of Australia's Kimberley region, exploring the twin waterfalls of King George River, and setting out on your choice of excursions, from a wildlife cruise on the Ord River to a scenic flight over the otherworldly Bungle Bungles. Learn about the indigenous cultures that have lived here for millennia, and decipher the ancient rock art of Swift Bay. Then witness two surreal phenomena: Montgomery Reef, which appears to suddenly rise out of the sea at low tide, and Horizontal Falls.
Lacepede Islands: These four wispy, flat cays off the Kimberley coast are a birder's paradise, harboring tens of thousands of seabirds, including one of the world's largest breeding colonies of seabirds. Glide around the uninhabited isles in a Zodiac, watching for abundant green sea turtles in the water and for crested terns, oystercatchers, pelicans, lesser frigate birds, and much more on land.
To see itinerary, please click on an option below.
Itinerary
Itinerary
Day 1 — Denpasar and Benoa, Bali, Indonesia
Arrive in Denpasar and transfer to the harbor in Benoa. Settle into your cabin and take to the sea this afternoon. (D)
Days 2–3 — Komodo National Park
Call at Komodo National Park, a World Heritage site stretching over numerous volcanic isles that is home to the world's largest lizard, the Komodo "dragon." Make a stop to snorkel amid vibrant marine life. Follow local guides on walks through the park, observing these legendary creatures—which can grow up to ten feet long and are native only to these islands. (B,L,D)
Day 4 — At Sea
As we cross the Savu Sea, enjoy a relaxing day aboard the ship. Opt for a treatment in the spa or a workout at the fitness center. Go for a swim in the pool or read a book on the sundeck. Our Smithsonian Journeys Experts will present lectures on the region and the ship's naturalists will lead engaging discussions. Visit the ship's upper deck to take in views of the open sea and perhaps spot seabirds or marine species. (B,L,D)
Days 5–7 — Dili and Baucau, Timor-Leste/At Sea
Tiny Timor-Leste—Asia's youngest country—is graced by rugged mountains and white-sand beaches and surrounded by spectacular reefs. Dock in Dili, the capital city, and set off on a tour of the city's historic and cultural sites. Learn about its hard-fought battle for independence from Indonesia—finally won in 2002, and see the vestiges of its many years as a Portuguese colonies. Continue along the coast to Baucau for a performance that highlights the complex culture of the island, which weaves together animism and Catholicism, European and Asian influences. Enjoy an opportunity to snorkel the world-class reefs nearby. Then turn south, taking advantage of the ship's amenities during a day on the water. (B,L,D)
Day 8 — Wyndham, The Kimberley, Australia
Arrive in the port town of Wyndham in Australia's Kimberley region, and choose from a variety of options to explore this wild landscape. Set off on a cruise on the Ord River, watching for wildlife such as wallabies, crocodiles, and rare birds on the way to Lake Argyle. Take a scenic flight over the astonishing Bungle Bungles range, a cluster of striped, gumdrop-shaped mountains that has been named a World Heritage site. Or spend your day exploring the gorges and hot springs of the pristine El Questro wilderness area on hikes and a gorge cruise. (B,L,D)
Note: Our voyage in the Kimberley is a true expedition, where each day's activities will be determined by the Captain and Expedition Leader, taking into account the tide, weather and sea conditions. The itinerary is an indication only; the order of calls may be revised to ensure the best possible experience.
Day 9 — King George River
Venture up the King George River passing between vertical sandstone cliffs and learning about the cultural significance of the river to indigenous Balanggarra people. Arrive at King George Falls, twin cascades that fall some 260 feet off the rugged escarpment. (B,L,D)
Day 10 — Swift Bay
The shores of Swift Bay are home to a wealth of prehistoric rock art. Go ashore at several sites to explore these open-air galleries left by the Wandjina and Gwion peoples, and gain insight into ancient Aboriginal culture and the symbolism of their art. (B,L,D)
Days 11–12 — At Sea/2023 Solar Eclipse
Spend a leisurely day on the water as the ship cruises into position in the path of the 2023 solar eclipse. Learn about the rare phenomenon of a hybrid eclipse from our experts and guides. The next day just before noon, be on deck to witness the total solar eclipse, when the moon blocks the sun entirely, briefly turning day to night. From the ship's spot at sea, enjoy this astronomical show far from the eclipse-chasing crowds expected on land. (B,L,D)
Days 13–14 — Collier Bay: Horizontal Falls and Montgomery Reef
Follow the Australian coast to Collier Bay to experience two of the most unusual natural wonders in the Kimberley. In turquoise Taylor Bay, experience Horizontal Falls, created when the changing tide causes water to rush through a narrow aperture between islets. At Montgomery Reef, the receding tides unveil a vast coral bank that appears to rise out of the water, exposing its inhabitants and drawing all kinds of wildlife. (B,L,D)
Day 15 — Lacepede Islands
Spend a day exploring the Lacepede Islands, four islands off the Kimberley coast that have been named an Important Bird Area by Birdlife International. The islands are home to one of the world's largest colonies of breeding brown boobies, as well as terns, frigatebirds, oystercatchers, sea turtles, and much more. (B,L,D)
Day 16 —Broome/Return Home
Disembark in Broome, and transfer to the airport for your return flight. (B)
Included meals are denoted as follows: Breakfast (B), Lunch (L), Reception (R), Dinner (D)
Related Tours