Join this new Active Journey whether you're on a spiritual journey yourself or simply want the thrill of hiking this famous pilgrimage route. Feel a connection and the same sense of purpose with pilgrims since the Middle Ages as you walk along the same trails from Pamplona to Santiago de Compostela.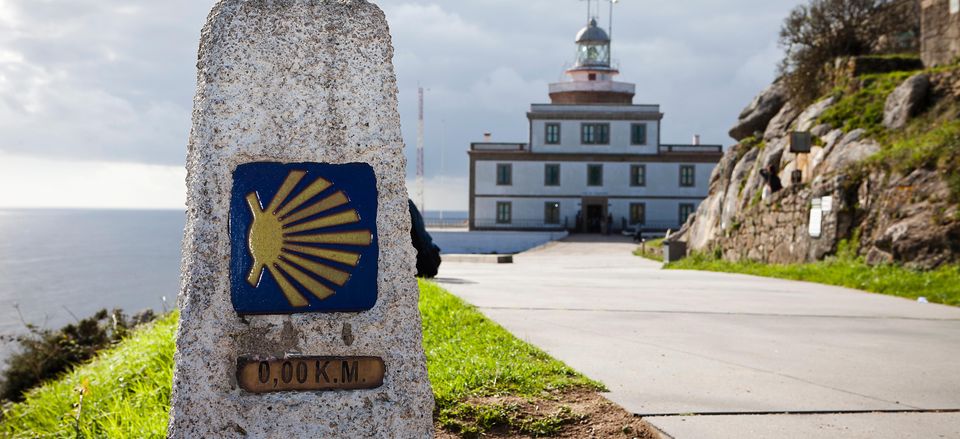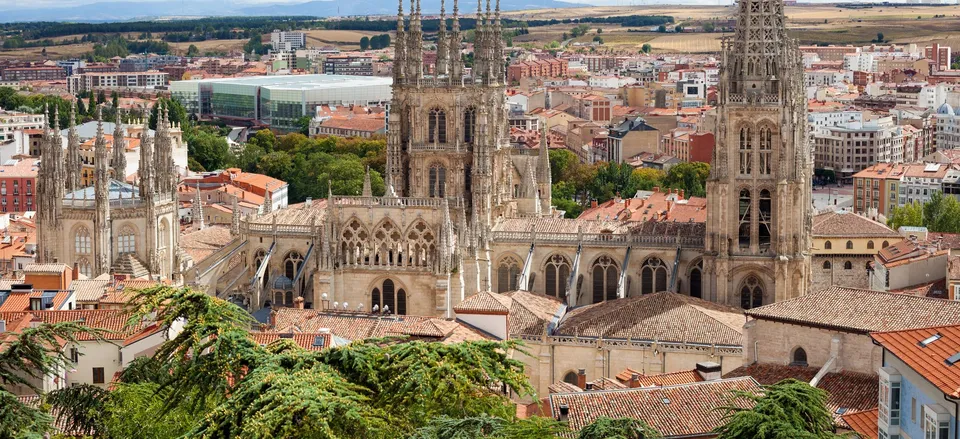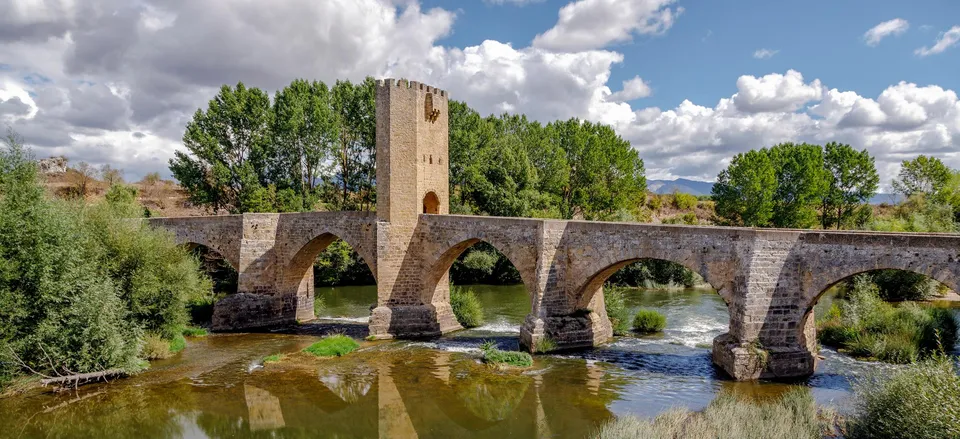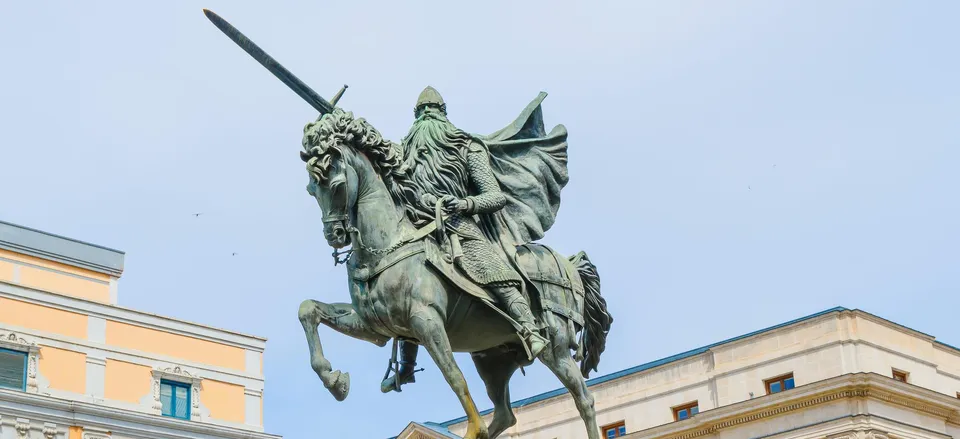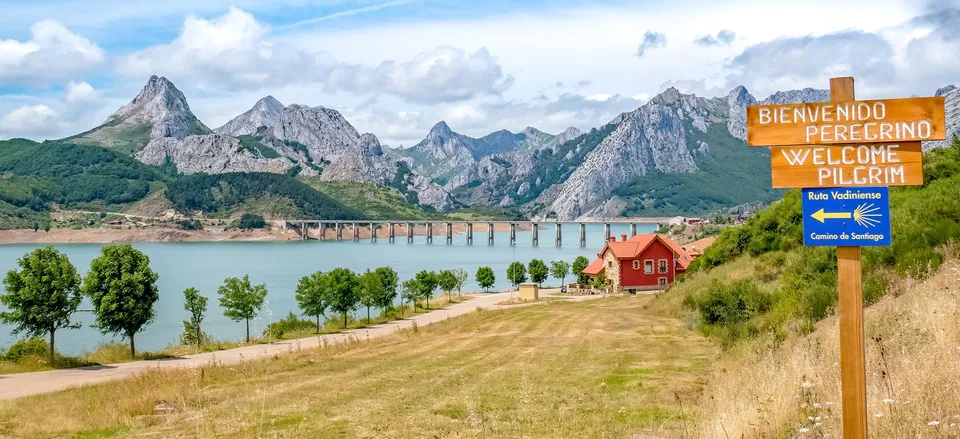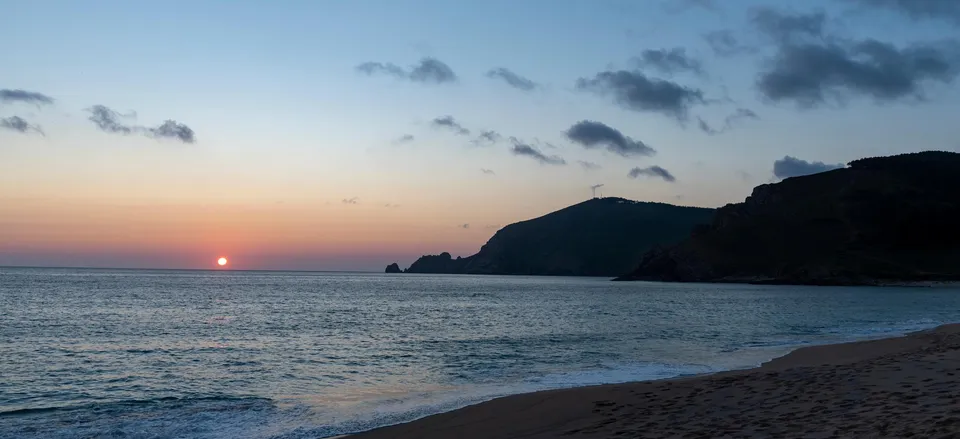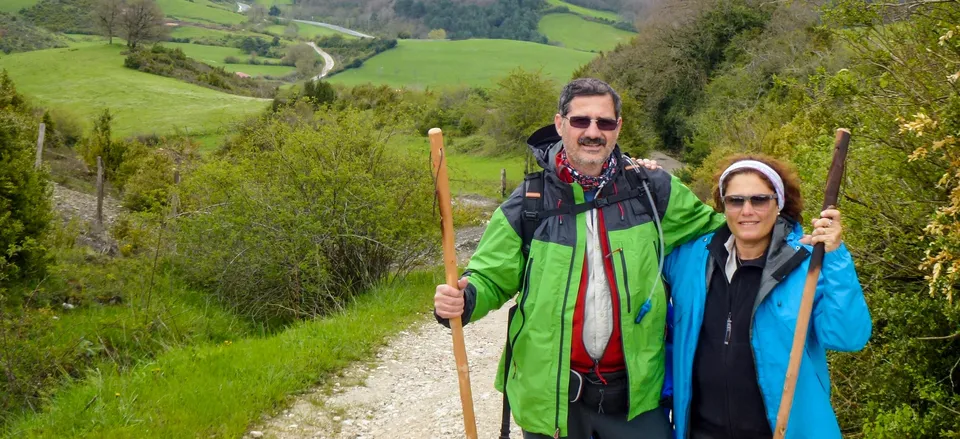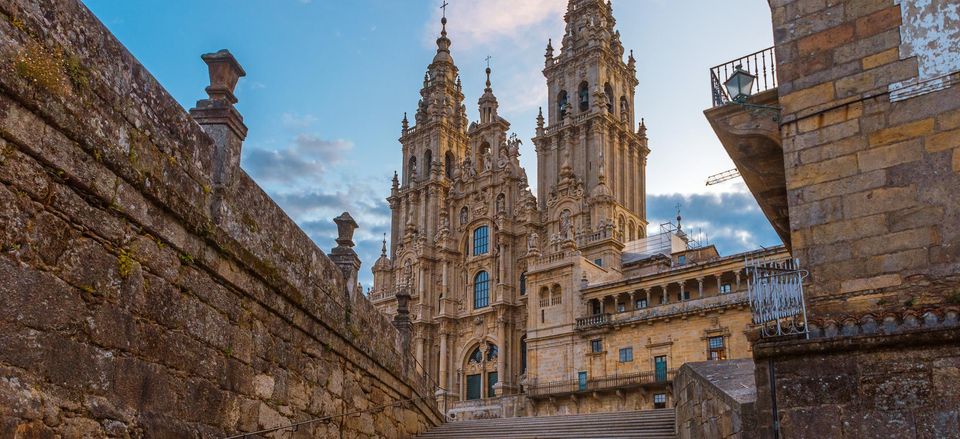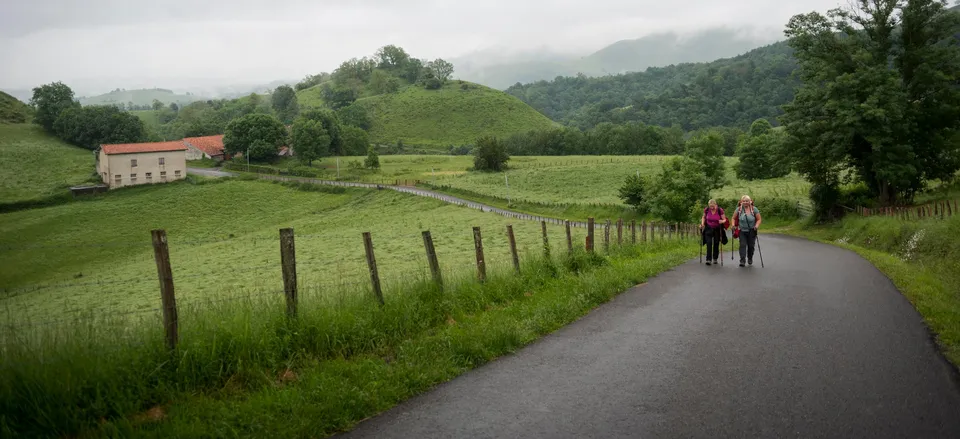 Walking the Camino de Santiago
Spain's Historic Pilgrimage Route
11 days from $6,595
Join this new Active Journey whether you're on a spiritual journey yourself or simply want the thrill of hiking this famous pilgrimage route. Feel a connection and the same sense of purpose with pilgrims since the Middle Ages as you walk along the same trails from Pamplona to Santiago de Compostela.
Overview
Expectations: As part of the Smithsonian Active Journeys collection, this trip features a schedule of physical activities—including walking and hiking—in addition to activities designed to offer cultural or historical context. Walks, hikes and activities will take place rain or shine. If you are reasonably fit and can walk and hike from 1 up to 7 miles easily you should be comfortable on this Moderate/Active tour (Level 3). On this trip, daily hikes are taken at a leisurely to active pace over various types of terrain, from well-trodden trails to dirt roads to sometimes stony rural tracks. A few long travel days with early morning departures should be expected. Hiking boots, raingear and day packs for daily necessities are a must; some travelers may wish to bring hiking poles.
Appropriate for: Travelers who are physically fit, have a strong fitness level, expect a slightly vigorous pace, are comfortable participating in up to four hours of hiking per day, and enjoy challenging themselves physically.
To see itinerary, please click on an option below.
Itinerary
Itinerary
Day 1 & 2 — Depart U.S./Arrive Bilbao
Depart U.S. on an overnight flight and arrive into Bilbao. Transfer to your hotel, in the heart of Bilbao's Golden Mile. Bilbao's gastronomy plays an important role in its identity. Tonight, experience the impeccable preparation and bursts of flavor packed into "pintxos" as you gather with your fellow travelers for a welcome dinner and an opportunity to toast the adventure that awaits. (D)
Day 3 — Bilbao/Pamplona
Embark on a tour of historic Bilbao, the cultural capital of the Basque region. View the striking façade of the iconic Guggenheim Museum and stroll along the renewed landscape of "Ría de Bilbao" and the Old Town before transferring to Pamplona. The capital of Navarra, Pamplona offers exquisite cheeses from the nearby mountains, vegetables, and Navarra D.O. regional wine. Enjoy lunch together before a walking tour of the city, renowned for its running of the bulls. The rest of the evening is at your leisure to explore the city. (B,L)
Walking: 2 hours
Day 4 — Pamplona/Logroño
Shed your city-dweller persona as you begin your transformation into a true pilgrim. This morning marks the first stage of your walk along the Camino de Santiago. After passing Cizur Menor and Cizur Mayor, you will enter the rural landscape. A slight ascent through Guendulain will bring you to the village of Zariquiegui, located at the foot of "Sierra del Perdón" (the Peak of Forgiveness). Stop by the Monastery of Irache, en route to Logroño, to view (and sample) the "Fuente del Vino" (the Wine Fountain). After, enjoy a wine tasting and light lunch at a nearby vineyard. Check in to your hotel in the capital of La Rioja wine region, before heading out on a leisurely guided tour of the town. The town of Logroño has become an integral stop on the pilgrimage to Santiago de Compostela. Learn about its history and links as you admire the Church of Santiago, the Cathedral of Santa María la Redonda and the Market Square. Enjoy local ingredients like asparagus, vegetable stews, and pears soaked in wine on Calle del Laurel. (B,L,D)
Hiking: 5.6 miles. Approximately 600 feet of gentle ascent. Paved roads followed by dirt roads and well-trodden trails. 2-3 hours
Day 5 — Logroño/Burgos
Admire a landscape of vineyards as you transfer to Santo Domingo de la Calzada. Visit the Cathedral, which dates to 1098 and boasts stunning views. A short drive will bring you to Puerto de la Pedraja, where you begin walking through pine forests. Enjoy lunch in the small village of San Juan de Ortega and pause at the façade of the Church of San Nicolás and the Monastery San Juan de Ortega. Transfer to your hotel in Burgos. After check-in, meet your local guide for a tour of this city which still retains vestiges of its medieval splendor. The Cathedral of Burgos built over six centuries, is a UNESCO World Heritage site. Explore this and other fascinating corners of the city before dining at leisure at any number of Burgos' varied restaurants. (B,L)
Hiking: 8.1 miles. Approximately 500 feet of gentle descent. Well-trodden trails and dirt roads. 4-5 hours.
Day 6 — Burgos/León
Transfer to Hontantas on the Camino, an ideal place to feel the pilgrimage experience as the roads are paved, flat and quiet. En route, visit the ruins of the Monastery of San Antón before reaching the narrow streets of the charming Catrojeriz, and a well-deserved lunch. After a short drive to Frómista, visit the Church San Martín de Tours and its Romanesque exterior. Enjoy the scenic meadows and cornfields of Castile before arriving in León. After checking in to your hotel in the historical center of the city, head out for tapas as you stroll from bar to bar in Barrio Húmedo, sampling bite-size flavors of seasonal produce, croquettes, chorizo or black pudding, to enhance the flavor of local Tempranillos and other regional wines. Dinner is at your leisure. (B,L)
Hiking: 6.2 miles. Relatively flat. Combination of paved and dirt roads. 3-4 hours.
Day 7 — León
This morning's stage begins in Oncina de la Valdoncina, just outside of León. This undulating walk takes you by crop and wheatfields and concludes in the farmlands of Villar de Mazarife. Return to León for a more in-depth look into this rich city, which was the capital of the kingdom during the Middle Ages, and a historic enclave on the Pilgrim's Road to Santiago de Compostela. Two sites of particular import are the Cathedral, one of the most striking Gothic cathedrals in Spain, and the Basilica de San Isidoro, known as the "Sistine Chapel" of the Spanish Romanesque style, with its series of 12th century frescoes that decorate the underground crypt of the Royal Pantheon. Savor local flavors like roast lamb, suckling pig, or bean stews as you dine as a group this evening. (B,D)
Hiking: 6 miles. Relatively flat. Rural tracks sometimes stony. 2-3 hours.
Day 8 — León/Lugo
Transfer early this morning to the walled town of Astorga, its preserved churches convents and hospitals will transport you to the purest tradition of the Pilgrim's Road. The town also plays home to Gaudí's masterpiece The Bishop's Palace. Travel through Villafranca to O Cebreiro along the Camino as you cross the mountains of León and stop at iconic points like the Cruz de Ferro "Iron Cross." In the regional capital of Ponferrada, visit the Templar's Castle, and after traveling among vineyards, arrive at Villafranca del Bierzo, known as "Small Compostela." In La Laguna de Castilla, take in the breathtaking scenery as a short walk takes you to the mountain hamlet of O Cebreiro and a visit to the oldest remaining fully intact church on the route and which contains a Holy Grail. Finish your day in the provincial capital of Lugo. After checking in to your hotel, your evening is at leisure. (B)
Hiking: 6.2 miles. Approximately 500 feet of gentle ascent. Wide path, sometimes stony. 3-4 hours.
Day 9 — Lugo/Santiago
Inside the walls of Lugo are quiet pedestrian streets, wide squares and spacious gardens dotted with impressive structures. The greatest example of its Roman legacy is its wall, built between the 3rd and 4th centuries and declared a World Heritage Site. Take a guided walk of Lugo this morning before transferring to Palas de Rei, the starting point for today's walk, along villages and farmlands across an evergreen landscape. Enjoy local favorite recipes for lunch such as "pulpo á feira" (octopus) and stroll in the historic quarter of Melide. As you make your way ever closer, you will find "Monte do Gozo" (Mount of Joy) from where you first see the towers of the Cathedral of Santiago de Compostela. Check in to your final hotel and embark on a guided walking tour of Santiago. For centuries, thousands of pilgrims have traveled on the Camino de Santiago destined for the iconic Cathedral. According to tradition, it is the burial place of the relics of James the Apostle. Feel the energy of the town and the Plaza del Obradoiro as you have time to explore and dine at leisure, sampling scallops, Santiago cakes, and Albariño, considered one the world's best white wines. (B,L)
Hiking: 4.5 miles. 450 feet of ascent and descent. Combination of local roads (less busy), dirt tracks and paths (muddy on rainy days). 2-3 hours.
Day 10 — Santiago and Fisterra
Early this morning, travel along the rugged Atlantic coast to Cape Finisterre, once thought to be the end of the world. This could be considered the finale to St. James Way—the spectacular views that surround the Cape's lighthouse are a fitting finale. Hike along the beach, following the coastline along the Camino, named Fisterra-Muxia. Enjoy the best seafood in Galicia at your leisure in the nearby fishing village of Fisterra before transferring back to Santiago through the Galician's countryside. After some time to explore Santiago's museums and shops at leisure, gather for a festive farewell dinner in the old city to toast the completion of your pilgrimage. (B,D)
Hiking: 4.2 miles. Mostly flat along the coastline. 1½- 2 hours.
Day 11 — Departure
After breakfast, depart for the Santiago Airport for individual flights home. (B)
Included meals are denoted as follows: Breakfast (B), Lunch (L), Reception (R), Dinner (D)