Science and art enthusiasts will delight in this new journey to Switzerland, which showcases Albert Einstein, the Supercollider at CERN, the magnificent Jungfrau, and the art of Paul Klee.
Art Meets Science in Switzerland featuring CERN
Featuring a Rare Visit to the Supercollider at CERN
9 days from $8,395
Science and art enthusiasts will delight in this new journey to Switzerland, which showcases Albert Einstein, the Supercollider at CERN, the magnificent Jungfrau, and the art of Paul Klee.
Overview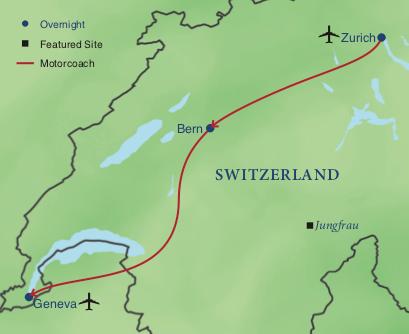 Level 2: Moderate
Expectations: Long touring days with many full-day motor coach excursions. Standing and walking for long periods of time during city tours, museum visits, and/or outdoor activities. Walking over sometimes difficult terrain (e.g. cobblestones, city hills, stairs without handrails, the absence of elevators, climbing aboard trains with high steps); some longer walks to get to city centers where coaches are prohibited. Possible exposure to higher altitudes. River cruises may offer a choice of excursions with varying activity expectations. (Typical travel opportunities: Most Cultural Stays, River Cruises, some Land Journeys, U.S. Train Tours)
Appropriate for: Travelers who are physically fit and comfortable with long days of touring (both walking tours and coach time).
To see itinerary, please click on an option below.
Itinerary
Itinerary
Day 2 — Arrive in Zurich, Switzerland
Arrive and transfer to the hotel located in Old Town Zurich. Early arrivals have the option of enjoying a leisurely boat ride on River Limmat and a visit to the Swiss National Museum.
Meet your Smithsonian Journeys Expert and fellow travelers this evening at a wine and cheese welcome reception at the hotel. (R)
Day 3 — Zurich
After breakfast, gather for an orientation followed by a leisurely walking tour, "Albert Einstein's Zurich."
After lunch, visit the Kunsthaus Zürich Museum with its extensive modern art collection. (B,L)
Day 4 — Zurich / Bern
This morning, drive to Bern. Visit the Einstein House, where Albert Einstein lived when he developed his Theory of Relativity. Then, stop by the Federal Institute of Technology (ETH) campus, where Einstein studied and taught. Specializing in natural sciences, engineering, and technology, ETH Zurich has produced 21 Nobel Prize winners.
After lunch, travel to the Zentrum Paul Klee. Designed by Renzo Piano, this architectural gem houses the largest collection of Klee's works in the world. A private tour and special viewing of unusual Klee works on paper has been specially arranged. Enjoy a festive dinner this evening at a local restaurant.​ (B,L,D)
Day 5 – Bern
Take the cogwheel Wengenalp Railway nearly straight up the wooded mountainside and past the timberline. Board the Jungfraubahn, traveling through tunnels straight into the rock of the Eiger.
Enjoy lunch and spectacular views at Restaurant Top of Europe and then continue to the Sphinx Observatory and Research Institute for a private tour. Perched on a steep precipice, the Spinx has served as headquarters for researches in astronomy, glaciology, medicine, and cosmic ray physics. (B,L)
Day 6 – Bern / Geneva
This morning, explore the Einstein Museum, featuring a powerful presentation of the life and work of Albert Einstein. Drive to the picturesque medieval town of Gruyères and enjoy their namesake cheese at a Raclette luncheon.
This afternoon, visit Chillon Castle, perched on a rocky island on the banks of Lake Geneva. Built to control the road through the alpine passes, Chillon has served as a Roman outpost, summer home to the Counts of Savoy, prison, and munitions and weapons depot. Afterward, check in to your hotel in Geneva and the evening is at leisure. (B,L)
Day 7 — Geneva
View rare and ancient scientific instruments from the 17th to the 19th century at the Musée d'Histoire des Sciences, housed in Villa Bartholoni, one of Geneva's most beautiful neo-classical buildings.
Drive to Le Lavaux, internationally famous as a terraced wine-growing region on the shores of Lake Geneva. Following lunch at Auberge de L'Onde in St. Saphorin, enjoy a private wine-tasting at Clos des Abbayes, a historic wine estate from the 11th century.
The evening is free to explore Geneva. (B,L)
Day 8 — Geneva
Depart for CERN, the European Organization for Nuclear Research, one of the world's largest and most respected centers of scientific research. (Note: Pacemakers are not allowed inside the LHC -- Large Hadron Collider at CERN.)
Embark on a private tour of CERN and the ATLAS Cavern and attend a presentation by a senior scientist about the Large Hadron Collider. Savor the morning experience over lunch at the famed Domaine de Châteauvieux, awarded two Michelin stars and overlooking the Rhône Valley.
That balance of the afternoon is at leisure in Geneva. (B,L)
Day 9 — Return to the U.S.
Transfer to the airport for return flights home. (B)
Included meals are denoted as follows: Breakfast (B), Lunch (L), Reception (R), Dinner (D)