Go off the beaten path and experience the essence of Tuscany up close! During daily hikes, get away from the crowds to explore charming hill towns, iconic landscapes, and impressive churches. Savor the region's bounty during special tastings and relaxed meals, and stay in delightful lodgings.
Hikes and Cuisine of Tuscany
9 days from $5,995
Go off the beaten path and experience the essence of Tuscany up close! During daily hikes, get away from the crowds to explore charming hill towns, iconic landscapes, and impressive churches. Savor the region's bounty during special tastings and relaxed meals, and stay in delightful lodgings.
Overview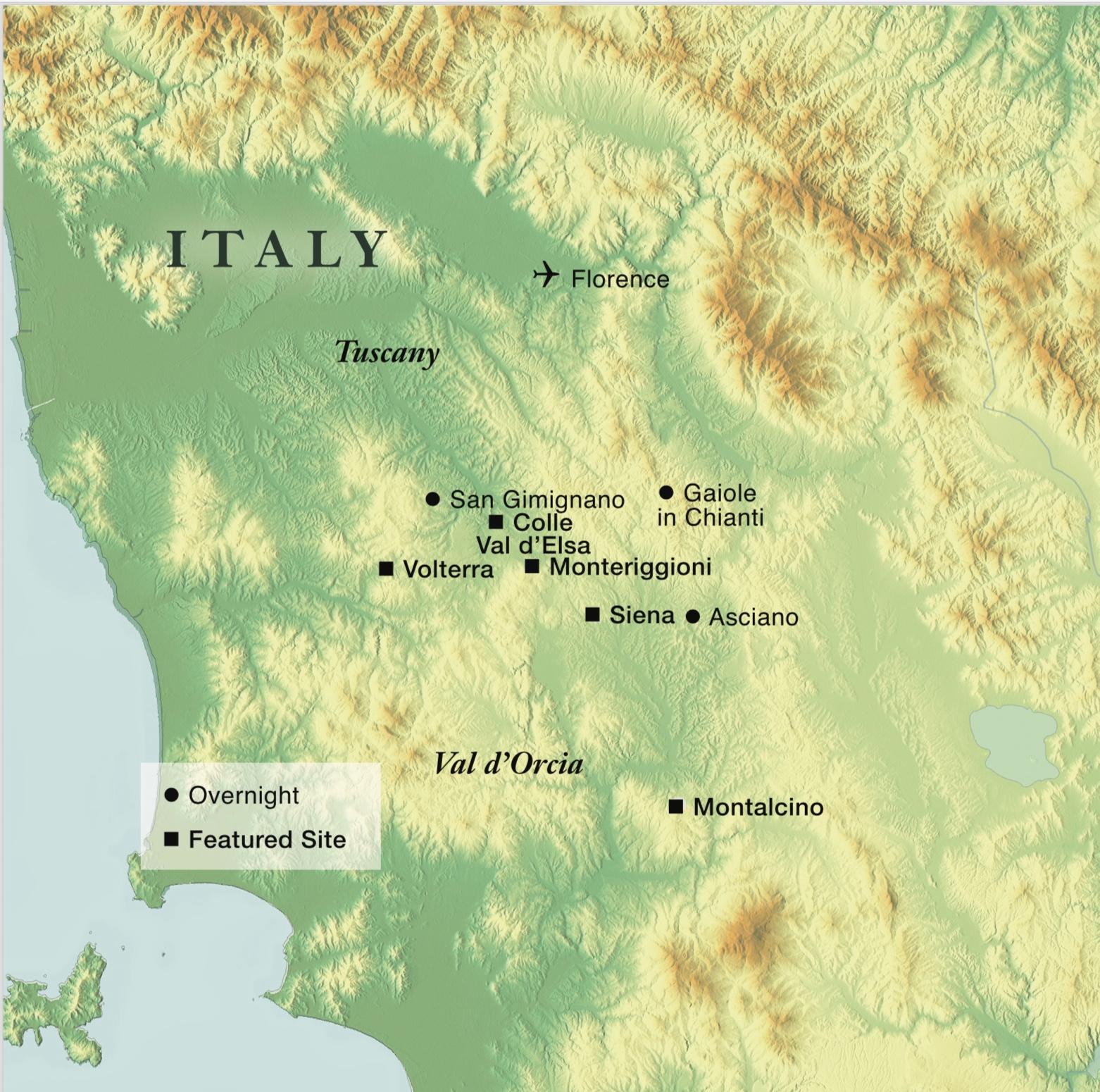 Activity Level 3: Moderate / Active
Expectations: This trip is part of the Smithsonian Active Journeys collection. These trips feature a daily schedule of physical activities—such as walking, hiking, kayaking, rafting, or bicycling—in addition to activities designed to offer cultural or historical context. Each trip entails a different level of physical expectations. Please review the following activity level description—and feel free to contact an Active Journeys Specialist to discuss the trip at more length—to ensure this Active Journey is right for you.
On this trip, daily hikes of 2 to 6 miles (from two to four hours a day) are taken at a leisurely to active pace over various types of terrain that range from well-groomed trails on hilly landscapes, through vineyards, cultivated fields, and forests, and ascending somewhat steep inclines to reach Tuscan hill towns. Most days feature walking tours through hill towns with cobblestone streets where sidewalks may not exist. A few long travel days with early morning departures should be expected. Hiking boots and day packs for daily necessities are a must; some travelers may wish to bring hiking poles.
Almost every day features a cultural site associated with the hike, such as a castle visit, culinary highlight, wine tasting, meeting with local people, or such. During long hikes (such as on Days 2 and 5), travelers will have the option to do half or part of the hike (one van will be available to transfer travelers to the destination). Otherwise, once a hike is begun it is necessary to finish. However, it is sometimes feasible to skip a day's activities and relax at the hotel, if desired. Leisure time is limited to the evenings although there is an afternoon at leisure in Siena and San Gimignano.
Transport between hotels and to some sites is by 9-person vans. The maximum driving time is one and a half hours; normally transfers are very short. Accommodations feature upscale renovated properties dating to the Middle Ages, located in the Tuscan countryside. Altitudes are not significant. Many sites such as castles and hill towns require climbing stairs, often without handrails.
Appropriate for: Travelers who are physically fit, expect a slightly vigorous pace, are comfortable participating in up to four hours of walking/hiking per day, and enjoy challenging themselves physically.
To see itinerary, please click on an option below.
Itinerary
Itinerary
Day 2 – Arrive in Florence, Italy / Badia a Coltibuono
Upon arrival in Florence, enjoy a light lunch then transfer to Gaiole in Chianti, one of the historical components of the League of Chianti. Visit Badia a Coltibuono, the "Abbey of good harvest," which was founded by Vallombrosian monks about a thousand years ago. Now privately owned, it is a sanctuary of peace and harmony where wine, olive oil, and honey are still produced today according to age-old traditions. A tasting of the local products will reveal why the estate of Coltibuono is so renowned.
This afternoon, take a warm-up walk to a nearby village, then check into your hotel, a historic building that now offers upscale accommodations and amenities but is still replete with history and legend. This evening, enjoy a full immersion into the flavors of Tuscan cuisine during dinner at the hotel's noted restaurant. Hiking 2 hours. (L,D)
Day 3 — Gaiole in Chianti / Castello di Brolio
Begin the day by exploring the quiet streets of the charming village of Gaiole in Chianti. Today's hike wanders the picturesque Tuscan countryside surrounding ​Castello di Brolio, home to the Ricasoli family since the 11th century. Here, you'll enjoy a visit to the garden and the panoramic view from the top of the castle walls. A highlight of your day will be a tour of the wine cellars where Chianti Classico originated, followed by a wine tasting. Hiking 3 hours. (B,L,D)
Day 4 — San Gimignano
Enjoy a walk through more of the Chianti Classico countryside this morning, stopping for lunch in the charming village of Radda in Chianti.
After a delicious lunch of Tuscan dishes, transfer to San Gimignano, one of Italy's most picturesque and perfectly preserved medieval hill towns whose landmark towers emerge above the Tuscan countryside. The towers were more than defensive strongholds; they also served as status symbols for both the families and the cities themselves, a visible measure of a town's power and prosperity.
Check into your peaceful hotel, a former Capuchin monastery located on the outskirts of town. This afternoon is free for you to explore the cobblestone streets, piazzas, and galleries of San Gimignano at your leisure before enjoying dinner on your own at one of the many charming restaurants in town. Hiking 2-3 hours. (B, L)
Day 5 — San Gimignano / Volterra
Today's hike wanders through the pleasant wine-producing region to a lovingly restored villa. Appreciate the rediscovered frescoes and overgrown gardens. Following a gourmet lunch in Palagione, visit the prestigious Etruscan Museum in Volterra to marvel at the impressive tomb carvings this somewhat mysterious civilization left behind. Volterra is also famous for alabaster, a soft stone found in the surrounding area that was especially important during the Renaissance. Duck into one of the many shops and studios that still specialize in this art today. Return to the hotel in time for dinner. Hiking 2-3 hours. (B,L,D)
Day 6 — Colle Val d'Elsa / Monteriggioni / Siena
Enjoy a short hike this morning around San Gimignano, and drive through olive orchards and vineyards en route to Colle Val d'Elsa, famous for its fine hand-crafted crystal. For 700 years, Colle has produced nearly all of Italy's best crystal, thanks to the area's forests, which provided fuel for the glass furnaces, and the rapid waters of the river Elsa, which was used for the cooling process. Enjoy a short hike in the countryside surrounding this special place.
This afternoon's hike follows the Via Francigena, the ancient pilgrimage path between Canterbury and Rome. Hiking through wooded hillsides of chestnut, oak, and fir, past churches that offered shelter along this sacred route, you will literally follow in the footsteps of countless pilgrims. Buon camino!
Next, visit the walled town of Monteriggioni. Built in the early 13th century as Siena's northernmost bastion, it was often in the front lines in the wars with Florence. Now a neat circle of walls with 14 towers, it sits like a crown on its round hill. Later, transfer to your lovely hotel, formerly an 18-century manor house, situated outside Siena and near Crete Senesi, and featuring panoramic views of the landscape and delightful upscale amenities. Hiking 3-4 hours. (B,L,D)
Day 7 — Siena
Head into Siena this morning for a guided walking tour, visiting the major architectural and historical monuments, including the Piazza del Campo and the Duomo. The afternoon is free to explore the charming streets and museums of Siena on your own, do some shopping, or join your guides on an optional hike into the rolling, cypress-lined hills surrounding the town. Walking 3 hours. Optional hiking 2 hours. (B,D)
Day 8 — Val d'Orcia / Crete Senesi / Monte Oliveto
A fantastic drive through the Val d'Orcia showcases another iconic Tuscan landscape, the Crete Senesi. Solitary cypresses mark soft, round hills, following the run of the river Orcia. Embark on a spectacular hike in the direction of Montalcino, the homeland of Brunello wine.
This afternoon, visit the peaceful grounds of Monte Oliveto Maggiore, a Benedictine abbey, where you can see the beautiful frescoes by Sodoma and Signorelli, painters who tell the story of Saint Benedict through their work.
Return to our hotel this evening and gather for a festive farewell dinner, raising a glass of Brunello to toast your grand adventure. Hiking 3 hours. (B,L,D)
Day 9 — Depart for the U.S.
After breakfast, a transfer is provided to Florence airport for departures. (B)
Included meals are denoted as follows: Breakfast (B), Lunch (L), Reception (R), Dinner (D)