Trace the events of the pivotal Battle of Normandy as you travel from England to France to gain an in-depth understanding of this monumental military operation and attend official memorial ceremonies.
D-Day: A Journey from England to France
8 days from $6,595
Trace the events of the pivotal Battle of Normandy as you travel from England to France to gain an in-depth understanding of this monumental military operation and attend official memorial ceremonies.
Overview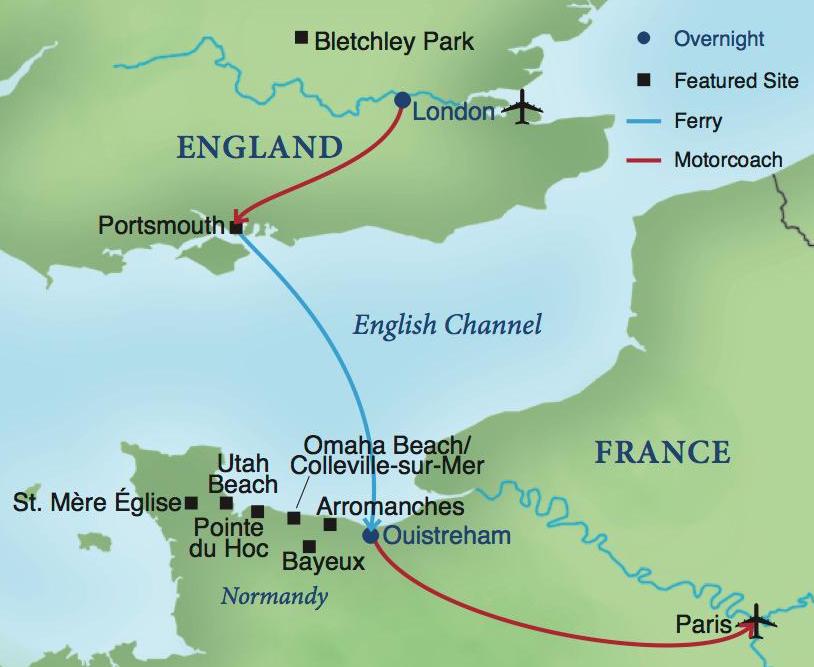 Level 2: Moderate
Expectations: Eight-day Special Interest tour featuring two regions and two hotel stays. Full-day excursions outside London and from the hotels located in Ouistreham. Some extensive walking tours of villages/cities, museums, and outdoor military sites; some extensive standing during outdoor tours and ceremonies.
Excursions can be over uneven terrain (e.g. groomed trails/hilly walkways, cobblestones, stairs without handrails, the absence of elevators); some longer walks to get to city centers where coaches are prohibited. Due to the nature of this tour, there is little free time except for the evenings. Travelers will cross the English Channel by an afternoon ferry ride from Portsmouth to Ouistreham.
Appropriate for: Travelers who are physically fit and comfortable with long days of touring (both walking tours and coach time).
To see itinerary, please click on an option below.
Itinerary
Itinerary
Day 1 — Depart the U.S.
Depart the U.S. on individual flights for London.
Day 2 — London
Arrive in London and transfer to your hotel. Gather as a group in the early afternoon for a guided visit to Winston Churchill's Cabinet War Rooms and the adjoining Museum. It is from this underground "safe place" that Churchill directed the British war effort and where today one can still see maps, telephones and bunks preserved since 1945.
This evening, enjoy a private reception and dinner at the hotel. (R,D)
Day 3 — London / Bletchley Park
Travel to Bletchley Park and discover the real story behind the Enigma code breakers, credited with shortening the war by successfully deciphering the encryption used by the Wehrmacht to safeguard its messages. Enjoy a curator-led explanation of the decoder, as seen in The Imitation Game.
After lunch in a local pub, visit the H.M.S. Belfast, part of the Imperial War Museum. This evening, gather for a lecture from your Smithsonian Journeys Expert. (B,L)
Day 4 — London / Portsmouth / Normandy
This morning, travel south to Portsmouth. At the D-Day Museum, examine the Overlord Embroidery—a stunning handcrafted depiction of the D-Day events that stretches some 270 feet— and see a replica of the map General Eisenhower used to plot Allied positions. Just outside Portsmouth, visit the Supreme Headquarters of the Allied Expeditionary Force by special arrangement (subject to confirmation). Enjoy a pre-opening visit to The Golden Lion Pub, which was converted into an officer's mess during WWII. Surrounded by photographs and memorabilia, stand in the very same spot where Eisenhower would drink a 'pint of beer'.
This afternoon, cross the English Channel by ferry and arrive in Normandy in the late evening. (B,L,D)
Day 5 — Sainte Mère-Église / Utah Beach / La Cambe
Explore the village of Sainte-Mère-Église, where the 82nd and 101st Airborne Division paratroopers dropped from the sky in a hail of gunfire on the night of June 5. View the church steeple upon which one unlucky paratrooper was entangled for hours, and visit the village's remarkable museum.
Continue to Utah Beach, the site of one of the two American amphibious landings in the early hours of D-Day. Stop for lunch at Le Roosevelt, a restaurant built around a former German bunker just steps from the historic beach. This afternoon, pay a visit to the German war cemetery at La Cambe. (B,L,D)
Day 6 — Pointe Du Hoc / Arromanches / Colleville-sur-Mer
One of the most dramatic sites along the Normandy coastline is Pointe du Hoc, where U.S. Rangers used hooks and ropes to scale cliffs some 100 feet high in order to destroy key German gun positions. Walk along cliff-top pathways still cratered by mortar blasts, and venture into the concrete bunkers from which German forces unleashed a barrage of artillery fire.
Travel to Arromanches, one of the few remnants of the prefabricated concrete harbors that assisted in landing Allied supplies, and visit the Arromanches Landing Museum. Commemorate the D-Day anniversary at the American Military Cemetery in Colleville-sur-Mer, where we will lay a wreath to honor those who sacrificed so much. (B,D)
Day 7 — Omaha Beach / Bayeux
This morning, visit the Pegasus Memorial Bridge and Museum—dedicated to the men of the 6th British Airborne Division. Following a private talk by the Director of the museum, tour the exhibits recounting the battle for this strategic location in 1944.
Visit the Overlord Museum, then wander along Omaha Beach, site of the bloodiest fighting of the invasion day. At the Omaha Beach Memorial, lay flowers in honor of those who made the ultimate sacrifice. After a picnic lunch, travel to Bayeux, where you will have time to visit the British Cemetery and explore the town before a guided visit to the Bayeux Tapestry Museum. This evening, celebrate your journey with a farewell reception and dinner. (B,L,R,D)
Day 8 —Paris
Depart as a group from Normandy to Charles du Gaulle Airport in Paris for individual flights home or onward. (B)
Included meals are denoted as follows: Breakfast (B), Lunch (L), Reception (R), Dinner (D)