Smithsonian Journeys Experts
Patty Walton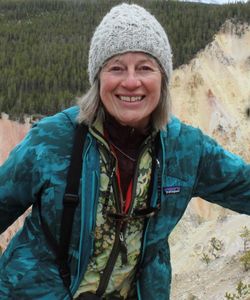 Patty became enamored with the West on a cross country bicycle tour, after which she packed up and moved to Montana in 1988. She settled in Bozeman and attended Montana State University, earning a degree in geography. Patty's keen interest in natural history and wildlife observation was developed while exploring the Greater Yellowstone Ecosystem on foot, bicycle, and skis—and spending lots of time with ecologist types like her husband, Jamie. With her knowledge and love for Yellowstone, Patty spent a decade leading multi-day backpacking trips through the national park's backcountry.
Patty has a strong medical background and served the Bozeman community as a paramedic and medical assistant for over 20 years. Now retired, Patty has more time to pursue her passion, sharing her in-depth knowledge and love for the Northern Rockies and Desert Southwest with travelers.
In her free time, you'll find Patty biking, hiking, cross-country skiing, and on the lookout for wildlife in the wild backcountry – all of which fills her soul. Patty and her husband Jamie live in Bozeman with their dog Raffi.