Smithsonian Journeys Experts
Jacquelyn Williamson
Dr. Jacquelyn Williamson received in her PhD in Egyptology from the Johns Hopkins University. She is the Associate Professor of Ancient Art and Archaeology at George Mason University. She has been a member of several archaeological missions in Egypt and has worked in many museums including the Egyptian Museum in Cairo and the Harvard Semitic Museum. She has held teaching and research positions at UC Berkeley, Harvard University, and Brandeis University and has appeared on many television programs about ancient Egypt. She is the director of the ongoing investigation of Kom el-Nana at Tell el-Amarna in Egypt, which she has proven is the site of a "lost" sun temple associated with Queen Nefertiti. Kom el-Nana is the subject of her first book. Her work has a special focus on gender and religious power and specializes in art, archaeology, and ancient language. Her courses are consistently ranked among the top in her university, and she invests her passion for ancient Egypt into every teachable moment.
What Our Travelers Say
Jackie was great. The group loved her enthusiasm and her lectures were entertaining and informative.
- Rebecca T., Ancient Egypt and the Nile
Upcoming Tours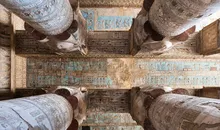 14 days | Starting at: $5,595
Dec 2, 2023 - Dec 15, 2023

Featuring Abu Simbel
Tour Details ››