Smithsonian Journeys Experts
Aziz Abu Sarah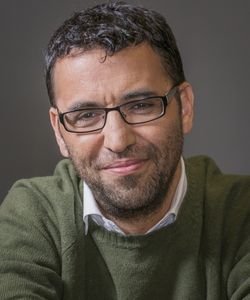 Aziz Abu Sarah is an author, peacemaker, and entrepreneur. In the past, Aziz also served as the Executive Director of the Center for World Religions, Diplomacy, and Conflict Resolution at George Mason University. He is a National Geographic Explorer and Cultural Educator, and a TED Fellow. Aziz has worked in over 60 countries around the world on conflict resolution, development, and tourism projects including Colombia, Egypt, Afghanistan, Syrian, and Northern Ireland.
He is the author of Crossing Boundaries - A Traveler's Guide To World Peace and the Co-Author of Strangers, Neighbors, Friends: Muslim-Christian-Jewish reflections on compassion and peace. Aziz's work has been covered by international media including CNN, FOX, National Geographic, The New York Times, Aljazeera and others.
Aziz has been honored to receive numerous awards, including the Goldberg Prize for Peace in the Middle East from the Institute of International Education, the Eisenhower Medallion from People to People International, United Nations Secretary-General Ban Ki-moon recognized Aziz Abu Sarah's work during his speech at the 5th Global Forum of the UN Alliance of Civilizations in February 2013, and the UNAOC and BMW Group awarded him the intercultural innovation award in 2011. He was named one of the "500 Most Influential Muslims" by the Royal Islamic Strategic Studies Centre.
What Our Travelers Say
I very much like the educational aspect of Smithsonian Journeys...the knowledge of their Experts and their ability to relate that knowledge ot us.
- Ellen V.