A Q&A with Expert Keith Lockhart
---
Q. You've been the conductor of the Boston Pops for over 25 years, with over 2,000 performances during your tenure. Tell us about one of your favorite performances of your career.
A. All told, I've probably conducted a total of around 4,000 performances over the last forty years, so it's a little hard to pick favorites! One that really stands out for me is my first Fourth of July concert with the Boston Pops, in 1995, where I learned what it felt like to walk on stage in front of a half million people! Others include my first performances of Mahler's monumental Eighth Symphony, with the Utah Symphony and the Mormon Tabernacle Choir, when I realized that, no matter how successful I was, I would have few chances in my life to be part of something so magnificent. And almost any performance during my tenure as Artistic Director of the Brevard Music Center in western North Carolina, because the thrill of making great music with young people, many of whom are reaching those heights for the first time, is unbelievable!
Q. What has been one of your favorite cities or countries to perform in, and why?
A. Boston, of course, is a great place in which to be a performer! There are great orchestras and passionate audiences in so many corners of the globe, though…Prague is a favorite destination, with my musical friends at the Czech Philharmonic. It's hard to vote against Vienna as a musical destination, and my first time onstage at the Musikverein has to have been one of the most exciting moments in my career. And I love my musician colleagues in London, who are some of the funniest, most irreverent, and most talented players I've ever worked with. The audiences in Japan have a reverence for the music and respect for the performers that makes every concert feel like a religious experience. There…have I left anywhere out!
Q. Have you ever conducted on a ship before?
A. If you don't count leading a Dixieland band (from the clarinet) on the Allegheny River just outside of Pittsburgh…then no! The closest I've come was supposed to happen in the Fall of 2020. We all know how that went! So glad I got a second chance…
Q. What is your relationship to the six musicians that will accompany you for the performances during the Symphony on the St. Lawrence cruise?
A. These six musicians are all excellent players but, perhaps more importantly, excellent people and great advocates for their art form. They are mostly artist faculty at Brevard Music Center, the summer institution that I have led since 2008. And it was very important that they all be married to each other (with the right instruments represented), so that I could fit as much music into our stateroom allocation as possible!
Q. Can you tell us about a piece of music that we can expect to hear on this cruise, and why you chose it?
A. The plan is to present music that resonates with the itinerary, and with the wonderful narrative that the Smithsonian will bring to these destinations. I expect we will explore the Franco-American connection in music, and the importance of the Canadian Maritimes as a world center for Celtic music. And sea shanties! We definitely will need songs of the sea! So, I'm thinking Gershwin's "An American in Paris" (in a really wonderful four-hand piano arrangement), Dvorak's Violin Sonatina (written in the States by a European composer who came here to help American music come alive), and "Blow the Man Down!" Is that wide-ranging enough?
Q. You were born in Poughkeepsie, New York. Have you been to the Canadian Maritimes before, or is it someplace you have always wanted to visit?
A. I honestly haven't been back to Poughkeepsie in nearly 30 years, but I have lived in the Northeast for most of my life. In fact, I used to own a rustic retreat on the farthest down east coast of Maine, from which you could see the southernmost islands of New Brunswick. So, I am familiar with the topography of the place, and the character of the incredible people who inhabit it. But I've never been farther east or north than New Brunswick, and I'm excited to discover more.
Q. What other destinations are on your travel bucket list? Or what travel destinations are your favorites and why?
A. I've been lucky to be in a profession that has allowed me to travel all over the world, so most of the places still on my bucket list are places that aren't known for classical music! I'd love to visit the islands of the South Pacific (actually, that's my wife's number one wish, but I'd be glad to tag along!). I've had the incredible experience of going to Africa on safari and sailing to remote parts of the Caribbean. I'd love to do both of those again, with even more respect and awe than I had the first time!
Q. What is your favorite Smithsonian museum, and why?
A. The Air and Space Museum, because I can remember going there as a kid, seeing the Spirit of St. Louis and the early space capsules, and feeling an overwhelming sense of the bravery and restlessness of humans. And the American History Museum, because my younger brother is a historian, and hanging out there on summer vacation was much better than spending it on old battlefields!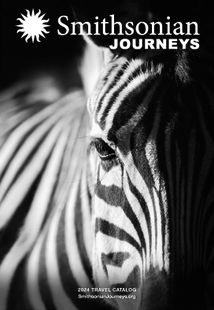 Request a Free Catalog
Download now to find inspiration for your next journey
Get It Free!
Be the First to Know
Sign up to learn more about our tours and special offers
Sign Up