A Smithsonian Journeys Around the World Adventure, Part I
---
Originally featured in North Texas e-News.
Part I — An Introduction: Peru, Rapa Nui, Samoa
It is only in hindsight, in unpacking the suitcase, dividing the souvenirs, printing the photos, reviewing the pages of daily events—only in hindsight, did I realize this trip was more than physical, that it was emotional and spiritual as well.
Physically, we went around the world on a private jet designed for 78 passengers, a crew of sixteen and a tour staff of seven. Emotionally, we clung to our new friends and circumstances. Spiritually, we visited some of the world's greatest religious and world heritage sites.
When asked where our next trip was, I found it easy to blithely reply, "Oh, we're going on a Smithsonian Journeys Around the World. Private jet. Seventy eight of our newest, nearest and dearest best friends. We'll be gone three weeks."
It is another thing entirely, entirely, to actually travel around the world. To meet 78 interesting people all on the same journey we were. To have the luxury of a 757 designed for a small group, to wonder where the three weeks went when we returned home. To finally realize that I had been around the world. Oh. My.
I have had this trip on my radar for twenty years, ever since good friends did one similar on the Concorde. That no longer being an option, I had, over the years, looked into other ventures. As with everything else, a little bit of interest got me on lots of mailing lists. Eventually, it came down to a "now or never" attitude and the Smithsonian Journeys.
There are many Around the World/private jet options. The one we chose was the Classic, a tour of nine countries in 23 days, viewing World Heritage sites, always being led by local guides. There's no use hiding the fact that we toured well, stayed in beautiful hotels, ate fabulous food, and were entertained. We were also physically exhausted by the end of each day. We were in to see it all.
The trip had so many unexpected sides to it. At each destination, we were handed our immigration cards, already filled out. We only needed to check them over and sign. About half the time, we handed over our passports to the staff and walked to the bus. Our luggage, and indeed us, were shuffled through. Getting back on the plane, we went through security. At the hotels, we went to our travel desk, got our room keys, found the room with the luggage either there or appearing shortly thereafter, two stamped postcards, $10 in local currency and a pillow gift.
While you could certainly have enjoyed the trip without spending another dime, it was nice to have a little "walking around" money. Spend it. Take it home. Give it back before you went through security on the way out and it would be donated to charity. We did all three. It was amusing at times to see us rushing to a staff member to give back the money before leaving.
Don't dismiss the postcards. We sent one to family or friends and one to ourselves at each stop. Nearing three months after returning home, we still don't have India and Samoa.
As to the pillow gifts, they were items indicative of the country we were visiting. I'm not sure which was the overall favorite, but I'll say mine was the lovely Cambodian wrap skirt for me and the embroidered shirt for Dana. Everyone wore theirs for one of our evening entertainments.
Our plane and crew were British, Thomson Airlines, with a flight crew of 16. We were assigned seats which changed halfway through. We had a kit which remained on the plane, with pillow and blanket, Bose earphones which we needed to listen to the lectures pre-loaded on our iPad Airs which were sent to us in early October. This was not just a pleasure-venture! We were out to learn. We also received a small wheeled suitcase which we would need when our next destination was either of short duration or on a small plane.
Smithsonian wasn't the only institution represented. Some of the passengers had booked through their alma maters, some through travel agencies and some directly with TCS World Travel, the operator.
TCS was founded in Seattle in 1991 as the first private jet expedition company to travel the globe. In 2003 they formed Starquest Expeditions to have an educational focus. They later merged and then were acquired by TUI AG Group, which owns Thomson, among other airlines.
We began in Orlando, Florida, with our eyes shining and our spirits open to adventure. The night before we left, we had dinner, met our leader Jill and were warned that flexibility was the name of the game. Some circumstances could be beyond TCS' control, such as the plane which had slid off the runway in Cusco, Peru, our first destination. It looked like we would be spending the night in Lima instead. We all nodded and promised to be flexible.
Ready for adventure. Sue Smith, author Kay Sisk, her husband Dana, Ginny Kammer, Sue's sister. Credit: Kay Sisk.
An advantage of our tour was the ability to land at smaller airports. Only the traffic was lighter, since all immigration and customs still applied. We bussed to Orlando Sanford International Airport and had our first look at our home away from home, Thomson 928, aka, the Mother Ship.
Then we were off to Peru and for most of us, Machu Picchu. As at other destinations, there were alternate itineraries if you had already seen the main event. Here, a staff member accompanied eight passengers to the North Coast and a different Peruvian civilization. For the rest of us, it was Cusco on another flight (the runway had opened) and praying for our next breath at 11,000 feet.
My husband and myself in the iconic Machu Picchu photo. Credit: Kay Sisk.
We stayed in the Belmond Palacio Nazarenas, a former Carmelite convent which had been converted into a hotel and thankfully had oxygen pumped into each room.
Our touring adventure began the next morning with a trip to Chinchero , a local village which held several sites of interest. As with all our tours, we were connected to our local guide by a digital device tuned to a particular band width. Think of the devices you use at museums. We were introduced to the Incan stonework in which huge stones are fitted so exactly together that no mortar is necessary. There is also an open-air market with produce, textiles, meat and fish sold.
Weaver at Moray Restaurant. Credit: Kay Sisk.
Lunch was found with another bus trip up to a restaurant actually in the middle of nowhere, or so it seemed. We were treated to a textile weaving demonstration and a lovely buffet. On the way back to the hotel, we stopped at the fortress of Sacsyhuaman ("sexy woman" and I think everyone just likes to say it), but our walking tour was cut short by a pouring rain. We pulled out our ponchos and looked like a bunch of wet canaries as we re-boarded our busses.
For a few of us hardy souls, it was up early the next morning with a tour of the Ollantaytambo Fortress in the Sacred Valley and the Temple of the Sun, 196 steep, uneven steps, that I might have preferred to come down via my rear. No handrails. Here, like at Machu Picchu, I kept thinking that OSHA would be having a fit. We survived.
We met the Hiram Bingham Train and the rest of our group for the trip down to Machu Picchu (EL: 7972 feet). Archeologists don't know its true purpose, whether it was a ceremonial site, military or simply a retreat for the Incan royalty, but it remained hidden (and undiscovered by the Spanish) until 1911 when Hiram Bingham of Yale University was shown it. A World Heritage site since 1983, in  2007 it was named one of the New Seven Wonders of the World.
Its story is best told in iconic photos.
The next morning, we flew back to Lima, found the Mother Ship and the rest of our group, and ventured on to Easter Island, henceforth known as Rapa Nui.
Rano Raraku, the quarry on Rapa Nui. Credit: Kay Sisk.
At just over 63 square miles (for comparison the proposed Lower Bois d'Arc Creek Reservoir is just under 26 square miles and Fannin County 900), Rapa Nui is a speck in the South Pacific Ocean. Territorially claimed by Chile, with a movement who would like to dispense with that, it is home to two notables: Mataveri International Airport, once designated as an abort site for the Space Shuttle, and the Moai, declared a World Heritage Site in 1995.
Rapa Nui is believed to have been settled by Polynesians in the 4th and 5th centuries. The building of the moai took three distinct phases, each phase destroying the previous and making the statues larger. Guesses can only be made as to the original intent of the statues, but as the population increased and rivalries became stronger, the civilization brought about its own environmental destruction. By the time the first Europeans found Rapa Nui in the 18th century, the population was in decline and civil war ensued. Disease and slave trading reduced the population to a mere 111 by 1877.
But I would go back. I would like to show it to my grandchildren—the quarry with its hundreds of unfinished statues, sunrise at Ahu Tongariki with the silent moai sentinels who always look inward from the sea, the signpost which proclaims just how far you really are from the rest of the world.
Waiting for sunrise at Tongariki. Credit: Kay Sisk.
Our plane's captain was always informative and more than once we got detailed this-is-what-we're-doing-now reports from the cockpit. Such as the one when we were waiting to take off from Rapa Nui to head for our brief stop on Samoa. The subject was "the point of no return." A plane had taken off previously and we could not follow until it was past its point of no return to Mataveri should it have a problem. There couldn't be two planes in the point of no return air space.
Our longest day, in more ways than one, was our flight from Rapa Nui to Samoa. We stopped to refuel in Tahiti but didn't leave the plane. Instead, we were instructed in yoga moves to improve our circulation from our long flight. When we crossed the International Date Line and found Samoa on the other side, we skipped a day and several hours of sleep. Our bodies were at the 3 AM mark and the hotel staff at 11 PM.
Prior to arriving in Samoa, we had to fill out a health card and here we came upon an interesting tidbit. The question of where we'd been in the prior year was listed in the Ebola section and we had to check that, yes, we'd been in Texas. It wasn't a problem when we handed in our cards, but it did give me pause.
Part of the greeting committee, Aggie. Credit: Kay Sisk.
Our bus was met at the driveway entrance to our hotel by a torch-bearer. He ran the bus to the entry where we were met by dancers, a local libation, and a light supper. Shortly thereafter, we went to bed.
There were excursions available at Samoa, but we chose to stay on the hotel grounds and catch our breath. After all, we were a day ahead of our known world, and we would need all our faculties to cope.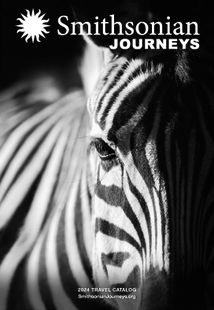 Request a Free Catalog
Download now to find inspiration for your next journey
Get It Free!
Be the First to Know
Sign up to learn more about our tours and special offers
Sign Up