A Q&A with Expert John Sweets
---
Q. What do you feel are the cultural and scenic highlights of the Great European Journey tour? 
A. The medieval cathedrals of Cologne and Strasbourg, as well as smaller yet beautiful religious architecture in Koblenz, Heidelberg, Berne, and Lucerne provide a major theme for the tour. And bringing together both cultural and scenic highlights, the Upper Middle Rhine River Valley, a World Heritage site, features beautiful and meticulously tended vineyards rising above the river along with the striking half-timbered architecture of the villages and the castles and castle ruins that dominate the landscape. Another highlight is the very full day in Lucerne, which starts with a walking tour across Chapel Bridge with its beautiful 17th- century paintings, continues with an excursion to Mt. Pilatus with a gondola ride up and a cog-wheel train ride down the mountain, and concludes with a peaceful boat ride on Lake Lucerne—perhaps the single day tour de force of the trip. Yet standing at the Gornergrat with a spectacular view of the Matterhorn is hard to top! 
Q. What kinds of insights do you hope to bring to our travelers? 
A. More than 40 years of studying, teaching, and writing about European history, as well as almost six years of living in various European countries, has given me an understanding of the peoples and culture, especially of those who live in the French and German heartland of today's European Union. I hope to share insights from these experiences with travelers who are less familiar with this part of the world. Because I have made this trip several times, I can often help out with practical matters as well. However, I am most pleased when travelers tell me that I have enabled them to see some issue from the perspective of Europeans in a way that they had not imagined before coming on the tour. 
Q. What do you enjoy most about accompanying Smithsonian Journeys travelers? 
A. One of the most enjoyable aspects is, perhaps ironically, what I learn about my own country from the travelers. Since they come from all parts of the United States and from a great variety of occupations and, quite often, have lived very interesting lives, I find that many of my preconceived notions about my fellow citizens and the places they come from undergo substantial revision as I share meals
or talk with them on our bus rides or city tours. I am reminded, as I so often tried to teach my students, that many things that seem simple may in fact be very complicated. As I try my best to convey the richness and complexity of Europe's history to the travelers, I discover that they are teaching me a good deal about my own history and its complexities.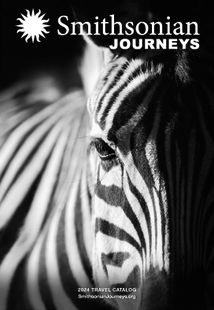 Request a Free Catalog
Download now to find inspiration for your next journey
Get It Free!
Be the First to Know
Sign up to learn more about our tours and special offers
Sign Up