Discovering Vietnam Through Waterways
---
I am puzzled why many tours of Vietnam don't include the Mekong Delta. It's one of the world's great rice baskets, verdant and tranquil, and although it may not be as spectacularly beautiful as Ha Long Bay or as compellingly charming as Hanoi, I have always found that exploring its waterways puts visitors in touch with the soul and heart of Vietnam. On Smithsonian's Discovering Vietnam tours, the delta is a major attraction that visitors never seem to tire of.
Can Tho, Vietnam's fourth largest city, is the commercial hub of the Mekong Delta. The drive in a comfortable motor coach from Ho Chi Minh City (Saigon) takes about four hours, including a leisurely lunch at the Mekong Rest Stop, which offers a bountiful menu of fresh fish. A treat awaited us at the end of journey—the Victoria, a five-star boutique hotel surrounded by a lush, tropical landscape on the banks of the Mekong.
Our group of 23 Smithsonian travelers set off early the next morning in a motorized sampan to explore the floating market. Hundreds of small boats bobbed in the Mekong's calm currents as merchants and venders swapped their wares and haggled over prices. Their boats pressed close to ours. Women on conical hats reached out to us, offering watermelons, pineapples, bananas, even freshly brewed coffee. The whole scene is a photographer's delight.
The Mekong's name comes from the Thai's mae num, which translates as "mother water." The river, one of the world's longest, has its birth in the plateaus of China's Tibet region. It flows for 2,700 miles through Myanmar (Burma), Thailand, Laos, Cambodia before reaching Vietnam and emptying into the South China Sea. Scientists consider it one of the most biologically diverse areas in the world.
***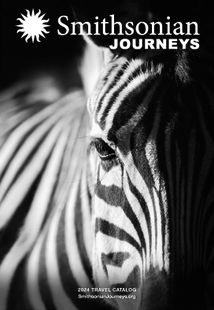 Request a Free Catalog
Download now to find inspiration for your next journey
Get It Free!
Be the First to Know
Sign up to learn more about our tours and special offers
Sign Up